Key Leadership Forum: Action Learning - Action, Performance, Impact

Monday, May 5, 2014 from 8:00 AM to 11:00 AM (EDT)
Event Details
ACTION - PERFORMANCE - IMPACT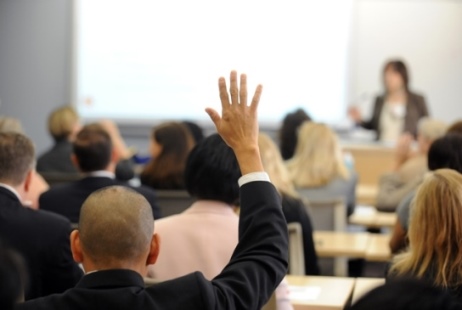 How does Action Learning support the creation of transformational leaders and increased agency performance?
Action Learning is an innovative problem solving methodology that allows agencies to solve "wicked" organizational problems and simultaneously develop individual leadership competencies. 
Agencies benefit from this approach in a number of ways: harnessing intellectual power; building integrated teams skilled in reflective questioning; and discovering practical solutions to long unresolved problems. 
Learn about Action Learning from those who have experienced the process and made valuable recommendations for change to their agencies. 
Speakers:
Robert Tobias, Director, Institute for the Study of Public Policy for Implementation,
School of Public Affairs, American University
Patrick Malone, Executive-in-Residence, Key Executive Leadership Programs,
School of Public Affairs, American University
Ilona Birenbaum, Leadership Coach, PCC and Consultant
Karlease Kelly, Provost, Virtual University, Office of Human  Resources Management, Office of the Assistant Secretary for Administration, U.S. Department of Agriculture
Ayanna Hook, Branch Chief, Center for Training and Organization Development, USDA, APHIS, MRPBS, HRD, CTOD
Andrew L. Malone, Public Guidance Program Manager, Regulations and Rulings Division, Alcohol and Tobacco Tax and Trade Bureau, U.S. Department of Transportation
Kyra M. Stewart, Director of Innovation, U.S. Department of Transportation -- Office of Secretary
Keith A. Graham, CDFM, Sr. Budget Analysis, Federal Motor Carrier Safety Administration, U.S. Department of Transportation
Susan Nichols, Program Director, SBIR/STTR Program Manager, DARPA Small Business Programs Office

The Key Executive Leadership Programs is pleased to present the Key Leadership Forum on Action Learning.  This event is complimentary. Continental breakfast will be provided.  
For more information about this event or other Key programs, contact Jennifer Tether at 202.885.3857 or jtether@american.edu
When & Where

Carnegie Endowment for International Peace
1779 Massachusetts Avenue NW
Washington, DC 20001


Monday, May 5, 2014 from 8:00 AM to 11:00 AM (EDT)
Add to my calendar
Organizer
Message from the Director -
Patrick Malone
Many would argue that this is a time of extraordinary transition and uncertainty. Transition? Yes. Uncertainty? It depends. Yes, there is the uncertainty of a new Administration and it's direction with regards to the federal workforce. But, there is no uncertainty that federal leaders will continue their dedicated commitment to the public they serve, day in and day out. More than ever, the implementation of public policy requires extraordinary leadership, with leaders who are willing to grow new mindsets, diagnose and change their behavior, inspire those they lead, work and learn collaboratively, overcome barriers to institutional change, act with integrity, facilitate reflective and productive dialogue, think strategically, and implement public policy with pristine skill and fierce resolve.
For 40 years, the Key Executive Leadership Programs have developed extraordinary leaders with a passion for public service. Initially established to serve the federal sector, our program has grown to include executives from the state and local levels – along with their peers in the nonprofit and private sectors who partner with, and influence, the federal government.
In the Key Executive Leadership Programs, we create an environment of trust, compassion, and growth. Our staff provides first-class professional support for busy public executives. Our faculty have substantive experience in and around the government so class discussions, assignments, and activities are immediately applicable to today's work environment. Our students, the soul of the program, come from across government to engage in meaningful and timely dialogue about the challenges they face. The resulting fabric of trust and support underpin relationships that last a lifetime.
Our programs are applied programs based on relevant theory. We structure our curriculum and our classroom experience to create a shared learning environment where executives take what they learn, and apply it immediately in their workplace. How do we know this works? Ninety-six percent of our alumni indicate that Key has played a major role in fostering their successful careers, including over seventy percent who have been promoted since graduating from the program. Ninety percent of our students said the Key Executive Leadership Programs increased their ability to lead people toward meeting organizational vision mission, and goals. 
Former President Jimmy Carter once noted that words such as honesty, integrity, fairness, liberty, justice, patriotism, compassion, and love describe not only what human beings ought to be – but also what a government of human beings ought to be. We in the Key Executive Leadership Programs couldn't agree more. 
Our program exists for one reason, to cultivate leadership in public sector executives. It is our great honor to help the fine men and women, those who deliver civilization, to become the leaders we need. I hope you'll consider joining our Key community of more than 4,000 students and alumni and make your move toward extraordinary leadership.

Patrick Malone, PhD, Director
Key Executive Leadership Programs
School of Public Affairs
American University