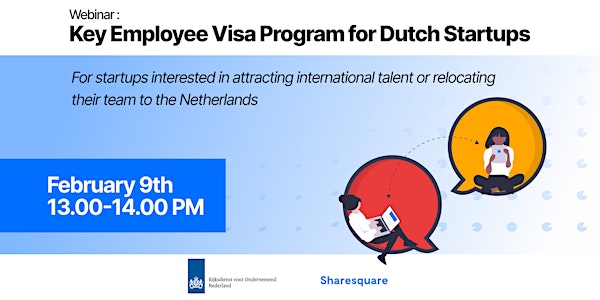 Key Employee Visa Program for Dutch Startups
Are you a Dutch startup that is interested in attracting international talent or relocating your team to the Netherlands?
About this event
The program of the different ministries of the Dutch government, the Key Employee Permit, allows Dutch startups to get international talent to the Netherlands to work for your startup. As a first European country, the Netherlands offers a visa that is based on Employee participation. Instead of salary requirements, it offers the chance for you and your hire to show that you are both willing to invest in a future together. The application to hire a Key Employee through this permit is evaluated based on the company future potential and not just on past results. Whether you found a right person abroad or you want to relocate your key team to The Netherlands, it enables you to unlock the talent potential of the world.
Join this 1 hour webinar if you are looking to:
- Learn more about Key Employee Permit program
- Discover which considerations and requirements are there
- Learn how you can use virtual equity plans instead of stock options or actual stocks to fulfil the requirements.
- Ask one on one questions regarding your situation
In craziness of the current labor market, many fast-growing startups have a hard time finding enough skilled personnel and competing with corporates that can offer higher salaries. Learn what you can do to get the best international talent to work with you. Already interested to know more, check Key Employee Permit video.
Powered by Experts
1) Homeyra Abrishamkar and Martijn Croon - advisors from the Netherlands Enterprise Agency (RVO)
2) Natalija Counet - Employee participation expert from Sharesquare.co