Description
Key Biscayne Piano Festival in collaboration with Miami International Piano Festival is proud to present "Romance in the key of Arts" with pianist
MISHA DACIC

.
With Prof. Emeritus Frank Cooper's introduction previous the concert, we will explore the excitement of creative people who felt unlimited by what was usual. Discover how lives today react!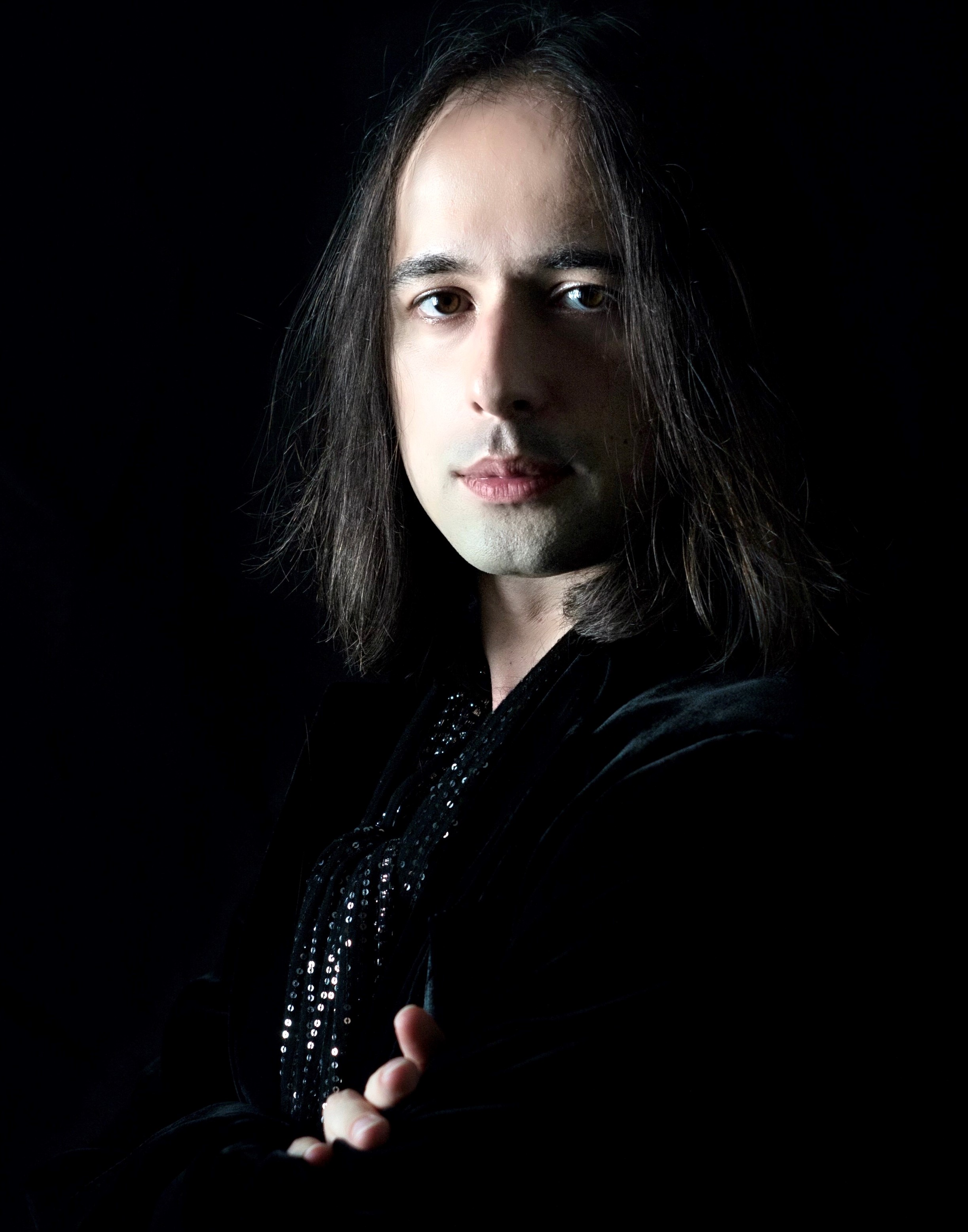 Special guests:
Marcela Marcuzzi Artist Exhibiting her "Moon Phases" and "Court Memoirs"
At 6:30PM Orlando Forte (violin) will welcome the audience outside the premises performing a Romantic repertoire.
Piononos will donate some sweets to the first 100 participants.
The show will start on Friday, February 14, 2020 at 7:00 pm. (Doors will be opened at 6:30PM)
7:00PM Welcome and Prof Cooper Lecture
7:30PM to 8:00PM Misha Dacic's 1st Part performance
8:00PM Intermission
8:15PM to 8:45PM Misha Dacic's 2nd Part performace
Concert Ticket: The Concert Ticket admits one adult or child to the concert only. THIS TICKET WILL BE AVAILABLE ONLINE UNTIL FRIDAY, FEBRUARY 14TH AT 4 PM. ALL OTHER CONCERT TICKET PURCHASES CAN BE MADE ON SITE AT THE BOX OFFICE.
Concert Tickets are available online and at the door.
There will be beverages on sale before the concert & during the Intermezzo.
Each of our performances will be held at the Key Biscayne Crossbridge Church (located at 160 Harbor Drive), and performance seating is on a first come, first serve basis.

Piano Festival performances are a formal affair calling for "Miami Chic" attire.
Children 8 and up are welcome to attend.
Community service hours are available for student volunteers. Volunteers will be able to register up to Thursday, February 13, 2019. Contact Carolyn at carolyn@keybiscaynefoundation.org to learn more.
Parking is available at the front of the church.
If you experience technical difficulties with the online purchase of the concert tickets, please email info@keypianofestival.org.
---
About Misha Dacic
"A starling temperamental force and mastery" -Bryce Morrison
'A true colossus of the contemporary keyboard' - Justo Romero, Levante
---
After his American debut at the Discovery Series of the Miami International Piano Festival in 2003, Misha Dacić quickly became a sought-after soloist who captured audiences throughout the United States performing at some of the most eminent venues such as Ravinia's Rising Stars Series in Chicago, Gilmore Keyboard Festival, Xavier Classical Piano Series Cincinnati, Frederic Chopin Society's Concert Series Minneapolis, among numerous others. Dacić has appeared in solo recitals as well as a guest soloist throughout Central and South America, Europe, Russia, Japan, and the Middle East. He performed at the "Martha Argerich Project Festival" in Lugano, at Mendelssohn's house in Leipzig, at Sergiu Celibidache Festival in Bucharest, at the Festival "Raritäten der Klaviermusik" in Husum, at the International Piano Festival En Blanco & Negro in Mexico City, at the Oji Hall in Tokyo, with the Brazilian Symphony Orchestra at Teatro Municipal in Rio de Janeiro.

In 2009 he joined the legendary violinist Ida Haendel on a tour in Japan, performing with her all over the world ever since. One of their live performances was captured on a DVD released by VAI. "Misha Dacić in Recital", featuring several live performances, was also released by VAI in 2009. Celebrating Franz Liszt's 200th anniversary in 2011, Dacić's Liszt album, released by Piano Classics, was greatly received by the critic worldwide. In 2018, Brilliant Classics released Dacić's album featuring works by A. Scriabin.

Collaboration with the violinist Gilles Apap, and with the Argentinian tango master Pablo Ziegler are some of the highlights of Dacic's regular involvement as a chamber musician. In 2016 Dacić gave a premier of his two piano arrangement of Rachmaninoff Choral Symphony 'The Bells' at Rachmaninoff state museum in Ivanovka, Russia, and was appointed artistic director of the Rachmaninoff Festival at the same venue.

Born into a family with musical tradition, and having taken first lessons from his father, Misha Dacić has been performing in public since the age of ten. Kemal Gekić, Frank Cooper, Lazar Berman, and Jorge Luis Prats are counted among his mentors. Misha Dacić holds his current posts as professor of piano at the Academia Internacional Galamian in Málaga, and at Escuela Internacional de Musica Alberto Jonás in Valencia, Spain.

Dacić is a faculty member of the Miami International Piano Festival Academy since 2015 and has been a recipient of support from Patrons of Exceptional Artists since 2003.
PROGRAM


F. Chopin


Mazurkas


- F-sharp minor, Op.6 No.1
- C-sharp minor, Op.6 No.2
- B-flat minor, Op.24 No.4
- C-sharp minor, Op.41 No.1
- B major, Op.63 No.1


G. Enesco
Romanian Rhapsody Op.11


INTERMISSION


S. Rachmaninoff


Elégie Op.3 No.1
Mélodie Op.3 No.3
In the Silent Night Op.4 No.3 (Arranged by Earl Wild, from Six Romances Op.4)
Prelude in A-flat major, Op.23 No.8
Prelude in F minor, Op.32 No.6
Prelude in A minor, op.32 No.8
Étude-tableau in E-flat minor, Op.33 No.6
Humoresque Op.10 No.5


N. Medtner
Fairy Tale Op.51 No.1
__________________________________________________________________________________________
About Prof. Emeritus Frank Cooper
Our "cultural tour-guide" Prof. Cooper, has no equal in bringing the meaning of artistic expression to audiences.
FRANK COOPER
Research Professor Emeritus of Music at the University of Miami (UM). The Frost School of Music's new building contains two teaching studios named in his honor. A fund has been established to be known as "The Frank Cooper Distinguished Musicology Lecture Series." In his honor, the Weeks Music Library at UM has created "The Frank Cooper Facsimile Music Collection," which now includes hundreds of scores in a manuscript replica from Medieval to Modern times.
He is lecturer-in-residence for the Miami International Piano Festival.
For more than a decade, his concert introductions for the Coral Gables Mainly Mozart Festival were annual occurrences, as were his lectures for the Von Liebig Art Centre in Naples (23 seasons) and Naples Philharmonic (5 seasons). Other South Florida venues that have featured Prof. Cooper include the Vizcaya Museum and Gardens, Dade County Center for the Fine Arts (now the Miami Art Museum), Bass Museum of Art, Lowe Art Museum, Fairchild Tropical Gardens, Arsht Center for the Performing Arts (Cleveland Orchestra in Miami), and the New World Symphony.
Called by the Miami Herald "South Florida's cultural maven" and "a Renaissance man," Prof. Cooper has lectured in the Coolidge Auditorium of the Library of Congress, Indiana University, MacMaster University (Ontario), SUNY Purchase, and the University of Illinois (Champaign-Urbana), and appeared on National Public Radio, the CBC (Toronto), the BBC (London) and Radio Nederlands (Hilversum). Lincoln Center, Carnegie Hall, the Van Cliburn Foundation, Ford Centre (Toronto), Rialto Centre (Atlanta), TIME/LIFE, Arabesque Records, RCA Victor, Audiofon Records, and the International Piano Archives have commissioned annotations from Prof. Cooper, who is the author of more than 70 published articles about music.
He is the recipient of honors from the State of Gelderland (Netherlands), the Hungarian Ministry of Culture, and the National Federation of Music Clubs.