Key Biscayne Piano Festival presents Eglise Gutierrez & Luis Urbina / Micah...
Description
Key Biscayne Piano Festival in collaboration with Miami International Piano Festival is proud to present EGLISE GUTIERREZ
(Soprano) joined by pianist
LUIS URBINA.
Featured pianist
MICAH MCLAURIN
.
With special guest mandolin virtuoso CARLO AONZO, invited on behalf of the Consulate General of Italy in Miami.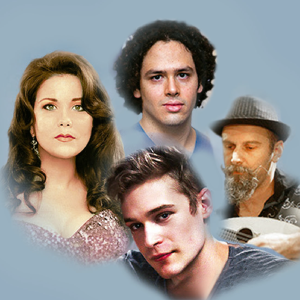 The show will be on Friday, December 13, 2019 at 6:30 pm.
A special performance with Carlo Aonzo will be presented from 6:30-7 pm.
Regular concert programming will begin sharply at 7:15 pm.
Concert Ticket: The Concert Ticket admits one adult or child to the concert only. THIS TICKET WILL BE AVAILABLE ONLINE UNTIL FRIDAY, DECEMBER 13TH AT 4 PM. ALL OTHER CONCERT TICKET PURCHASES CAN BE MADE ON SITE AT THE BOX OFFICE.
Concert Tickets are available online and at the door.
There will be beverages & snacks on sale before the concert & during the Intermezzo.
Each of our performances will be held at the Key Biscayne Crossbridge Church (located at 160 Harbor Drive), and performance seating is on a first come, first serve basis.

Piano Festival performances are a formal affair calling for "Miami Chic" attire.
Children 8 and up are welcome to attend.
Community service hours are available for student volunteers. Volunteers will be able to register up to Thursday, December 12, 2019. Contact Carolyn at carolyn@keybiscaynefoundation.org to learn more.
Parking is available at the front of the church.
If you experience techincial difficulties with the online purchase of the concert tickets, please email info@keypianofestival.org.
---
"On balance, the evening belonged to the soprano Eglise Gutierrez, whose intense presence and liquid tone resulted in a grippingly eerie portrayal of Giulietta. Ms. Gutierrez went straight to the heart of what makes bel canto repertory work: beautiful sound and inventive embellishment, made to render emotion palpable."
-The New York Times
"So persuasive is McLaurin's conviction that he only had to touch the first chords of the Larghetto, and the concert hall seemed to unhinge from ordinary time…."
Santa Barbara Independent
---
PROGRAM


Welcome performance with Virtuoso
CARLOS AONZO (MANDOLINIST)
The artist will create a special performance improvising his program.
MICAH MCLAURIN (PIANIST)
SCRIABIN Etude Op.2 No.1
RACHMANINOFF Elegy Op. 3, No. 1
RACHMANINOFF 18th Variation from "Rhapsody on a Theme by Paganini"
SCRIABIN Etude Op.42 No.5


EGLISE GUETERREZ (SOPRANO) LUIS URBINA (PIANIST)
RACHMANINOFF
Vocalise
Zoe's Khorosho

Ne poy, krasavitsa
MICAH MCLAURIN (PIANIST)
SCRIABIN Études Op. 8 No. 11 & No. 12
EGLISE GUETERREZ (Soprano) LUIS URBINA (Pianist)
MASSENET Gavotte from Manon by Massenet
— intermission —


MICAH MCLAURIN (PIANIST)
LIST/ SCHUMANN Widmung
LISZT Liebestraum No.3


EGLISE GUETERREZ (SOPRANO) LUIS URBINA (PIANIST)
GRANADOS
La Maja y el Ruiseñor
El tra la la y el punteado

El majo discreto
TURINA Cantares
DELIBES Le filled de Cadix




MICAH MCLAURIN (PIANIST)
LISZT
Sonetto del Petrarca 104
Mephisto Waltz
---
Eglise Gutierrez
"On balance, the evening belonged to the soprano Eglise Gutierrez, whose intense presence and liquid tone resulted in a grippingly eerie portrayal of Giulietta. Ms. Gutierrez went straight to the heart of what makes bel canto repertory work: beautiful sound and inventive embellishment, made to render emotion palpable." The New York Times

Born in Holguin, Cuba, soprano Eglise Gutiérrez has been named by Opera News as "one of opera's next wave". A three-time recipient of the Gerda Lissner Foundation Grant, and grant recipient of the Singers Development Foundation, Eglise Gutierrez has been busy collecting top prizes including First Prize in the August 2004 International Mirjam Helin Competition in Helsinki, the West Palm Beach Opera Competition, the New Jersey State Opera Competition, and the Connecticut Opera Competition. Miss Gutierrez's long list of awards and honors also includes Winner of the Montserrat Caballé International Opera Competition, First Place in the Marian Anderson Opera Competition and Second Place in the Licia Albanese Puccini Foundation Opera Competition in 2002. She won First Place in the Giargirai Bel Canto Opera Competition and a scholarship from Renata Scotto to work with her. She was part of the Summer Program for Young Artists in Portland Oregon under the direction of Tito Capobianco. She graduated from The Institute Superior of Art in Cuba (Suma Cum Laude) where she studied with Maestra Maria Eugenia Barrios, and from The Academy of Vocal Arts in Philadelphia with Maestro Bill Shumann.

She is currently coached by Maestro Manny Perez. During her studies at the Academy she performed several leading roles, among them the title role in Lucia di Lammermoor, Amina in Bellini's La sonnambula, Nanetta in Falstaff, and Adina in L'elisir d'amore. Additional roles in her repertoire include Hanna Glawari in The Merry Widow, and the title roles in Roig's Cecilia Valdes and Vives' Doña Francisquita , Scenes of Maria la O, and many Gala Concerts with Pro Arte Grateli , a company she calls one of her protégée.

Ms. Gutierrez sang in some of the most prestigious venues of the world including Covent Garden London, Teatro Colon Buenos Aires, Wexford Festival, Teatro Dell'Opera di Roma, Teatro Verdi (Trieste) Zurich, Maggio Musicale Florence, Cagliari, Carnegie Hall, Savonlinna, Berlin, Bellas Artes (Mexico), Tel Aviv, Hamburg, Athens, La Monnaie, Brussels, the Santa Fe Festival, Cincinnati Opera festival, Festival Alfonso Ortiz de Tirado (Mexico), Florida Grand Opera, Liceu de Barcelona, Teatro Real de Madrid, Sarasota Opera Festival, Washington Concert Opera, Caramoor Festival, L'Opéra Comique , Vancouver, Montreal, Ravinia Festival , Michigan Opera Theatre , Seattle Opera , Athens (Greece) and more in roles such as Lucia, Gilda , Elvira in I Puritani, Violetta, Amina, Lakme, Maria di Rohan, Elvire in La muette de Portici , Cendrillion , Juliette in Capuleti e I Montecchi, and Liu (Turandot).

In 2003 Eglise made her professional debut singing Lucia diLammermoor at the Opera de Colombia (Bogota) under the batton of Will Crutchfield and also performed Capuleti e I Motechi at the Caramoor Festival with conductor Will Crutchfield. In May 2004 she performed at the Carnegie Hall as soprano soloist in Mozart's Requiem and John Rutter's Requiem under the baton of John Rutter.

In 2006 she made her European debut at the Wexford Festival with Maria de Rohan , then in Italy under conductor Daniel Oren performing Rigoletto (Gilda) at the Teatro dell'Opera di Roma with Renato Bruson. She sang Rigoletto as well with the Israel Philarmonic Orchestra under conductor Daniel Oren, and Mignon and Lakme in Carnegie Hall under Conductor Eve Queler.

In 2008 Miss Gutierrez sang the title role of La Sonnambula at Carnegie Hall with the Opera Orchestra of New York conducted by Eve Queller, then made her Seattle Opera debut as Elvira in I Puritani, returned to Detroit as La Sonnambula (produced and under the baton of Maestro Richard Bonyngeand Renata Scotto). She also performed at the Palacio de Bellas Artes in Mexico City in Lucia di Lammermoor conducted by Eduardo Muller.

In 2008-2009 Eglise performed at the Teatro Lirico di Cagliari as Amina in La Sonnambula (just out on DVD), at the Maggio Musicale Fiorentino as Lucia, and in Hamburg as Gilda. That season she also sang La Traviata in Miami with Steven Costello , Lucia in Montreal, Rigoletto in Vancouver, I Puritani for her Athens debut with tenor Bryan Himmel, with the Chicago Symphony Orchestra as Gilda with James Conlon and Dmitri Hvorostovsky at the Ravinia Festival, and returned to the Savonlinna Opera Festival as Lucia where she was named the Artist of the Year. She performed as well Cendrillon at the Opera Comique with conductor Marc Minkowski, appeared in concert in Prague, Cannes, Finland, Miami, toured twice all over Unites States with tenor Andrea Bocelli including Madison Square Garden,Hollywood Bowl, Dallas, Chicago, San Francisco, Florida and more under conductors Steven Mercurio and Eugene Kohn.

Miss Gutierrez made her debut at the Royal Opera House Covent Garden during the 2009-2010 season as Linda di Chammonix which was also recorded and distributed by Opera Rara under the baton of Sir Mark Elder and has subsequently sung La fée in Massenet's Cendrillon under the baton of Bertand de Billy (just out on DVD) with Joyce Didonato. She performed in Puerto Rico singing a concert duet with Larry Brownly, at the Berlin Deutche Oper as Lucia in Lucia di Lammermoor (with tenor Roberto Alagna), at the Teatro Real in Madrid as Elvira I Puritani (with tenor Juan Diego Florez), in Dresden as Gilda in Rigoletto, followed by Rigoletto in Zurich with Baritone Leo Nucci and conductor Nello Santi, La Traviata in Seattle with tenor Francesco de Muro conducted by Eduardo Müller , Lucia di Lammermoor in Florida, I Puritani in Cagliari conducted by Ramón Tebar and again to Savonlinna as Lucia and to Covent Garden as Amina in La Sonnambula under the baton of Daniel Oren.
Engagements from the 2012/2013 season included her debut as all four heroines in Les Contes d'Hoffmann at the Teatro Liceu, Barcelona, and in 2014 in Massenet Thais with the Florida Grand Opera, La Fée in Cendrillon at the Teatro Liceu and Lucia di Lammermoor at the Opera de Marseille (France).

Ms Gutierrez joined the Metropolitan Opera House Roster in 2016-2017 in I Puritani and conducted Master classes during the Miami Music Festival. This year Eglise Gutierrez is part of the Lyric Opera of Chicago performing I Puritani and Orfeo ed Eurídice with the Florida Grand Opera.
Micah McLaurin
"So persuasive is McLaurin's conviction that he only had to touch the first chords of the Larghetto, and the concert hall seemed to unhinge from ordinary time…."
Santa Barbara Independent

Micah McLaurin is one of the outstanding pianists of his generation. "A strong personality with technique and power to spare" the Philadelphia Enquirer said after his second engagement with the Philadelphia Orchestra this season.
Micah has performed as soloist with orchestras around the globe including the Cleveland Orchestra, Orquestra Filarmónica de Montevideo, Charleston Symphony Orchestra, South

Carolina Philharmonic, Perugia Festival Orchestra, Virginia Symphony, Music Academy of the West's Academy Orchestra and the North Carolina Symphony.

Winner of the Gilmore Young Artist Award he is also a laureate of the Ettlingen International Competition for Young Pianists, the Hilton Head International Competition and the Thomas and Evon Cooper International Piano Competition among many others.

Micah has performed recitals and chamber music at the Verbier Festival, Spoleto Festival, Music Fest Perugia, Aspen Festival, Southeastern Piano Festival, International Piano Series at the College of Charleston, the Miami Chopin Foundation, Gilmore Festival, Paderewski Festival of Raleigh, Les Jeudis du Piano in Geneva and Les Pianissimes Festival in Paris. In 2019, he recently made his Lincoln Center recital debut at Alice Tully Hall and performed at Lincoln Center's David Koch Theater as part of the Youth America Grand Prix Gala.

He has collaborated with many conductors including Joshua Weilerstein, JoAnn Falletta, Jahja Ling, Nicholas McGegan and Ken Lam.
Born in 1994 in Charleston, Micah studied there with Marsha Gerber and Enrique Graf. He completed his bachelor's degree program at the Curtis Institute of Music working with Robert McDonald and Gary Graffman. He now studies with Jerome Lowenthal and Veda Kaplinsky at the Juilliard School.
Carlos Aonzo
Carlo Aonzo is a worldwide known Italian mandolin performer, native of Savona - Italy - where he grew up immersed in music, since his home itself hosted the music school of the "Circolo Mandolinistico G. Verdi".

Graduating with honors from the conservatory in Padua (1993), he has played for several prestigious institutions like the Philharmonic Orchestra of La Scala in Milan (Italy), the Nashville Chamber Orchestra (USA), the McGill Chamber Orchestra in Montreal (Canada), the Philharmonia of San Petersburg (Russia), the Minsk Chamber Soloist (Belarus), Schleswig-Holstein Musik Festival (Germany).

Among his several awards are the first prize at the Concorso Internazionale "Pitzianti" in Venice (1993) including the "Vivaldi" special mention, and first prize at the Walnut Valley National Mandolin Contest in Winfield Kansas (1997).

Carlo's deep interest in outreach actvities focused on his instrument is witnessd by his countless collaborations with mandolin orchestras around the world, namely New York, Seattle, Portland, Providence, Pittsburgh, Baltimore, Philadelphia, Denver, Milwaukee, Atlanta, Montreal, Milan, Genoa, Lugano, Kochi, Nagoya, Osaka, Sendai, Wuppertal, Berlin, London, San Petersburg.

He is often invited as musical director and visiting faculty by the most important international mandolin institutions namely CMSA (Classical Mandolin Society of America), FAME (Federation of Australasian Mandolin Ensemble), EGMA (European Guitar and Mandolin Association) and called to judge in international music contests: Saigon Guitar Festival (Vietnam), Osaka Mandolin Competition (Japan), Yasuo-Kuwahara Competition Schweinfurt (Germany), Concorso Internazionale per Mandolino Solo in Modena (Italy).

He teaches seminars and workshops worldwide; since 2000 he has been leading the annual Manhattan Mandolin Workshop in New York (since 2017 in Milwaukee) and in 2006 he founded the International Italian Mandolin Accademia that he is still successfully directing and constantly expanding with new activities and camps (www.accademiamandolino.com).

In 2001 with his "Orchestra a Pizzico Ligure" he performed in Vatican city for the Pope Johannes Paul II. He later formed the plucked string instrument International Accademia's Orchestra with which he toured USA for the releasing of the album "Mandolin Images" in 2011.

His recordings reflect his interests and skills relating to all different aspects of the mandolin repertoire: from the Paganini's original works for mandolin ("Integrale per Amandorlino e Chitarra Francese"), to the Italian strings virtuosos of the turn of the century ("Serenata" with Beppe Gambetta and "Traversata" with the American Mandolin guru David Grisman).

In duo with classical guitar, Carlo produced the albums "Paganini" (René Izquierdo) and "Kaze" (Katsumi Nagaoka).

In 2016 with the Carlo Aonzo Trio he released the album "A Mandolin Journey" on the international mandolin repertoire. With the baroque Ensemble "Il Falcone", he recorded the complete Vivaldi's 4 Seasons concertos for the first time ever performed on the mandolin.

For Mel Bay he has published the concert video "Carlo Aonzo: Classical Mandolin Virtuoso" and the book & cd collection "Northern Italian & Ticino Region Folk Songs for Mandolin"; while for Hal Leonard he has released the "Bach Two-Parts Inventions" and the "Classical Mandolin Solos".

As a researcher, he has been working on the history of his instrument and collaborated with the New Grove Dictionary of Music and Musicians. Furthermore he has given presentations on the iconography of the mandolin, in renowned institutions, including Dartmouth College, St. John's University in New York, Boston University, New England Conservatory, Wisconsin Conservatory of Music, Vanderbilt College of Nashville, Vancouver Italian Cultural Centre, Berio Library in Genoa and National Instrument Museum in Rome.

He often appears in national Radio and TV programs and in December 2018 he performs at Carnegie Hall in New York.