Event Information
Performers
Location
The Haunt
702 Willow Avenue
Ithaca, NY 14850
Kevin Kinsella performs his John Brown's Body favorites & Sim Redmond Band
About this Event
First hearing the Bob Marley song "One Love" in Ireland as a 12 year old boy Kevin Kinsella received his calling to play Reggae music. Founding his first band The Tribulations when he was fifteen he soon found himself opening up for Toots and the Maytals who gave him strong encouragement to continue his vocation. The Tribulations recorded their first full album "The Gate" in 1992 and went on to win the Yamaha Soundcheck competition which took them to both Japan and Jamaica.
In 1995 Kevin founded and named his second group - John Brown's Body and led them in being signed to Shanachie Records, with whom they recorded several albums which were recognized by both critics and fans as classics of American Reggae. Prior to signing with Shanachie, Kevin had founded his own imprint label, I Town Records, and it was during his tenure as lead singer and primary writer of John Brown's Body that he started and gave name to the group 10 FT Ganja Plant, which has to date recorded 10 albums for ROIR records.
Amidst writing, recording and touring with both John Brown's Body and 10 FT Ganja Plant, Kevin has released 4 solo records under his own name, the latest one being
"RIDING HIGHER STILL" on his own I Town Records imprint, with worldwide distribution through VP pal. Kevin Kinsella has been recognized as a true disciple of roots reggae music and both a pioneer and veteran of the Reggae movement in the United States. With a distinctive and powerful voice, a unique and recognizable writing style and spirit filled presence and performance energy – Kevin Kinsella continues to be an important contributor to Reggae music, not only in the United States – but to the world.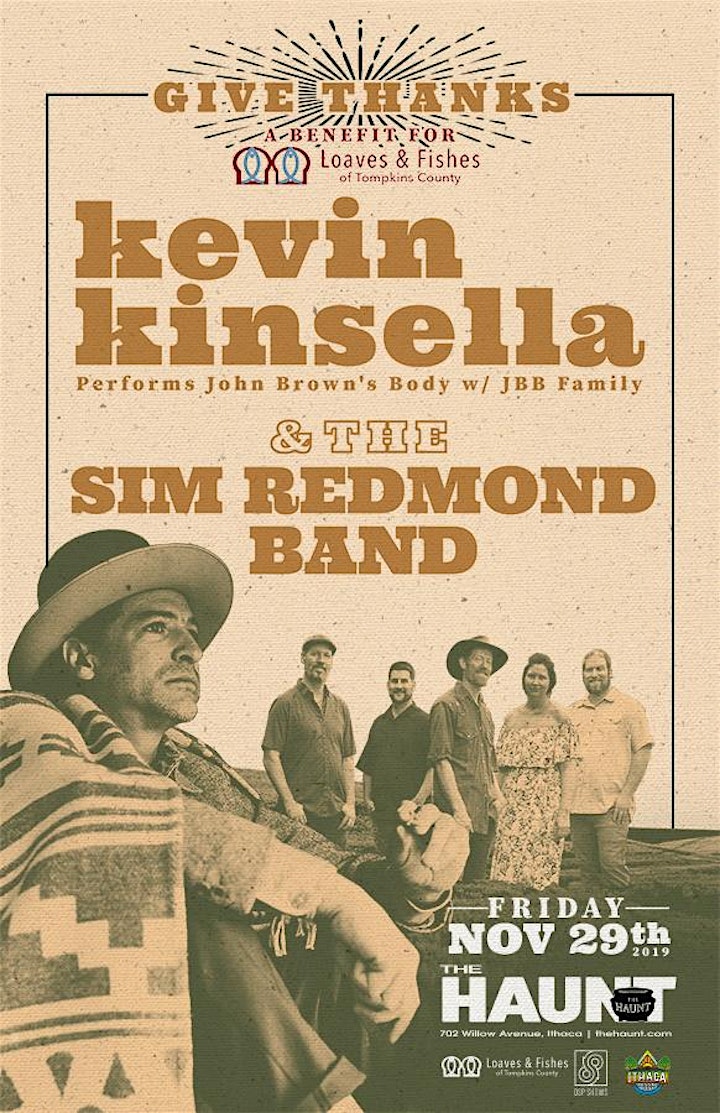 Since their inception in 1999, the Sim Redmond Band has been steadily on the rise, forging new ground in roots music. Traveling around the globe, playing with the likes of Habib Koite, the Neville Brothers, the Wailers, Jimmy Cliff, and moe. in some of the most beautiful venues in the U.S. and Japan. SRB's unique blend of Roots-Rock, African, and Jamaican music continues to spread like wild fire.
They are based in Ithaca, NY but their magnetic pole is Africa, particularly the sounds eminating from West & South Africa. This has served as a pivot for the Sim Redmond Band to spring into straight rock grooves and pumping reggae. The vocal teamwork of Sim Redmond, Jen Middaugh, and Nate Silas Richardson creates some of the richest harmonies you'll ever hear.
The music of the Sim Redmond Band has reached the hearts of people all around the world. They have toured extensively, selling over 15,000 records in the U.S and over 25,000 in Japan, where SRB has toured numerous times. They have released 8 full length albums, the most recent is titled "Open The Door". Judging by the latest offering from the Sim Redmond Band, there will be plenty of open doors in their future.
To order CD's and T-Shirts, please go to www.simredmondband.com!!
Giving Thanks to: Supporting Loaves & Fishes
https://www.loavesfishes.org/blog/2018/6/26/4-ways-to-support-loaves-and-fishes
Founded in 1980, Loaves & Fishes began with a simple meal of bread and fish for 11 adults and 15 children.
Since our inception, Loaves & Fishes have provided over 5.5 million meals!
The mission of Loaves & Fishes is to provide hot nutritious meals that are prepared, delivered and served to low-income families, disadvantaged individuals with a special concern for children, families, seniors, veterans, students, disabled, and the homeless.
All are welcomed, no questions asked.
Performers
Date and Time
Location
The Haunt
702 Willow Avenue
Ithaca, NY 14850
Refund Policy