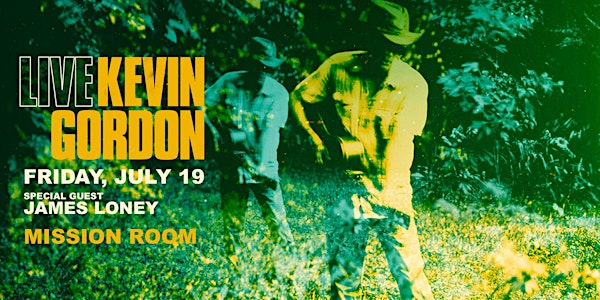 Kevin Gordon with James Loney
Event Information
Performers
Location
Hook and Ladder Mission Room
3010 Minnehaha
Minneapolis, MN 55406
"Dude's a juke-joint professor emeritus" – Rolling Stone
About this event
Kevin Gordon with special guest James Loney
Friday, July 19
the Hook and Ladder Mission Room
Doors 8pm :: Music 8:30pm :: 21+
$12 Advance / $15 Day of Show
Over the course of twenty-five years of writing, recording and touring, Kevin Gordon has built an impressively consistent catalog of songs, a critically-acclaimed stack of albums, and a reputation for dynamic live performances.
Gordon's songs have been recorded by Keith Richards, Irma Thomas, Levon Helm, Hard Working Americans, and others. His duet with Lucinda Williams, "Down to the Well", was featured on the Oxford American Southern Music Sampler.
His 2012 release, Gloryland, received significant critical praise and media attention: a front-page Arts section feature in The New York Times, an appearance on NPR's "Here and Now", and great reviews in Rolling Stone, USA Today, and others. Author Peter Guralnicksaid this about Gloryland:
"There's nothing else around today quite like Kevin Gordon's music. I'm a huge Kevin Gordon fan. Think of John Lee Hooker tied to the hard, imagistic poetry of William Carlos Williams, and you get a little bit of an idea. . . you just have to listen. And listen again. For the pure emotional pleasure of it. For the unmistakable, hard-driving passion of words and music, rocking together in rhythm."
------------------
James Loney has been writing songs for 30 years. His songs are stark, beautiful, emotional and very real. He has had his work featured in two major motion pictures (Jeremy Piven's"Just Write"and Kirsten Dunst's"Luckytown"). He has always surrounded himself with the best musicians that the Twin Cities have to offer whether with his previous bands House Of Mirrors, The Midnight Troubadoursor his current project Lolos Ghost.
"James Loney is a top-notch songwriter and compelling frontman." Jon Bream, Star Tribune
Performers
Date and time
Location
Hook and Ladder Mission Room
3010 Minnehaha
Minneapolis, MN 55406
Refund policy