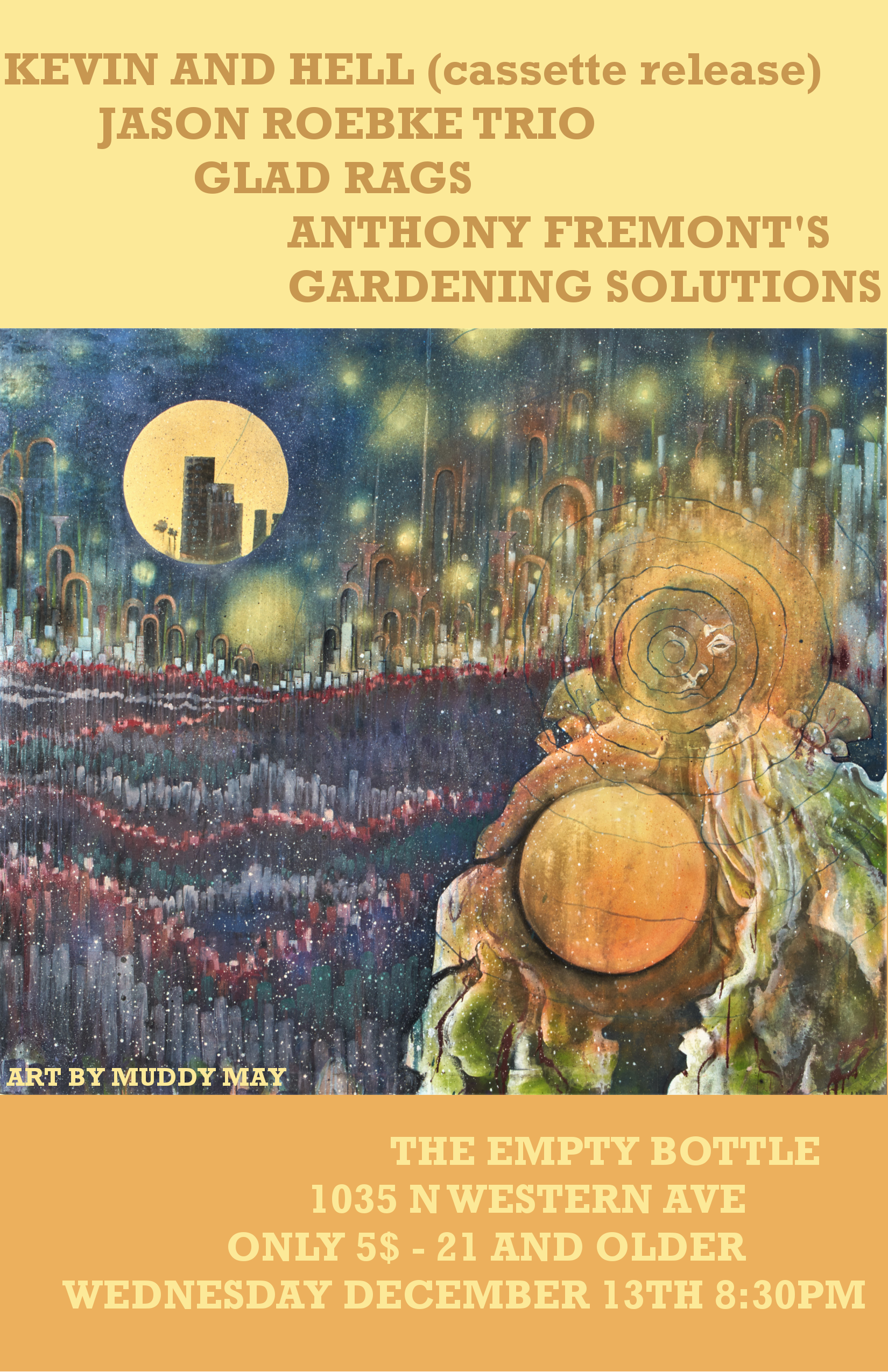 About this Event
Genre-bending chaos group KEVIN AND HELL are here to celebrate the release of their new cassette and will be performing tonight as the six-piece Zorchestra. From the garages of the Southern Californian rock scene to the afterhours jazz hangs of Chicago, KEVIN AND HELL tell a story of the future in the past. They are versed in the idioms of jazz dating back as far as 100 years, as well as recent innovations in rock and electrically generated sound. From this foundation they synthesize a new sound that bespeaks of the shape of music yet to come. Comprised of musicians equally comfortable at either a jazz club or house party basement, they function as a gateway for rock and roll aficionados to behold the majesty of jazz.
JASON ROEBKE is a double bassist, improviser and composer living in Chicago. The diversity of ROEBKE's musical associations make him one of the most sought-after bassists in Chicago and beyond. He composes music for two ensembles, Jason Roebke Combination and the Jason Roebke Octet. His playing is intensely physical, audacious, and sparse. The Chicago Reader described his work as "a carefully orchestrated rummage through a hardware store." He is a member of the Jeb Bishop Trio, Jason Adasiewicz Rolldown, Jason Stein's Locksmith Isidore, Mike Reed's People, Places, and Things, and Jorrit Dijkstra's Flatlands Collective & Pillow Circles. Wow, this dude can freakin' play.
Animal loving experimental jazz punks GLAD RAGS return after celebrating the release of their debut self-titled album back here in April. They call it "Jazz Fu" and "Randy Newman dance music" which is surprisingly accurate. It's as bizarre as those genres would suggest and sounds like if Mr. Newman fronted a DIY punk band from Prohibition-era Chicago.
ANTHONY FREMONT'S GARDEN SOLUTIONS is the brain child of Chicago-based musician and composer, Marcus Drake. ANTHONY FREMONT is a six year old child-monster who writes music vicariously through Drake. Together, their symbiotic bond creates music that explores a bleak post-hardcore fantasy full of micro-tonal variations and explosive poly-rhythms. Tonight, Anthony will be joined by Luc Schutz on drums, Maxwell Beckman on bass, and Seth Engel on Guitar.