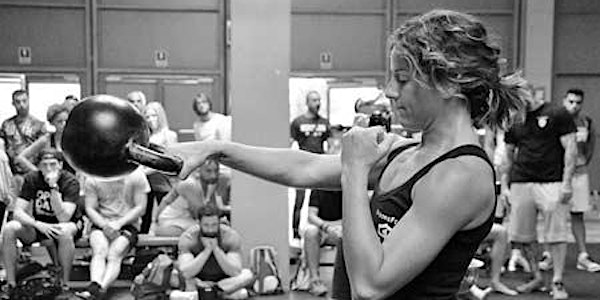 Kettlebell 101: Simple & Sinister Workshop - Stuttgart
Entdecke die Kettlebell - das einzige Trainingsgerät, das alle Aspekte absoluter Fitness ohne Kompromisse erfüllen kann.
When and where
Location
SportCodex.de Siemensstraße 96 70469 Stuttgart Germany
Refund Policy
Contact the organizer to request a refund.
About this event
INSTRUCTOR
Andżelika Stefańska-Kowalik, StrongFirst Certified Senior Instructor
Sven Rieger, StrongFirst Certified Team Leader
VERANSTALTUNGSORT
Sportcodex Trainingscenter, Siementsstraße 96, 70469 Stuttgart
ZEITPLAN
Samstag, 15. Oktober 2022
13:00 - 17:30 Uhr
KONTAKT
Dieser Workshop wird von Sven Rieger organisiert und lizenziert von. Schicke bei Fragen zur Anmeldung oder anderen Dingen eine E-Mail an: sven0r@gmx.de
Stornierung der Registrierung durch den Teilnehmer: Die Anmeldegebühren sind nicht erstattungsfähig. Es wird keine Rückerstattung gewährt. Angemeldete Personen können ihre Anmeldung ohne Gebühr auf eine andere Person übertragen.

Kettlebell 101: Simple & Sinister
Akzeptiere keine Kompromisse.
Zwischen Power und Kondition.
Zwischen Kraft und Beweglichkeit.
Dazwischen ein Athlet zu sein und wie ein solcher aussehen.
Entdecken die Kettlebell - das einzige Trainingsgerät, das in der Lage ist, alle Aspekte absoluter Fitness ohne Kompromisse zu liefern.
Niemand weiß besser, wie man mit diesem Werkzeug umgeht, als StrongFirst.
Die Teilnahme am Kettlebell 101-Workshop ist wie ein Ausflug durch die Seiten von Pavels bahnbrechendem Buch Kettlebell Simple & Sinister. Du wirst folgendes lernen:
Die Kettlebell Übungen, die großartige Resultate liefern und gleichzeitig die kürzeste Lernkurve haben.
Der Swing - für einen Rücken aus Stahl, die Gesäßmuskeln eines Sprinters, die Kondition eines Kämpfers und den Griff eines Handwerkers.
Der Get-Up - für widerstandsfähige Schultern und kugelsichere Bauchmuskeln.
Der Goblet Squat - entwickle eine beeindruckende Mischung aus Kraft und Beweglichkeit.
Sicherheit im Umgang mit der Kettlebell und andere langweilige Dinge, auf welche Profis schwören und die Amateure auf eigene Gefahr ignorieren.
Insider-Strategien für langfristiges, nachhaltiges Training, um Ihre Ziele zu erreichen
Pavels "Alt-S&S"-Programm - ganz im Sinne des Buches, aber mit einzigartigen Kniffen.
Am Tag nach dem Workshop wirst du in der Lage sein, deine Ziele in Angriff zu nehmen.
Melde dich an! Power to you!