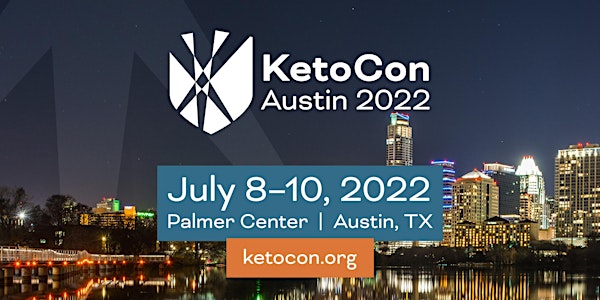 KetoCon - The Science and Stories of Keto
KetoCon is the world's largest keto conference dedicated to the Science and Stories of the Ketogenic Diet and Lifestyle.
When and where
Location
Palmer Event Center 900 Barton Springs Road Austin, TX 78704
About this event
KetoCon is all about building community!
And community is what forms when you bring together a passionate group of people, from all walks of life and from all around the world.
The Science and Stories of Keto, shared with you by Elite Athletes, Medical Professionals, Scientists, Educators, Researchers, Dietitians, Fitness Experts, Podcasters, Lifestyle Coaches, and Keto Product Manufacturers, all under one roof! Cutting edge research, with an equal emphasis on how people are utilizing the ketogenic diet to take control of their health, and their lives.
Why should you attend KetoCon?
There is no one-size-fits-all version of the Ketogenic Diet and Lifestyle! We all have unique needs and preferences. KetoCon is the absolute best place to meet like-minded people, learn strategies for success, and to gather all of the tools you need to support your health & fitness goals. Imagine being surrounded by thousands of people who are equally passionate about improving their lives!
KetoCon promises to be equal parts mental stimulation, emotional satisfaction, and a ton of fun!
Rules, Policies & Reminders
KetoCon is a family-friendly event and we ask that all customers be considerate of other attendees. Please note there are no child focused activities or special programming. Unaccompanied children will not be allowed entry.
An official KetoCon receipt is required at registration to obtain an entry ticket.
Bags are subject to be searched at any time.
Bring a refillable water bottle! There are FREE, filtered water fountains all around the venue. Save money and the environment!
Attendees should wear appropriate shoes for all fitness activities and/or walking around the convention center.
KetoCon has a zero-tolerance harassment policy. This includes, but is not limited to: physical assault, verbal harassment, sexual harassment, stalking, unwanted physical contact, unwanted advances, or inappropriate photography.
Offering product for sample and/or product for sale is limited solely to exhibitors and sponsors. Any individual or product manufacturer that is not an exhibitor or sponsor, found violating this policy will be expelled from the conference immediately, with no refund.
By attending KetoCon, you agree to allow use of your image, whether in photography or videography, on our website and/or other advertising materials.
Conference participants who violate these policies may be expelled from the conference with no refund.
KetoCon reserves the right to refuse entry and service to anyone.
KetoCon does not issue refunds under any circumstances. Any and all payments made to KetoCon are not refundable for any reason, including, but not limited to, failure to use KetoCon tickets due to illness, failure to exhibit due to acts of God, travel-related problems or acts of terrorism.