Description

Keto Instant Pot: Demo and Tasting with Maria Emmerich
Presented by The Trustees
Join us at The KITCHEN at the Boston Public Market as we host Maria Emmerich, a nutritionist who specializes in the ketogenic diet and exercise physiology, and author of the book, Keto Instant Pot. Maria will demo one recipe, "Mama Maria's Meatballs," and will provide samples for attendees.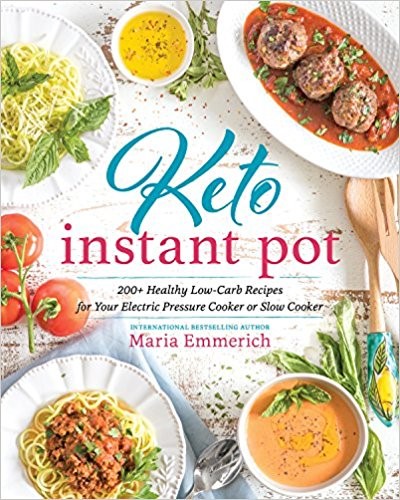 Keto Instant Pot: The Instant Pot is one of the hottest cooking tools around these days. With its ability to pressure-cook foods in mere minutes, all in one pot, it is a huge time-saver for busy home cooks. You can even bake a cheesecake in it! A ketogenic diet that eliminates processed foods sometimes require a little more effort in the kitchen, so any time saved is a plus. In this book, international bestselling author Maria Emmerich presents more than 160 delicious low-carb, high-fat keto recipes designed to be cooked in an Instant Pot or other multi-cooker. The recipes run the gamut from appetizers and sides to soups to main dishes to sweet treats and even a few drinks, along with some handy keto basics. As a bonus, Maria also includes slow-cooking instructions (which can be done either in the Instant Pot or in a separate slow cooker) for each recipe for those days when set-it-and-forget-it convenience takes precedence over the need for speed.
This event is FREE and everyone is welcome. Please RSVP so we can have enough samples for everyone.
About Maria
Maria Emmerich is a nutritionist who specializes in the ketogenic diet and exercise physiology. She struggled with her health and weight throughout childhood which lead her to become such a passionate nutrition expert. "My goal is to help transform people's lives and start living again!" Maria specializes in brain neurotransmitters and how food can increase mental wellness. Her expertise has sent her around the World speaking about ketogenic diets. She spends the majority of her time with clients around the World via Skype with amazing results. She specializes in helping autoimmune disorders, diabetes (Type 1 and Type 2), heart disease, cholesterol issues, alopecia, hashimoto's, cancer, epilepsy, seizures, depression and anxiety. You would be amazed at the amount of people get off medication with her guidance. She is also an International Best Selling author of several books including "Quick and Easy Ketogenic Cooking" and "The 30 Day Ketogenic Cleanse". She also authored 8 other books including several cookbooks and 3 nutritional guide books including the best-selling book "Keto."
About The Trustees and The KITCHEN
As one of the largest owners of agricultural land and the premier steward of the cultural and natural landscape of Massachusetts, The Trustees extends its leadership to transform the local food system by connecting residents and visitors back to the land and sharing the Commonwealth's collective agrarian heritage through innovative retail and educational experiences at the Boston Public Market in the heart of downtown Boston.
The KITCHEN is a community gathering place, managed by The Trustees, that is restoring the craft of seasonal cooking in Massachusetts, New England, and beyond through hands-on classes and educational experiences that celebrate the farmers and artisans of this region. Partnered with the Boston Public Market, The KITCHEN embraces a whole-food approach to eating and promotes cooking as an essential cornerstone of a sustainable food system.
Join The Trustees and receive 20%-50% off all classes, workshops, and events at The KITCHEN and all Trustees properties.