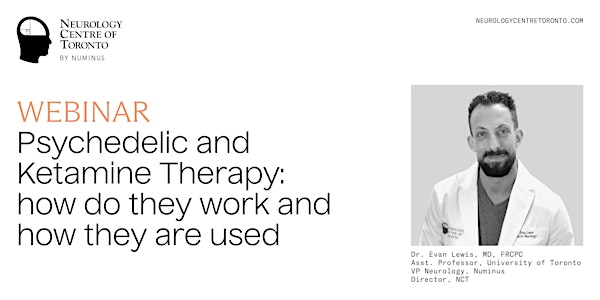 Ketamine & Psychedelic-Assisted Therapy Information Webinar
An overview of ketamine & psychedelic-assisted therapy, how it works, and how it is used at the Neurology Centre of Toronto
About this event
The Neurology Centre of Toronto by Numinus extends a warm invitation to attend a free informational seminar on our Ketamine-Assisted Therapy (KAT) program.
This informational seminar will be led by our neurologist and medical director, Dr. Evan Lewis. Dr. Lewis is well-versed in psychedelic neuroscience, research and current treatments and has developed approaches from a neurologic perspective to offer education, guidance, and information for psychedelic-assisted treatments in the context of neurological conditions.
Share with your friends and contacts who may be interested!