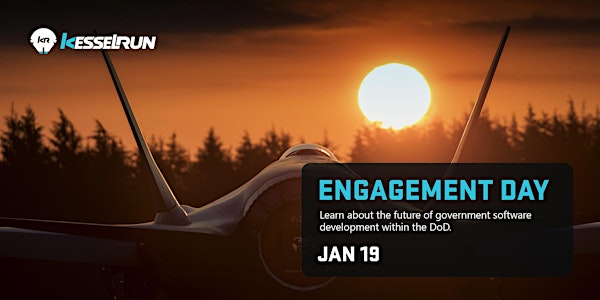 Kessel Run Engagement Day
Learn more about Kessel Run on January 19!
About this event
*Update January 18*
Confirmation emails were sent January 18 and a reminder will be sent on January 19. These confirmation emails include instructions on how to join the session. We recommend checking your Spam or Bulk Email folder if you do not receive a notification in your inbox. Thank you for your understanding.
Kessel Run has been closely monitoring the coronavirus COVID-19 situation. In light of the recent spike in cases, we've chosen to move our Engagement Day to a 100% virtual experience. Our greatest priority is the safety and wellbeing of our community. Join us on Wednesday, January 19 at 2 p.m. EST, to learn more about Kessel Run!
Kessel Run is the premier software development and acquisition unit in the United States Air Force. We host Engagement Days to provide an overview of who we are and how we work. During these sessions, we will share our history, our mission, and the proper channels for partnering with us. There will be ample time for participants to ask questions.
TENTATIVE AGENDA (all times are EST)
Kessel Run Overview
The Engagement Team
Kessel Run Mission & Vision
Product Lines Overview
Pathways to Engagement
We hope to see you soon!
Filling out this form does not guarantee a confirmation for attendance since space is limited. Your registration is not complete until you receive a confirmation email with the subject line, "Your registration is confirmed."
Follow Kessel Run!