To accelerate developments within the Africa's tech ecosystem, Africa Future Summit is to host the largest tech tour across the continent.
About this event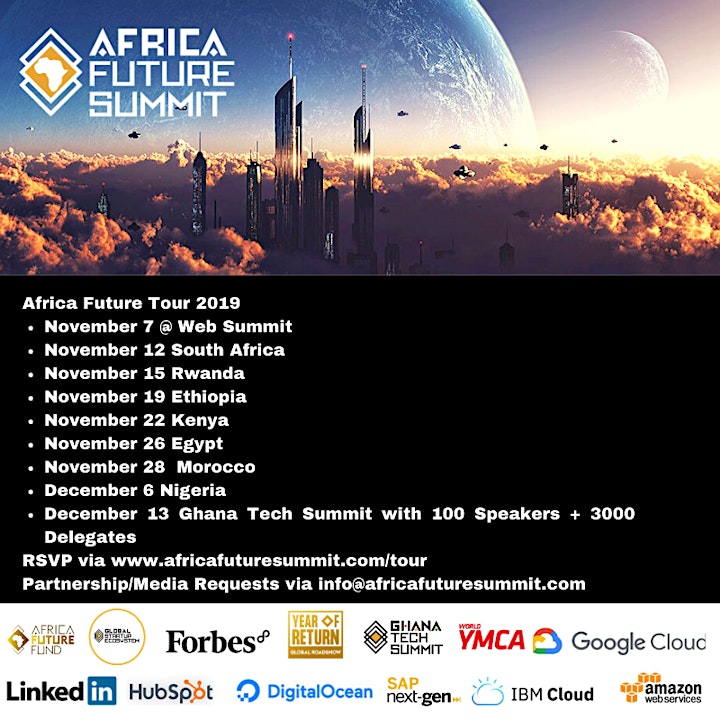 Africa's Largest Tech Tour Launches in 10 Countries Across the Continent
ATTN: Annual Africa Future Tour (Kenya Tech Summit) Edition
DATE: November 22, 2019 @ 10am-4pm
LOCATION: YMCA Central P.O Box 63063 Nairobi, Nairobi 00200 Kenya
MEMO: An initiative hosted in partnership with Forbes8, YMCA, Github, the Africa Future Fund, and the Global Startup Ecosystem.
Free RSVP: https://www.eventbrite.com/e/africa-future-summit-kenya-tickets-56761285533
[November 8, 2019 - New York, USA ] To accelerate the tech ecosystem of Africa, the Africa Future Fund will sponsor the largest tech tour across the continent to date from November - December 2019 targeting 10 countries such as South Africa, Rwanda, Ethiopia, Kenya , Egypt, Morocco, Nigeria, and Ghana. Africa Future Summit (Kenya Tech Summit Edition) will feature 500 global delegates in partnership with the Forbes8, the YMCA, the Africa Future Fund, South Africa Tech Summit and the Global Startup Ecosystem.
The Africa Future Summit is powered by the Africa Future Fund and produced by Forbes(8). The annual Africa Future Summit is the world's most premier summit curating an active network of investors, tech entrepreneurs, celebrities, politicians and business moguls towards addressing the UN SDG goals and positively accelerating the future of Africa. Each year the program gathers delegates from across Africa and around the world to address and tackle challenges that affect Africa's future. The summit serves as a platform for influencers who are sourcing innovative solutions and partners that leverage exponential technology to accelerate Africa as the world's final tech frontier hub. The initiative is a part of a multi year roadmap to 2030 to achieve the 17 Sustainable Development Goals for Africa.
As an affiliate to the Global Startup Ecosystem, The Africa Future Summit boast a speaker network that includes: Jack Dorsey (Founder of Twitter), Ben Horowitz (Investor Twitter, Facebook), Tim Draper (Investor in Skype, Hotmail etc); Naveen Jain (Founder of Moon Express, Viome etc.); Current President of Haiti Jovenel Moise; Vicky Jeudy from Netflix Orange is the New Black; and VP+CEOs from Google, Facebook, Airbnb, Uber and more. Invited guests, delegates and representatives of Heads of States and embassy partners can register their VIP delegation via info@africafuturesummit.com indicating their confirmation or interest to join.
Best, Africa Future Summit Team
(F) https://www.facebook.com/kenyatechsummit
(L) https://www.linkedin.com/company/kenyatechsummit (T) https://twitter.com/kenyatechsummit
To network with summit tour participants- join the facebook group: https://web.facebook.com/groups/africafuturesummit/
For interests related to speaking, sponsorships, and partnerships, please direct inquiries to info@africafuturesummit.com.
Africa Future Summit Media Team
(E) info@africafuturesummit.com
(W) www.africafuturesummit.com

Speakers Confirmed
Tom Waka National Chairman Keynote Speaker
Nirina Rakotomalala Africa Alliance Keynote Speaker
Christine Ntim CMO @ Global Startup Ecosystem Keynote Speaker
Adrian Amen Economic Officer at US Embassy Keynote Speaker
Dr. Kagonya Awori Senior Manager User Experience and Design Safaricom Kenya Ltd. Keynote Speaker
Einstein Ntim Partner @ Africa Future Fund Keynote Speaker
Waihiga K.Muturi Rtn. Let's Create Africa Keynote Speaker
Tobias Jairo Wings of Wisdom Keynote Speaker
Jane Muigai The Toolkit iSkills (TTI) Ltd Keynote Speaker
Dr.Harold Omondi Lecturer - JKUAT Keynote Speaker
Nicholas Haan Vice President of Impact and Faculty Chair of Global Grand Challenges Keynote Speaker
Regina Njima CEO SingularityU Kenya Summit | Co-Founder & Managing Partner at Kizo Ventures Keynote Speaker
"Amira Alfa " "Senior Engagement Manager
United Nations Global Compact" Keynote Speaker
Christine Ntim Founder Global Startup Ecosystem Keynote Speaker
Fortune Richard MC @ YMCA MC
Lloyd Wamae Africa YMCA Moderator
Arnold Maliba Open Future Hub (OFH), Executive Director Speaker
Ronald Omyonga iBUILD Global Inc. Speaker
Dr.Peter Okoth Executive Director Zingo Tech Limited Speaker
Karagania Mwamlole Young Scientists Kenya - Programme Officer / Riara University - Lecturer Speaker
Organizer of Kenya Tech Summit 2019
Africa Future Summit is the world's most exclusive event featuring Africa's growing network of exponential tech influencers. The annual program brings together hundreds of entrepreneurs, investors, pioneers, and creatives under one roof to address the greatest exponential technologies launching across the continent and its future role as the world's final tech frontier.
Africa Future Summit Media Team
(E) info@africafuturesummit.com
(W) www.africafuturesummit.com