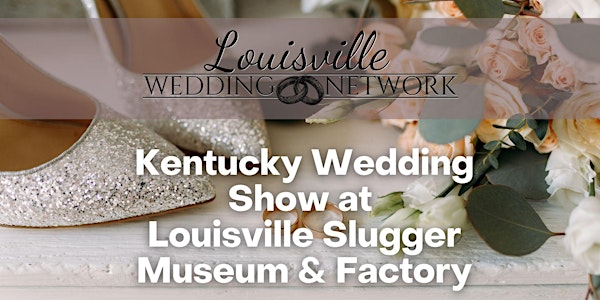 Kentucky Wedding Show at Louisville Slugger Museum & Factory
Pre-register today for the 2/5/2023 Kentucky Wedding Show at Louisville Slugger Museum & Factory
When and where
Location
Louisville Slugger Museum & Factory 800 West Main Street Louisville, KY 40202
About this event
Several LOCAL wedding professionals will be on hand to discuss your wedding.
Pre-register today for the February 5th, 2023 Wedding Show at Louisville Slugger Museum & Factory presented by Louisville Wedding Network. Thousands in Door Prizes will be given away by various Wedding Professionals!
LEARN ABOUT LOUISVILLE WEDDING NETWORK Click Here For A List of Louisville Wedding Network Members
Are you a vendor interested in participating in the wedding show? Click Here for detailed information
PHOTO/VIDEO DISCLAIMER:
By registering for this event, you consent to and understand the following: Louisville Wedding Network (LWN) and all of its affiliates reserve the right to use any photograph/video taken at any event sponsored or hosted by LWN, without the expressed written permission of those included within the photograph/video. LWN may use the photograph/video in internal and external publications or materials produced, used, or contracted by LWN including but not limited to: brochures, invitations, social media, newspapers, magazines, television, websites, etc.
By RSVPing and/or attending a LWN event or partner event - held in-person, hybrid or virtual - you consent to being photographed, filmed and/or otherwise recorded regardless of your current membership status in LWN. Your RSVP and/or attendance constitutes your consent to such photography, filming and/or recording of your appearance, voice and name for any purpose whatsoever in connection with LWN, including commercial purposes.
A person attending a LWN event who does not wish to have their image recorded for distribution should make their wishes known to the photographer, and/or the event organizers, and/or contact LWN at president@louisvilleweddingnetwork.com, in writing of their intentions and include a photograph. LWN will use the provided photo for identification purposes and will hold it in confidence. All efforts should be made to notify LWN prior to the start of the event that has been RSVPed/registered for to allow for information to be shared with necessary parties, i.e. photographers, event organizers, etc., and necessary accommodations to be made.
By participating in an LWN event or by failing to notify LWN, in writing, of your desire to not have your photograph used by LWN, you are agreeing to release, defend, hold harmless and indemnify LWN from any and all claims involving the use of your picture or likeness.
Any person or organization not affiliated with LWN may not use, copy, alter or modify LWN photographs, graphics, videography or other similar reproductions or recordings without the advance written permission of an authorized designee from LWN.
Contact LWN's Marketing Firm at info@soinmediagroup.com for questions, written notice of desire to not be photographed, or additional information.