Kentuckiana Family Research Conference 2020
About this Event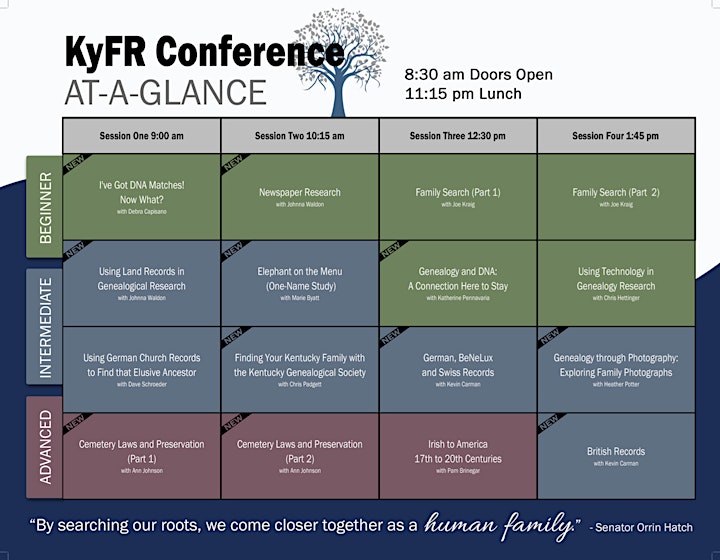 SESSION 1:
Cemetery Laws and Preservation (Part 1): Ann Johnson
What are your rights as a property owner with a family cemetery and what are your rights as a family member?  How do you map a cemetery? How do you clean and preserve cemetery stones?  What is required to move a grave?  What rules apply to an abandoned cemetery?  If you have any questions concerning cemeteries in Kentucky, this is the class for you.
Ann Johnson is the sole proprietor of Sacred Ground, a company specializing in cemetery preservation consultation, workshops and seminars.  Ann previously worked for the Kentucky Historical Society where she managed their Cemetery Preservation Program for 12 years.  While there, in addition to holding workshops across the Commonwealth and managing the cemetery preservation database of registered cemeteries, she designed, wrote, developed and implemented the Kentucky Pioneer Cemetery Program and the Adopt a Cemetery Program for the Society.  Ass is retired and lives in Frankfort, but continues in the work of the preservation of family cemeteries. She is pleased to be a part of the efforts to continue the important work of cemetery preservation.
I've Got DNA Matches! Now What? - Deborah Lord Campisano  
This presentation illustrates testing results from four leading DNA testing companies, with examples of what a tester may see on results pages, including matches from Y-DNA, mtDNA, and atDNA. Who are these matches and what does it all mean? Learn some tips for identifying matches (especially those with only initials or username), organizing your DNA findings and see examples of reaching out to your DNA cousins. (Audience: Beginner and Intermediate)
Deborah Lord Campisano, (BA History), has over 35 years of genealogical research experience -- 25 as a professional. She completed course work in genealogical studies at a number of institutes including the Salt Lake Institute of Genealogy (SLIG) and the Genealogical Research Institute of Pittsburgh (GRIP). Deborah co-leads the Louisville Genealogical Society's Genetic Genealogy Special Interest Group which she and colleague, Debra Renard, began in 2014.  Now retired from client work, Deborah is focused on using genetic genealogy and traditional research to identify her Irish great-great grandmother and assist those with unknown parentage.
German Church Records - Dave Schroeder
Using German Church Records to Find that Elusive Ancestor. German church records are amazing resources for genealogists.  In most cases, they pre-date civil records and can provide significant information including dates or birth, marriage and death, maiden names of your female ancestors, place of residence and occupation.  Many of these records are now being placed online and are now even more accessible.
Dave Schroeder is a native of Ludlow, Kentucky. He was named Executive Director of the Kenton County Public Library in April 2007. Dave began his career at Kenton County Public Library in 1986 as a shelver. In 1987 he began working in the Local History Department indexing historic newspapers. He held the position of Archivist for Thomas More University from 1996 to 2000. Schroeder returned to KCPL in 2000 as the Kentucky History Librarian.
Schroeder earned a Bachelor of Arts degree in History from Thomas More University in Crestview Hills, Kentucky. He also holds a Master of Arts degree in History from the University of Cincinnati and a Master of Science degree in Library Science from the University of Kentucky. He is a graduate of Leadership Northern Kentucky Class of 2008.
 He is the author of Life Along the Ohio: A Sesquicentennial History of Ludlow, Kentucky (Little Miami Press 2014), co-editor of Gateway City: Covington, Kentucky, 1815-2015 (Clerisy Press 2015) and co-author of Lost Northern Kentucky (History Press 2018).
Land Records Research - Johnna Waldon
Land Records Research connects a family to a piece of land in a time and place. Learn the basics of military land grants, the metes and bounds and Public Lands survey systems, and the use of maps.
Johnna Waldon is an Assistant Branch Manager at the Tates Creek Branch Library of the Lexington Public Library. She offers several genealogy programs throughout the year and through the Lexington Public Library provides Book-A-Librarian appointments to help customers with their research one-on-one. Johnna has been researching her Dingus and Dotson family hard-core since 2006. She is currently the Immediate Past President of the Kentucky Genealogical Society (www.kygs.org) and serves on the board of the Lexington History Museum. As of the Spring 2018 semester, Johnna is a co-instructor for "Genealogy Services in Libraries", a 16-week online course at Bluegrass Community and Technical College (bctcs.edu) for library staff.
SESSION 2
Cemetery Laws and Preservation (Part 2) - Ann Johnson
Finding Your Kentucky Family with the Kentucky Genealogical Society - Chris Padgett
The Kentucky Genealogical Society was founded in 1973 with the misions of 1. Helping foster excellence in genealogy through educational programs and projects that preserve, produce and disseminate knowledge of genealogical values; 2. Connecting researchers to other persons interested in genealogy; and 3. Encouraging the preservation and availability of records essential to genealogical research.  During this overview, Chris will share the benefits of membership; tips and tools he's learned researching his ancestors; and easy ways for you to get started researching your family.  Chris welcomes audience interaction and questions.
Chris Padgett is an 8th generation Kentuckian.  He has been a hobby researcher for over 30 years.  He was introduced to family history by his parents and grandparents.  His parents would frequently put him to work as they canvassed cemeteries, sifted through records in county courthouses, and searched microfilm reels for obituaries at libraries.  Chris' people are a combination of English, Irish, Scottish, German, Dutch and Norwegian.  The lives of his 4th great-grandparents, Andred Kimbley and Sarah Bromley, are documented in the Draper Manuscripts as two of the pioneer settlers of Corn Island.  His family tree includes a diverse collection of ancestors from who participated in the underground railroad to ancestors who were slaveholders.  Several of his ancestors were German members of a community called the Society of Harmony, and some were ministers in the American Spiritualist Church Movement.  He's found in his family tree stories of farmers, jewelers, hotel owners, railroad workers, veterans, artists and just about everything in between.
Newspaper Research - Johnna Waldon
Finding Family History Using Newspapers. Newspapers contain a wealth of family history. Learn how to find and access newspapers and tips for searching like a pro. For adults and teens.
Elephant on the Menu (One-Name Study) - Marie Byatt
Elephant on the Menu refers to the idea that the only way to eat an elephant is one bit at a time.  The same holds true for a One-Name Study.  If tackled one piece at a time, it becomes doable no matter the size.  After explaining what a One-Name Study is, this class will help participants define their own project and goals, proceed through the process, and eventually preserve their work beyond their life spans.  The Guild of One-Name Studies has tools, links and educational information to help members with all of these tasks.
Marie Byatt lives in Eagle River, Wisconsin. She has been working on genealogy for over 20 years and  volunteered at the New Albany Family History Center for 10 years.  She is a Trustee and Board Member for the Guild of One-Name Studies. http://one-name.org
SESSION 3:
Genealogy and DNA: A Connection Here to Stay - Katherine Pennavaria
DNA science has evolved rapidly over the past few decades, especially in its application to genealogy. It has become both a fascinating and complex science and a big business, especially when linked to genealogy. Learn some basics about DNA, what testing for genealogy results involves, and what health results are available. Also covered: privacy concerns about DNA test results being available online.
Katherine Pennavaria is a faculty librarian at Western Kentucky University. She is an experienced genealogy researcher and has given many presentations and webinars on a variety of subjects. She is the author of the book Genealogy: A Practical Gide for Librarians (Rowan and Littlefied, 2015).
Irish to America - 17th to 20th Centuries - Pam Brinegar
For over four hundred years, people traveled from Ireland to this side of the Atlantic and stayed.  Ensuing waves of Irish emigration have resulted in over 10% of United States residents claiming Irish descent and the nation celebration March as Irish-American Heritage Month.  The often tricky task of researching Irish Families depends on determining where an ancestor was born, a process that often requires using U>S> resources before exploring those in Ireland,  This session will focus on the various items, many online for free, that can help us tell our unique stories.  A brief case study will trace Catherine (Delay) Butler back from her 1914 death in Boston through time spent in England to her 1832 County Cork baptism. 
Pam Brinegar is a family historian certified by The Board for Certification of Genealogists and a cultural anthropologist whose articles have appeared in NGS Magazine, Kentucky Ancestors, Bluegrass Roots, Ohio Genealogical Society Quarterly, Columns, The Book of the States and Taste. She developed and for several years served as faculty for a popular eight-week course, "Build Your Family History," offered through the Osher Lifelong Learning Institute at the University of Kentucky.
German, BeNeLux and Swiss Records - Kevin Carman
New methods to begin research of German, BeNeLux and Swiss records in the age of indexed, digitized original documents.
Kevin is a professional genealogist with much experience working with German, BeNeLux and Swiss Records. He is a member of several genealogical organizations including a past officer of the Louisville Genealogical Society. A Kentucky native whose own ancestors include both Cherokee and European settlers who arrived in KY before the end of the American Revolution. He has a deep love for the history of our state and the families who have formed our rich heritage. Genealogy has been a part of Kevin's life since his early youth and he will share his love for family history with you in his class.
Family Search (Part 1) - Joe Kraig
Family Search, what is it and how to use it will be addressed in two parts. The first part will be a description of how to use its most basic forms for building a family tree. This first part will also teach attendees how to research their own family tree by using the vast storage of records that The Church of Jesus Christ of Latter Day Saints has obtained. The records you will find easy access to include census, military, social security and a variety of other government, church and personal records. These records only touch on what is available. With the information you will learn in the first session you will be able to build a substantial history of your family including a tree of many generations possibly spanning hundreds of years.
Joseph Kraig is a native of Louisville but has lived in diverse locations Spain, Scotland, and Seattle, Washington, and Darian, Connecticut in the United States. Louisville has, however, always been the place to be. Joe's roots start early in this country back to the 1600's with ancestors that fought in the Revolution. Joe also has roots that go back to Germany. When Louisville was considered "THE" location for German families coming to the United States before the Civil War, his family got caught up in that struggle with his ancestor fighting in the Kentucky 5h for the Union.
Joe has attended several local schools and has several degrees including two in computer related sciences that are useful now in doing family history research. Until recently, Joe served as a Family History Center Librarian for nearly 20 years. He and his wife now serve in the LDS Area as Family History Advisors to leaders of the LDS Church in Kentucky and Southern Indiana.
SESSION 4
British Records - Kevin Carman
New methods to begin research of British recordes in the age of indexed, digitized original documents.
Family Search (Part 2) - Joe Kraig
In the second part of this learning experience you will see how to add your own records to Family Search. You will learn the basics of how to add pictures of your ancestors to your own family tree. You will learn how to add a variety of recordings to your own family tree and how to attach a very wide variety of public records to your own tree. You will be introduced to the many hints that Family Search provides you with to help you find and link to your family.
What you will learn in these two sessions will only scratch the surface of what Family Search can do for your family but it will be a deep scratch. You will hopefully be entertained you as you learn. When you finish you will be able to open your own Family Search Account, access free, live, in depth help 24 hours a day on nearly any arcane point in Family Search and feel comfortable moving around within Family Search. You will learn how to display what you have found, how to print charts of your family history worthy of display on a wall in your own home.
Shooting Your Way Through Your Family History ... Using a Digital Camera. - Chris Hettinger
Have you been using your digital camera/ smart phone to its fullest ability in your research? Do you know the best time of day to take a picture of a tombstone? To flash or not to flash? Learn nontraditional ways to increase your research capability, and better ways to capture pictures of important locations. What about documenting without lifting a pencil. After all a picture is worth 1000 words. This class will focus on using technology to optomize your time spent researching by using your digital camera to document and increase items reviewed on research trips.
Chris Hettinger is a engineer by trade and a genealogist by hobby. He has been researching his family tree for many years and loves to share his knowledge with others. When not working as a design engineer for GE Appliances, he spends time with his family. He love to spend time with the Cub Scouts pack at his church taking them on Adventures! While he should be sleeping, he can often be found remodeling his home, hobbying in electronics or researching his family tree. Chris likes to use technology to make things more organized and efficient and we are lucky to have him share what he has learned with us.
Genealogy through Photography: Exploring Family Photographs - Heather Potter
The Filson Historical Society located in Old Louisville has over 75,000 photographic items within its collection.  A large portion is comprised of local Louisville and Southern Indiana family photographs.  While you may be familiar with the Filson's library resources, many forget about our visual resources.  Filson's Curator of Photographs and Prints, Heather J Potter, will give an overview of the Filson's Photographic Collections and overview of 19th century photographic formats, and some tips on how to preserve your own family photographs.