Kenny Presley - LIVE with Special Guest John T. Wayne "The Duke's Grandson"
Description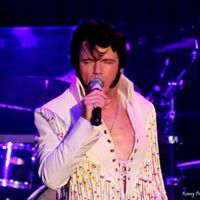 Kenny Presley Live - For The Love Of Elvis, is a high energy, live concert production that explores the vast musical journey of Elvis. Kenny Presley takes his audiences from 1957 and Jailhouse Rock to a selection of some of the greatest Gospel songs Elvis loved to perform. Then it's off to 1968, and the Comeback Special with music that celebrates a time in Elvis's career that was on the move! Next, it's the Vegas Years and a true rock-n- roll ride through the music that forged the bonds between Elvis and Las Vegas in a seven-year run between 1969 and 1976. The show finale, An American Trilogy, is to this day still wildly popular with fans, and will always be remembered as the Elvis "showstopper".
John T. Wayne, grandson of John Wayne "The Duke". He is a published author and will be signing books at our event.