Kenny Aronoff hosts FanRoom Live!
About this Event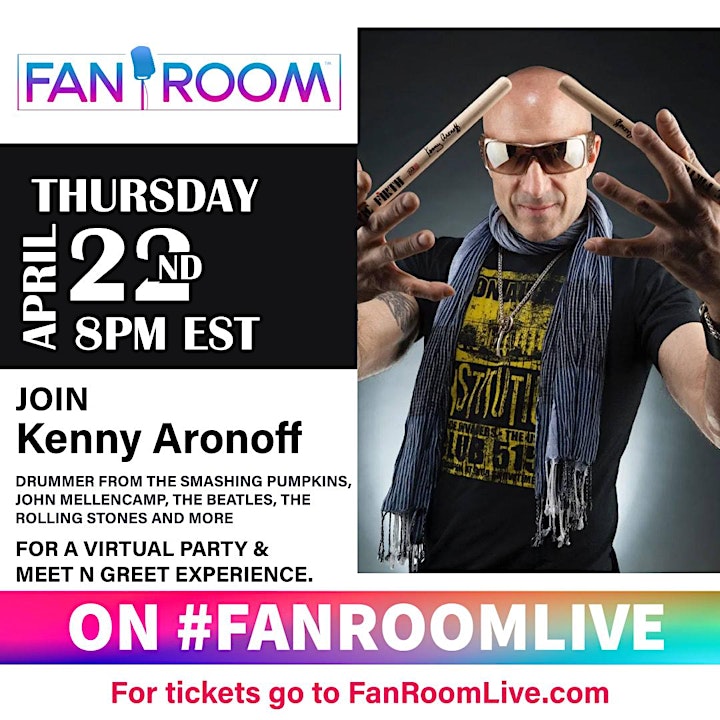 Thursday April 22nd Join Kenny Aronoff on FanRoom Live for a Virtual Party & Meet N Greet Experience! Here backstage stories from his tours with Smashing Pumpkins, John Mellencamp, The Beatles, The Rolling Stones and much more!
Ticketing Options:
$5 join the party sit in audience! 1 lucky fan will win a meet n greet during the event!
$25 Meet N Greet
- Meet Kenny face-to-face during the FanRoom Live Meet N Greet session with a 1on1 video chat!
- This ticket comes with a recording of your session with Kenny!
- With this ticket 1 lucky Fan will win a raffle of 1 signed autographed item from Kenny and 1 ticket to a future FanRoom Live Event
$50 VIP Backstage All Access Pass with Meet N Greet
- Includes everything offered with the Meet N Greet ticket and more!
- Enjoy ultra-exclusive access to a private one-on-one hangout & video chat with Kenny after the event for an even more personal experience !
This option also comes with a recording of your session and a selfie photo opp!