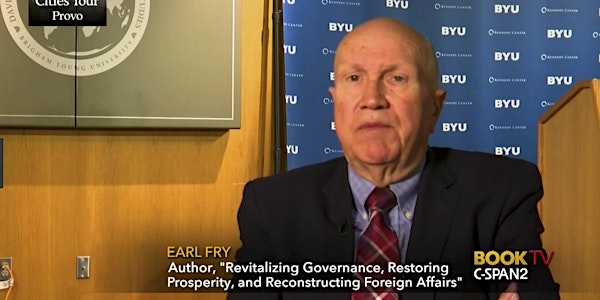 Kennedy Conversation with Earl Fry | The Future of Global Trade
Location
4365 Executive Dr
22th Floor
DLA Piper
San Diego, CA 92121
Description

Kennedy Conversations are informal discussions for Kennedy Center alumni and friends held around the world with experts and informed opinion-leaders on a wide range of topics. Past events have been held in London, Hong Kong, New York, Washington, D.C., Chicago, Salt Lake City, and Provo. Join us and (re)connect with the Kennedy Center, the heart of international engagement for the BYU community.
Trade Wars: The Future of Global Trade and U.S. Competetiveness
Earl H. Fry is a professor of political science and Endowed Professor of Canadian Studies at Brigham Young University. Fry is also a former special assistant in the Office of the U.S. Trade Representative. He was the Fulbright bicentennial chair at the University of Helsinki (2011–12) and former Fulbright professor at the Sorbonne in Paris and the University of Toronto. His most recent book is Revitalizing Governance, Restoring Prosperity, and Restructuring Foreign Affairs: The Pathway to Renaissance America. In addition, Fry annually publishes a map of the GDP of U.S. states compared with nation-states around the world. Remarkably, California has moved up to be the world's fifth-largest "national" economy.
Hosted in partnership with DLA Piper LLP.
---
Reconnect with Kennedy Center alumni and globally engaged friends. Also, learn how you can mentor students, create internship and career opportunities, or support student global experiences. Business casual. Space is limited. RSVP required by 7/12/18.