About this Event
Join us for a fun evening launching the Brainchild Fund!
Time to treat yo self and all the ladies in your life because Kendra Scott is donating 20% of every sale to the Brainchild Fund to support women and girls in business and entrepreneurship. Make sure to mention the Brainchild Fund at checkout to ensure this generous donation goes to the right spot.
We will also be showcasing the Brainchild Fund signature pieces. We kept it simple and classy: gold metal and black stones. You can dress them up or down! See below, they are beauts :)
A big shout out to Patti Peters, the inspiration behind our signature set! Patti is the driving force (and mama) behind our Owner & CEO, Kiley Peters. She taught her all there is to know about the creation, determination, creativity, problem-solving, and tenacity of entrepreneurship. Thank you, Patti!
There will be light bites, sips, and a raffle featuring numerous local women entrepreneurs! Local artist Ivy McConnell will also be at the event doing live fashion sketches! Her work is incredible.
Bring moms, sisters, aunts, besties, teams — anyone and everyone!
We would like to give a HUGE THANK YOU to all of our raffle/silent auction donors:
WWBIC (also our fiscal sponsor - thank you!)
Friends of Milwaukee Domes
Vibrant Body Company
A Real Good Life
Big White Yeti
Miss Molly's Cafe
Nourish Natural Products
Celesta
Conway Image Consulting
Door County Box
RPM Bodywork
Urbaine Oasis
Peekaboos
Kendra Scott
Flowers for Dreams
Pabst Theater Group // The Bachelor Live @ The Riverside
Katie Leinenkugel, a member of the Leinenkugel family
High Def Health
HaloVino
Your support and generosity are greatly appreciated and mean so much!
Donations will be accepted online and via cash or check if you wish!
Learn more about the Brainchild Fund & donate here!
You can call in orders as well if you'd like to purchase from Kendra Scott and have 20% of sales go to the Brainchild Fund - just call 608.709.7250!
OUR RAFFLE/SILENT AUCTION DONORS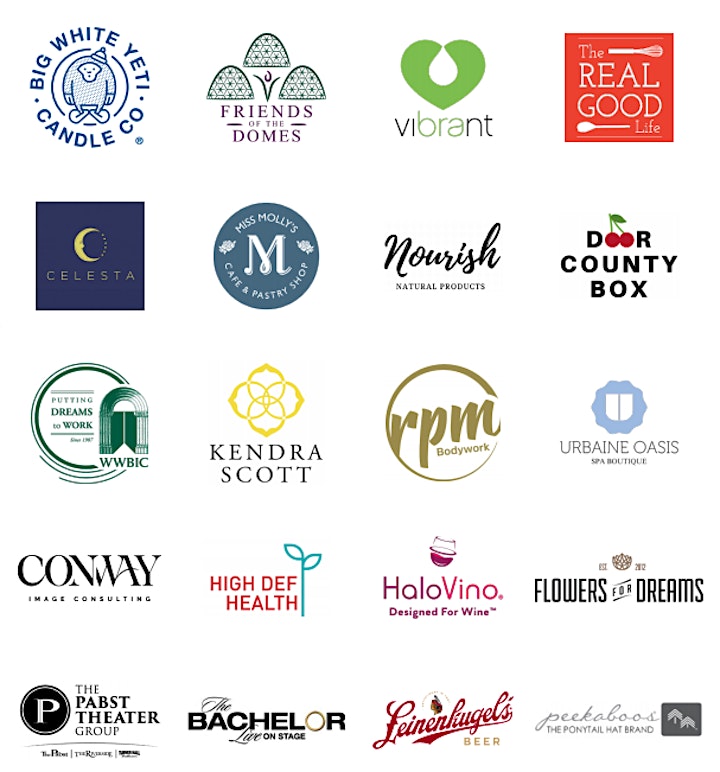 THE BRAINCHILD FUND SIGNATURE SET