Actions and Detail Panel
Kendra McKinley // Kelly McFarling [Indoor Show]
Sat, December 10, 2016, 8:00 PM – 11:00 PM PST
Description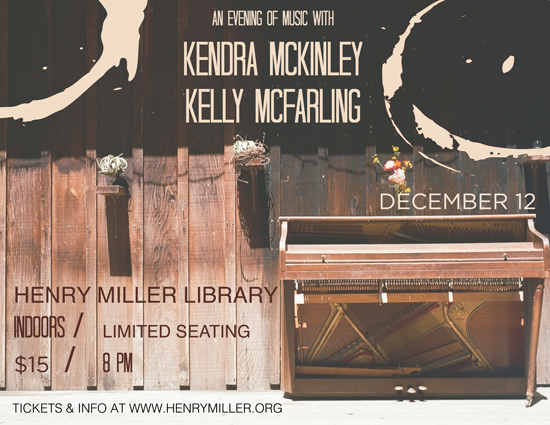 Woah, KM + KM...two incredible musicians and songwriters from San Francisco will join us on a Winter night in Big Sur at the Library, each bringing a stripped down solo version of their performance. We'll move the tables of books, light a fire in the stove, candlelight, the cats will run around. Wine? Beer? Both!
Join us for an intimate indoor performance with Kendra McKinley & Kelly McFarling...
Kendra McKinley || San Francisco, CA || http://www.kendramckinley.com/
Kendra McKinley perceives a song like a painter views a blank canvas: an opportunity to expand an audience's mind, to wash their thoughts in brilliant hues of blue and violet, scarlet reds and effusive orange. Inspired by the past but not chained to it, McKinley's music spans the diverse spectrum of pop music. She echoes the intricate vocal arrangements crafted by Brian Wilson, fractures the narrow definitions of a genre like St. Vincent, and recognizes storytelling as the key aspect of a great tune the way the best singer-songwriters have for generations.
Kelly McFarling || San Francisco, CA || http://www.kellymcfarling.com/
Atlanta, GA raised her in church choirs and baseball stadiums. She pays homage to those southern roots using a signature combination of clawhammer and traditional banjo playing. San Francisco gave her the inspiration to begin writing her own music and solidifying her original sound. McFarling explores territory outside the clear influences of folk, old time, bluegrass and country. The result is a folk rooted, country influenced blend that is equally at home at firesides or festivals. Her songwriting reeks of transitions, and the ups and downs of choosing a life of shifting foundations in a place that is consciously existing in anticipation of the next big shake. McFarling's music, like herself, occupies a place between places.