Ken Parker: The Future of Guitar Design [with guest: Charlie Hunter]
Description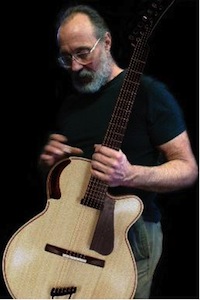 Currently building world class, innovative jazz archtop guitars in his personal shop Ken Parker Archtops, Parker was the founder of Parker guitars in 1991, a company which developed radically innovative electric guitars utilizing cutting edge manufacturing and materials.
This lecture will be accompanied with a special guest appearance by guitarist Charlie Hunter.
In 2013-14, CTM presents a series of lectures, workshops, & performances focusing on the cutting edge present and future of guitar and instrument design. Co-sponsored by Mannes School of Music, functioning as a platform to build cross divisional collaboration at The New School, and opening exclusive external collaborations, this series will bring internationally renowned luthiers, designers, builders, materials innovators, composers, performers, theorists, and sound designers together to explore points of connection between the traditions of musical instrument design and sound production, and new forms of design thinking facilitated by materials science, emergent materials, parametric design, the internet of things, physical computing, networked sound, and the politics of 'noise'.
In the fall of 2013, our first guests in this project include some of the most internationally recognized and innovative guitar designers of recent decades [with more guests TBA for Spring 2014]:
Ken Parker, Ned Steinberger, Ola Strandberg, and Gary Lee.
Organizer of Ken Parker: The Future of Guitar Design [with guest: Charlie Hunter]
The Center for Tranformative Media at Parsons School of Design is a transdisciplinary media research initiative bridging design and the social sciences, and dedicated to the exploration of the transformative potential of emerging technologies upon the foundational practices of everyday life across a range of settings.