KEMTIYU - Cheikh Anta (Film Screening) | REWIND FILM SERIES: Fashioning A F...
Description
KEMTIYU - Cheikh Anta
(1h 34m) Director: Ousmane William Mbaye
Presented in partnership with African Film Festival
Kemtiyu, Cheikh Anta by Ousmane William Mbaye (Senegal, 2016, 94min. In Wolof and French with English subtitles) "The Universal Man," "The Giant of Knowledge," "The Last Pharaoh": those were some of the newspaper headlines the day after the death of Senegalese historian, doctor, and politician Cheikh Anta Diop in 1986. Kemtiyu is a portrait of this trailblazing scholar and enlightened political figure who had an insatiable thirst for science and knowledge. Language: Wolof and French with English subtitles
A talk back will follow with Senegalese scholar and historian Mamadou Diouf and jazz musician and music composer for Kemtiyu, Randy Weston, moderated by multimedia journalist and the CEO of Afrikanspot, Isseu Diouf Campbell.
About the Director: Born in Paris in 1952, Ousmane William Mbaye is the son of Annette Mbaye d'Erneville, pioneer of Senegalese media culture. Mbaye trained at the Conservatoire Libre du Cinéma Français and studied at the University of Paris VIII Vincennes. He studied various cinema professions and went on to make films in Senegal. From 1990 to 1997, he coordinated the Rencontres Cinématographiques de Dakar (RECIDAK).
Photo Credit: KEMTIYU Cheikh Anta LABO C14-1976 ©famille Diop photo de Jake Scott

Check out the entire REWIND line up here: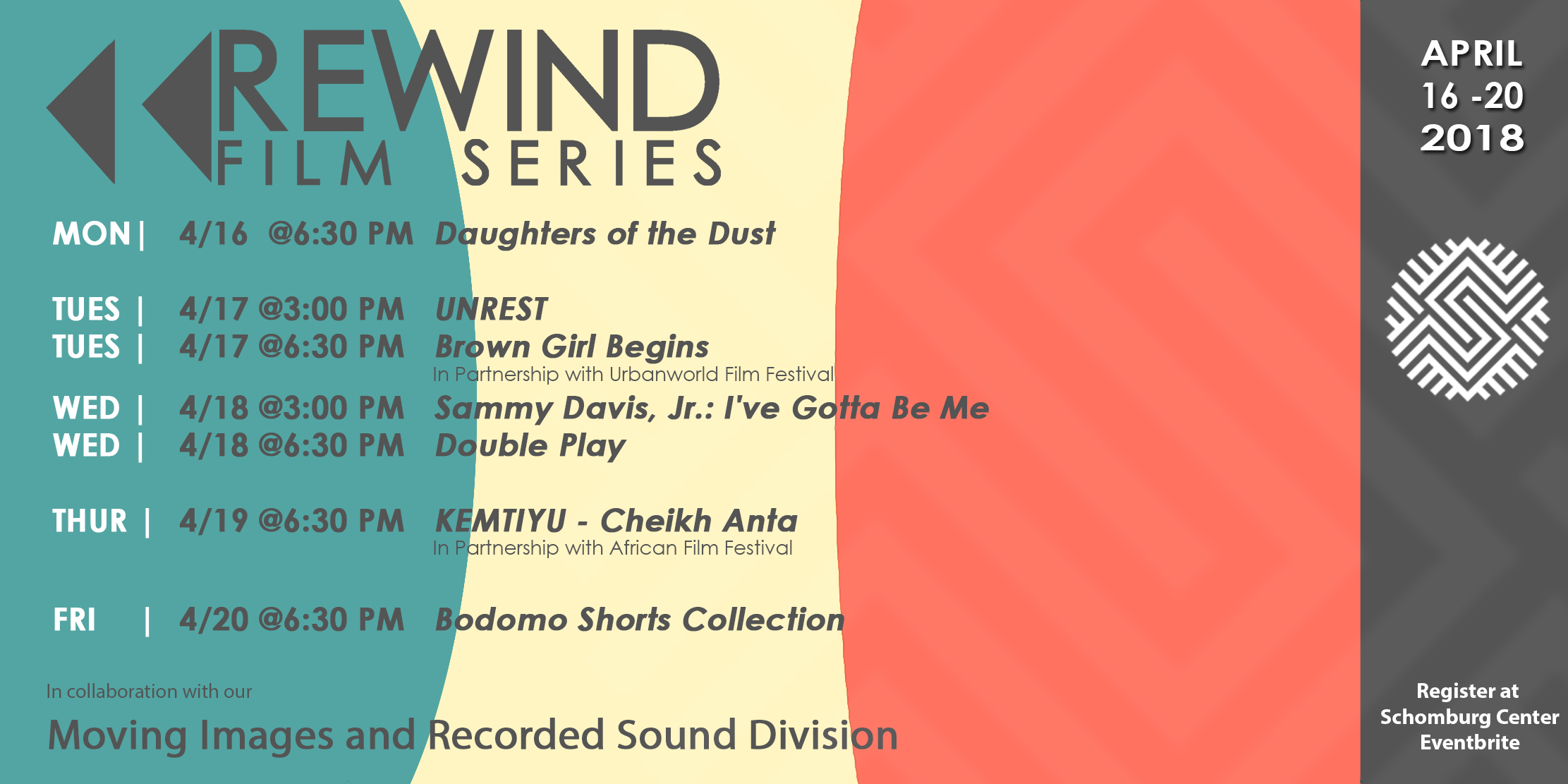 The Schomburg Center and the division for Moving Image and Recorded Sound have a rich history of collecting and preserving cinema of, or featuring black talent from across the African diaspora. REWIND 2018 will spotlight the black imagination that fashions a future from Emancipation to Afro-futurism. The series features a selection of films that express diverse global black experiences by emerging and established filmmakers. REWIND 2018 is co-curated with the Schomburg Center's Public Programs department and the Moving Image and Recorded Sound division, also featuring films presented by Urbanworld and African Film Festival. #SchomburgFilmSeries