Keltaisen Toimiston 2-v juhlat

Friday, February 17, 2012 from 1:00 PM to 4:00 PM (EET)
Event Details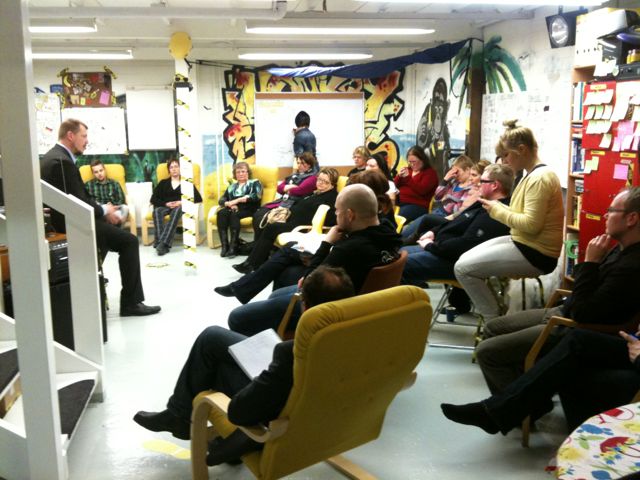 Tervetuloa Keltaisen Toimistomme 2-v tupareihin / syntymäpäiväjuhlaan perjantaina 17.2. klo 13:00 alkaen. Ilmoittaudu täällä niin osaamme varata sopivan määrän tuoleja, kahvia, teetä ja hedelmiä päivälle. Iltabileisiin ei tarvitse erikseen ilmoittautua, sinne ovat kaikki ystävämme ja kaverin kaverit tervetulleita. Seminaariosuus on hyvin vuorovaikutteinen. Puhujilta on pyydetty ytimekkäät 20 minuutin alustukset, jonka jälkeen on kahvitauko ja tilaa vapaamuotoiselle dialogille. Tässä päivän alustava ohjelma, ei varmaan mene minuutilleen vaan suurinpiirtein näin:
Klo 12:00 Omakustanteinen (8e) lounas Raijan ravintolassa. Tarjolla erittäin hyvää kotiruokaa.
Klo 13:00 Seminaari alkaa, tervetulosanat Ville Keränen, Monkey Business.
Klo 13:20 Aki Koivistoinen, Dazzle. Design, Business & johtaminen?
Klo 13:40 1. Kahvitauko, jolloin aikaa moikata tuttuja ja kehitellä ideoita.
Klo 14:00 Katriina Lahtinen, JYU, "Visuaalisuus palvelumuotoilussa."
Klo 14:20 2. Kahvitauko
Klo 14:40 Irmeli Aro, Findeco ry, "Somesti jaksaminen - Kuinka tulevaisuudessa jaksetaan?"
Klo 15:00 3. kahvitauko
Klo 15:20 Seminaarin yhteenveto.
Klo 16:00 Seminaari päättyy. Hengailua vapaalla tyylillä -osuus alkaa.
Vaikka virallinen osuus päättyy klo 16:00, juhlat ei lopu siihen. Palju on tilattu perinteiseen tyyliiin lastauslaiturille. Sauna on lämmin klo 18:00 alkaen. Katolla on lunta missä vilvoitella. Illalla Dreadmarkin DJ't Chris Robin ja Dubba Jones pitävät tunnelman katossa. Katsotaan, josko kahden aiemman vuoden tapaan yrityskummimme LeTim myös heittäisi keikan. Tai joku muu yllätysmuusikko. Dress Code: Vapaa tyyli. Oma pullo mukaan.
Facebook event löytyy myös täältä -> http://www.facebook.com/events/230389227023598/ Siellä voi keskustella päivän annista ja odotuksista. Twitterissä hashtag #YellowOffice.
Lisätietoja Johanna Hytöseltä puhelimella numerosta 040 167 9885 tai Twitterissä @JohannaHytonen


Attendee List
Sort by:

Date

|

First Name

|

Last Name
When & Where

Teollisuustalo B-rappu, 3 krs.
Konttisentie 8
40800 Vaajakoski
Finland


Friday, February 17, 2012 from 1:00 PM to 4:00 PM (EET)
Add to my calendar
Organizer
Monkey Business on yellow consultancy to support dialogue within organizations. We help to build leadership culture that helps people to feel well, creative and flourish. We are on a mission to make the world more fun and yellow.