Kelly Wanser at The Interval: Is Reflecting Sunlight a Bridge to the Future
Description
This talk is sold out, but Long Now members can watch it via live stream on our member site starting at 7:30pm PT on Tuesday, August 14. For livestream access and to find out first about upcoming talks join Long Now today.
The Interval at Long Now welcomes
Kelly Wanser - Is Reflecting Sunlight from the Atmosphere a Bridge to the Future?
Recent data shows damage from climate change rapidly increasing. There are many scientifically proposed methods (from the U.S. National Academy of Sciences, the U.K. Royal Society, and the American Geophysical Union among others) for directly reducing atmospheric heat. Yet to date there are still no formal research programs or capabilities to further explore these geoengineering ideas. What are the potential risks and benefits? How do we balance this effort vs. emissions reduction and restoring the natural system?
 Kelly Wanser of SilverLining will discuss and explain her work advocating, educating and coordinating research on this important effort to combat climate change.

Check-in begins 6:30pm; talk starts at 7:30pm
at The Interval at Long Now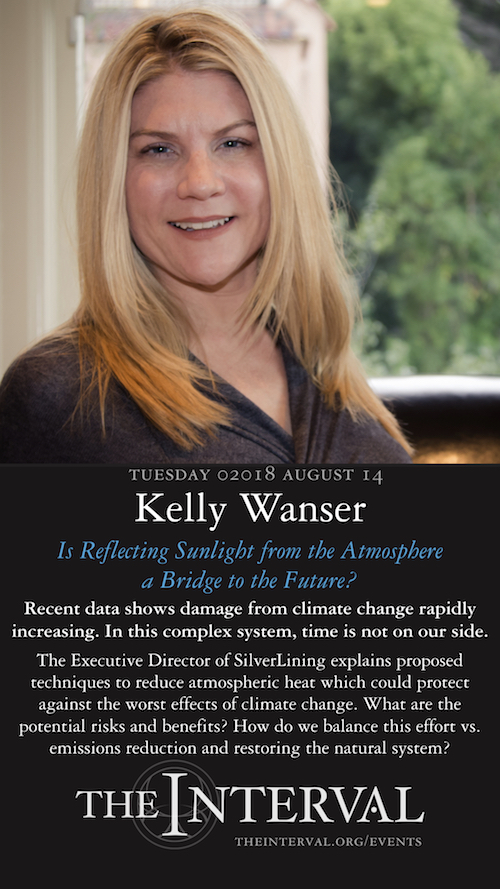 Join Long Now to support our programming and get access to livestream video of our talks.

Kelly Wanser is Executive Director of SilverLining which is dedicated to ensuring safety for people and ecosystems by driving options for reducing atmospheric heat. She works to accelerate adoption of technologies that help us understand and manage climate as a complex systems problem. Working closely with leading scientists, engineers, technologists and government leaders to advocate for increased geoengineering research, Ms. Wanser recently testified before the U.S. House Space, Science and Technology Committee. She is Board Director for BioCarbon Engineering, who use drone and AI technology to automate ecosystem restoration and is a Senior Advisor to BlackBirch, which uses hyper-local data to help businesses manage weather risk.
Long Now members hear about Interval events first: become a member today
Photo by Chris Michel