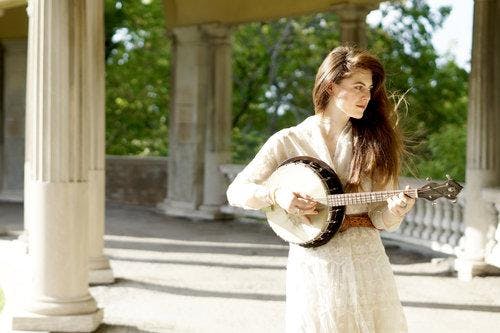 About this Event
http://www.kellyhuntmusic.com/
Americana / Folk singer songwriter banjo player Kelly Hunt will debut "The SongCraft Sessions" series Wed. Jan. 16th at The Record Bar Kansas City, MO — Kansas City Americana / Folk singer songwriter banjo player Kelly Hunt will debut an experimental, collaborative 4-part performance residency titled "The SongCraft Sessions" Wed. January 16th 7-9pm at The recordBar 1520 Grand. Adv. tickets are $10 and available online at: www.therecordbar.com. Remaining SongCraft Sessions are scheduled for Wed. March 6, Thur. April 11 and Wed. May 22.
Hunt has conceived the series as a laboratory for new songs and arrangement ideas, experimenting with instrumentation and a collaboration with fellow Kansas City musicians. The series kicks off Jan. 16 with guest artist opener Una Walkenhorst, guest artists for the remaining three sessions will be announced soon. The performances will also feature longtime co-conspirator multi-instrumentalist Stas' Heaney and an occasional rotating band of local musicians. The format may vary some but will include an opening set from the guest artist songwriter ending with a multi-song collaboration with Kelly followed by a long set of Hunt's own music freely explored and configured as she sees fit. The residency is intended as an exercise in principles Hunt says guide her creative approach.
"When the opportunity for a residency at The record Bar came up, I knew I wanted to do something different with it. Lately, I've been gravitating towards new instruments, new styles of writing, arranging and performing. I've been craving a public stage that facilitates experimentation, collaboration, and community. A place to air out brand new—even unfinished—songs within the context of live performance: a laboratory of sorts. This series is designed to encourage that kind of creative space for both performer and listener—to give the songwriter a unique sounding board for new ideas, and to invite the listener to participate in that creative process. Every show in this series will be unique. I'm excited to be joined by some of my favorite local songwriters and musicians onstage, and to finally give voice to songs and ideas that have been waiting in the wings for a long time", said Hunt.
Hunt's stellar debut album "Even The Sparrow" is already getting rave advance reaction prior to it's international release projected for the end of Q1 2019. "Hunt applies her haunting voice and evocative banjo playing to songs that build on the work of contemporary masters like Gillian Welch." - THE KANSAS CITY STAR.
"...the combination of Hunt's exceptional voice and exquisitely spare instrumentation is stunning." - Bill Brownlee THERE STANDS THE GLASS.
Kelly will be on tour in support of "Even The Sparrow" throughout 2019.
6PM DOORS
7 PM SARA MORGAN
8PM KELLY HUNT