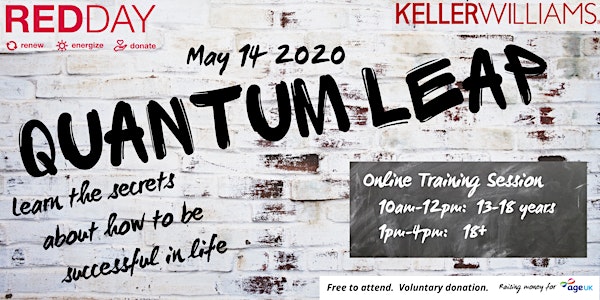 Keller Williams UK RED DAY - QUANTUM LEAP
LEARN THE SECRETS OF HOW TO LIVE WITH PURPOSE AND BE TRULY SUCCESSFUL IN LIFE
About this event
Join us at Keller Williams UK, part of the largest real estate company in the world, for our annual RED Day, our global charity day making a difference in the lives of others and bettering the communities we serve.
14th May 2020 is RED Day: Renew, Energise and Donate.
This year we have set ourselves a goal of teaching 1000+ people, ranging from 13 year olds to adults how to create powerful habits.
How? By sharing the key lessons of our course, Quantum Leap.
How many of us have clearly defined, measurable goals for this year, for the next 5 years and for sometime in the future? How many of us know the activities we need to do today to achieve our someday goal?
For children attending senior school / college, this is a pivotal time which may shape their future forever. Where do they learn the skills to help them build a successful life and achieve the goals they may set for themselves? How do we unlock and empower future leaders and entrepreneurs?
Quantum Leap (QL) is a program about living with purpose; learning strategies that are used by some of the world's most successful people in order to live the life that you want, to its fullest. Gary Keller - CEO of Keller Williams - has put this course together to show how it's possible to achieve ANYTHING. You just need to know how.
Come and join us where you will learn the mindset and power principles used by high achievers. We'll also discuss how to:
Make better decisions
Develop powerful habits
Move past obstacles
Increase productivity
Build wealth
ON THE DAY
The course is for anyone from 13 years of age. In order for participants to get the most out of the program, we are running two online training events:
1000-1200: QL for 13-18 years
The secrets that school would like to teach you (but can't)
1300-1600: QL for 18+ years
The secret to a successful life (the stuff they didn't teach you at school)