Are you newly licensed? Interested in taking the Real Estate Salesperson Exam? Looking to grow and expand your business? Join the #1 Real Es
About this event
Are you newly licensed?
Interested in taking the Real Estate Salesperson Exam?
Looking to grow and expand your business?
Join the #1 Real Estate office in Queens for Career Zoom!
Wednesday, December 15th 5:00-6:00pm
THE BEST TRAINING AND SUPPORTKeller Williams Realty is the #1 worldwide leader in training! Keller Williams has been recognized as the leader for new real estate agents to build their career, and experienced agents to grow their career because of our award winning training. In addition to access to some of the best coaches and mentors anywhere, our training systems like BOLD, Ignite, and KWU Connect will give you all the access you need to excel.
YOU WORK HARD FOR YOUR MONEY, SO WE LET YOU KEEP ITTraditional real estate companies take up to 40% of the commissions that you work so hard to earn. At Keller Williams Realty, we cap your commissions, which means once you hit that cap, you keep 100% of the commissions you earn.
TECHNOLOGY TO GROW YOUR BUSINESSThe Real Estate industry is dominated by tech savvy agents. At Keller Williams Realty we make sure to keep you in front of the pack with our technology, like your own mobile app, your own state of the art website, and online lead generation systems to bring clients to you.If you're ready to have a career worth having, a life worth living, and a business worth owning, then Keller Williams Realty is the place for you.
Wednesday, December 15th 5:00-6:00pm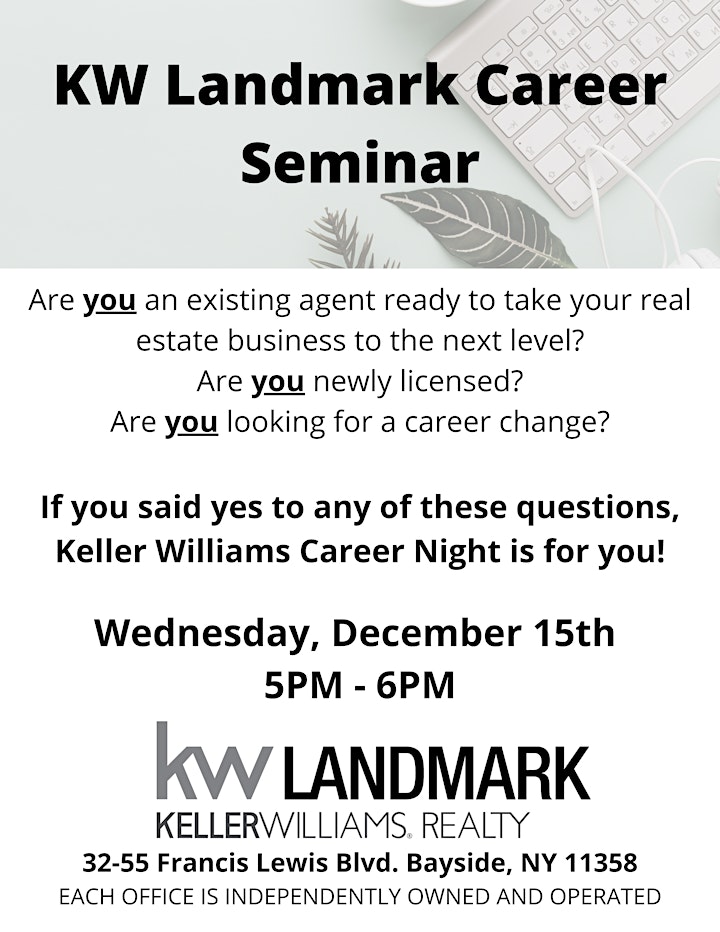 Organizer of Keller Williams Realty Landmark Career Seminar