Keller Williams Realty Scarsdale Group will be hosting their Grand Opening & Masquerade Ball Benefit on Thursday, October 14, 2021.
About this event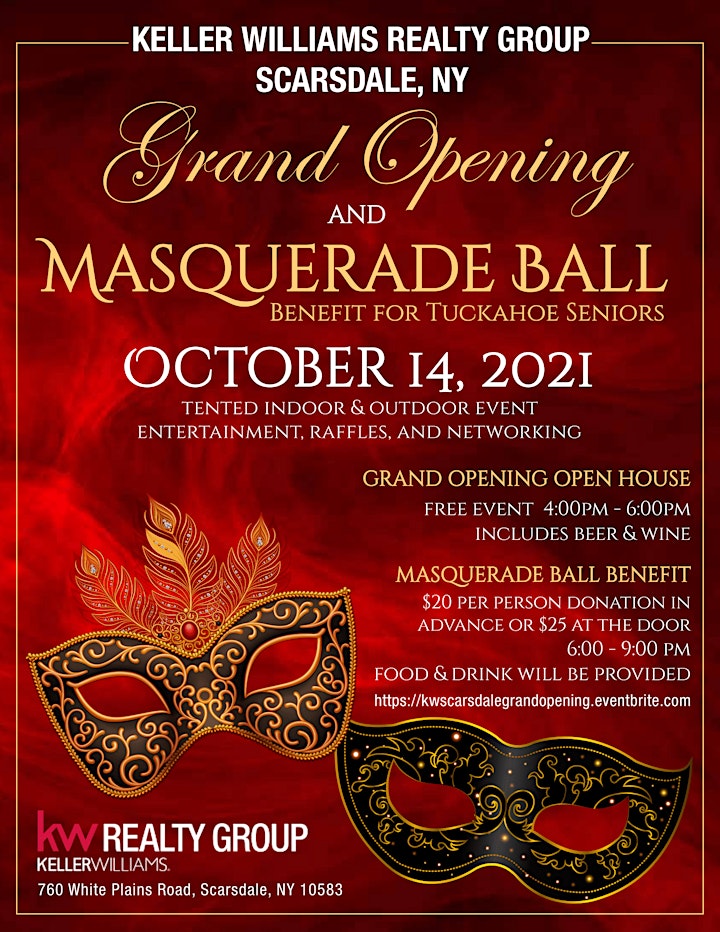 Join Keller Williams Realty Scarsdale Group for our Grand Opening & Masquerade Ball Benefit in honor of the Tuckahoe Seniors on Thursday, October 14, 2021, from 4:00 pm to 6:00 pm AND 6:00 pm to 9:00 pm.
Enjoy a special evening with us at our NEW Office Open House from 4:00-6:00 pm, and bring a colleague to enjoy beer, wine, and some snacks.
Our 14th Annual Masquerade Ball Benefit is followed from 6:00 pm - 9:00 pm, with a special Donation Request for the Tuckahoe Senior Citizens of $20 in advance and $25 at the door. We have a fun evening planned for you with live music, food, drinks, raffles, networking, and good times, so grab a colleague and join us for a great cause.
Each year we work with local businesses that sponsor the event by donating and supplying us with a variety of delicious food, beverages and, products that will be raffled out; we can't wait to share these fantastic prizes with you! We've invited members of the Tuckahoe Senior Citizens, community members, town officials, and Keller Williams associates for an exciting night filled with entertainment, giving, and fun.
Since its inception in 1970, the Tuckahoe Senior Citizens organization has provided enriched programs and services for our elderly residents of Eastchester, Tuckahoe, and Bronxville. We will be continuing the assistance of these great programs and assisting them with daily routines.
This event is significant for all of us at Keller Williams Real Estate. It allows us to serve a higher purpose of business through charitable programs in the communities we live, work, and service. It is the heart of our systems and defines our commitment to service, and exemplifies our culture. Together, with our KW Cares program, it is a time where we reach out to all our friends and affiliates and ask for their assistance and support through donated goods, services, or monetary donations. All donated items and services will be raffled off at the silent auction. Get ready for a fun night!
Thank You to Our Sponsors:
Ciao Restaurant
GEDM Contracting
Sapori of Scarsdale
Serafina
Tesoro D'Italia
Tutta Bella
Valenti Fine Homes, Linda Valenti Licensed Real Estate Salesperson
Vescio Family Advisors
VIP Country Club
Who's Cooking?
The Paul Moulins Team, Paul Moulins Licensed Associate Real Estate Broker
Stone Home Inspections
The Viola Taliaferrow Real Estate Team, Viola Taliaferrow Licensed Associate Real Estate Broker
Anthony Cassese
Anthony Mazzei
Barnum Financial
Bruce Jackson, Esq. Jackson Law Group CT, LLC
Christian Babcock
Dani Dorman Homes Team, Dani Dorman Licensed Real Estate Salesperson
Empire Inspections
Executive Expert Collision
James and Islonca Hasso
Lando & Wagner, LLP
Laurie Galioto, Esq.
Law Offices of Mandeep Kaur, P.C.
Mark's Inspections
Michael M. Attanasio, Esq.
Mike J Khader, Esq.
RFC Emergency Lighting
Richard Abbate, Esq.
Seliani Contracting Co.
Zehy Jereis of Precision Strategies Group