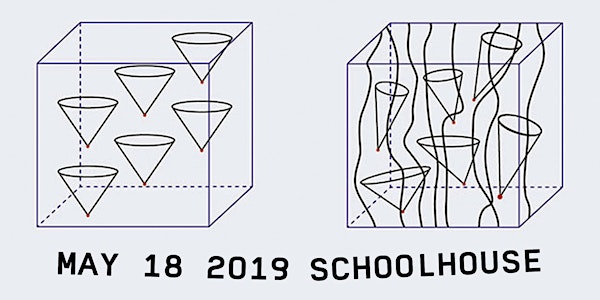 KEITH F. WHITMAN, MARCIA BASSETT, JEFFREY PERKINS + MORE at THE SCHOOLHOUSE
When and where
Location
The Schoolhouse 330 Ellery Street Third Floor Brooklyn, NY 11206
Description
The Schoolhouse and Marcia Bassett present an evening of synthesis and light.
---
KEITH FULLERTON WHITMAN performs his "Playthroughs" framework live.
MARCIA BASSETT & TED GORDON / JEFFREY PERKINS play Buchla Music Easels with filmmaker and light artist Jeffrey Perkins projecting "pure light" a variation of his analog color strobe projections which he premiered in 1968 to accompany Terry Riley's LP "In C".
CECILIA LOPEZ & SANDY EWEN play improvised music together.
CAMILLA PADGITT-COLES DJs & provides additional projections.
---
MAY 18th, 2019 - 330 ELLERY STREET - THIRD FLOOR - 8PM - $13 ADVANCE / $15 DOOR - BYOB
---
Keith Fullerton Whitman is a Composer & Performer currently based in Brooklyn, New York. He is in the process of realizing geographically & thematically relevant Live Electronic Music under the "Redactions" banner, as well as performing contemporary revisions of his classic "Generators" and "Playthroughs" frameworks. Recently he has performed at the GRM's Immersion festival in Paris, Documenta 14 in Athens, The Labyrinth in Niigata, MaerzMusik's The Long Now in Berlin, Semibreve in Braga, Send + Receive in Winnipeg, The Geometry of Now in Moscow, and at the Don Buchla Memorial Concerts in San Francisco.
Artist/musician Marcia Bassett works in areas of sound, improvisation, live composition and visual creations. Bassett's work is equal parts trance and critique. Her sound pieces thread the needle between the conceptual and the sensual, between ritual invocation and cold semiotic gaze. Using handmade electronic instruments, prepared guitar, synthesizer, field recordings and tape explorations, Bassett deftly wields philosophical systems to produce heady, experiential clouds; pushing through drones into provocative soundscapes – the intangible narratives of dreams. Recent solo and collaborative presentations of her work include "dissonant arrangements and extended vocal techniques" collaboration with Shelley Hirsch at Issue Project Room ; "Interwoven" a site-specific installation and performance in collaboration with Ursula Scherrer at Interference 2018, Tunisia; "Survival Of Laments" a live improvisation with Margarida Garcia and Manuel Mota at Festival Oude Muziek 2018, Utrecht; "Transitory Freezing of Perpetual Motion" improvised sound performance with Jenny Graf and dancers at Here-10 Evenings Festival, Sweden and "Out of Line: Narcissister" live improvised sound interaction with the performance, High Line, NYC. Her latest solo release, Zaïmph / 'Rhizomatic Gaze' is currently available through Drawing Room Records.
Jeffery Perkins is an experimental filmmaker and Fluxus artist. Perkins was born in New York and attended high school in Springfield, Massachusetts. Perkins met Yoko Ono when stationed in Tokyo as an Air Force medic and temporarily lived with her when he returned to New York in 1966, a period when he also became actively involved in New York's Fluxus community. He made the Fluxus film "Shout" 1966, with Tony Cox & Jeff Perkins performing and shot Yoko Ono's film BOTTOMS (Fluxus Film # 4), collaborated on the multimedia environment THE STONE at the Judson Gallery in NYC. In the late 1960s he moved to Los Angeles with SKI PARTY star Bobbi Shaw. He was the director & programmer of the Cinematheque 16 theater on Sunset Strip in LA from 1967-1969, where he met Peter Mays. He performed in Mays' film SISTER MIDNIGHT and collaborated with Mays, David Lebrun, Michael Scroggins and Larry Janss on Single Wing Turquoise Bird, a popular psychedelic light show. His more recent works include a series of taxicab recordings called MOVIES FOR THE BLIND, 1995-2003, and the films THE PAINTER SAM FRANCIS, 2008 and "George, the story of George Maciunas & Fluxus" now distributed by Kino Lorber films, and premiered with 7 invited screenings in the MoMA Doc fortnight festival in 2018.
Ted Gordon is a musician and musicologist. His disseration research on the San Fransisco Tape Music Center led him to study and work with the instruments of Don Buchla, and he has performed with the Buchla Music Easel since 2016 in Chicago and New York. He is currently a Mellon Postdoctoral Fellow at Columbia University.
Cecilia Lopez is a composer, musician and multimedia artist from Buenos Aires, Argentina. Her work explores perception and transmission processes focusing on the relationship between sound technologies and listening practices. She works across the media of performance, sound, installation and the creation of sound devices and systems. She studied composition with Carmen Baliero and Gustavo Ribicic. She holds an MFA from the Milton Avery Graduate School of the Arts, Bard College and an MA from Wesleyan University in composition (2016). Her work has been performed and exhibited at Museo de Arte Moderno de Buenos Aires (AR), Center for Contemporary Arts (Vilnius, Lithuania),Festival Internacional Tsonami de Buenos Aires (Argentina), Roulette Intemedium (NY), Issue Project Room (NY), Floating Points Festival (NY), Ostrava Days Festival 2011 (Ostrava, Czech Republic), MATA Festival 2012 (NY), Experimental Intermedia (NY), Fridman Galley (NY), Kunstnernes Hus (Oslo, Norway) and Ende Tymes Festival (NY), Festival Punto de Encuentro organized by the Asociación de Música Electroacústica de España (Spain), among others. She was a Civitella Ranieri fellow in 2015 and has participated in various residency programs such as: Atlantic Center for the Arts, Ostrava Days Institute, Harvestworks and Rupert Residency. She has collaborated in projects with Carmen Baliero, Carrie Schneider and Lars Laumann, among others.
Sandy Ewen is an experimental guitarist, artist and architect currently based in Brooklyn NY. She has two new duo albums, one with percussionist Weasel Walter and the other with guitarist Chase Gardner on Marginal Frequencies. She has an upcoming solo LP on Gilgongo Records, and a new Astral Spirits cassette with percussionist Lisa Cameron. Ewen has spend the beginning of 2019 performing in Mexico City. She then toured the west coast and central US in February & March. In 2018, she performed at the Sant'anna Arresi Jazz Festival, Experimental Sound Studio Option Series and the High Zero Festival. Sandy spent much of 2017 performing solo sets and in collaboration with Steve Jansen (tapes and electronics) and Maria Chavez (turntables) around Europe. She collaborated with many NYC based musicians, including John McCowan, Sam Weinberg, Stephen Gauci, Kevin Shea, Cecilia Lopez, Weasel Walter & Samantha Riott. Past projects include the trio Etched in the Eye, a duo with Tom Carter called Spiderwebs, and the experimental rock band Weird Weeds with Sarah Hennies, Aaron Russell. In years past, Ewen has performed alongside Roscoe Mitchell, Keith Rowe, Lydia Lunch, Pauline Oliveros and many others, and has performed and recorded with Jaap Blonk, Henry Kaiser and more. In 2014, she performed at San Francisco's 13th Annual Outsound New Music Summit, and she has made several appearances at Austin's annual No Idea Festival. Ewen's approach to playing is centered around found objects and extended guitar techniques.
The Schoolhouse is an artist's loft and residence in Bushwick, Brooklyn. We ask that guests please be respectful of our living space and neighbors.