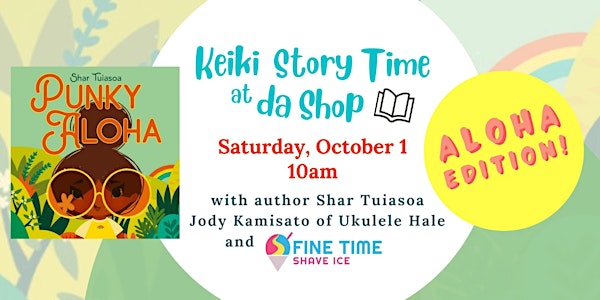 Keiki Story Time at da Shop • Aloha Edition
Lucky we live Hawaii! Bring your aloha spirit, ukulele (if can) and join us for a very special story time with stories, music, & shave ice!
When and where
Location
da Shop: books + curiosities 3565 Harding Avenue Honolulu, HI 96816
About this event
Join Shar Tuiasoa, author of Punky Aloha, along with Jody Kamisato of Ukulele Hale for a fun-filled time of stories, music, and LOTS of aloha! Bring your ukulele if you want to join in on the sing-a-long jam session, too! Afterwards, there's gonna be shave ice by pop-up treatmaker @finetimeshaveice! We hope to see you for this family-friendly, fun way to kickstart your weekend!
About the book: Meet Punky Aloha: a girl who uses the power of saying aloha to experience exciting and unexpected adventures! Punky loves to do a lot of things--except meeting new friends. She doesn't feel brave enough.
So when her grandmother asks her to go out and grab butter for her famous banana bread, Punky hesitates. But with the help of her grandmother's magical sunglasses, and with a lot of aloha in her heart, Punky sets off on a BIG adventure for the very first time.
Will she be able to get the butter for grandma?
Punky Aloha is a Polynesian girl who carries her culture in her heart and in everything she does. Kids will love to follow this fun character all over the island of O'ahu.
About the author: Punky Aloha Studio is the illustration studio of Shar Tuiasoa, a freelance illustrator based in Kailua, Oahu. After studying Fine Art at her local community college for 6 years, Shar moved to California to earn her BFA in Illustration. She moved back to Hawaii shortly after and started Punky Aloha Studio in the summer of 2018. In addition to being a freelance illustrator, Shar is now a children's book author & illustrator, currently working on her second of two picture books for Harper Kids, an imprint of Harper Collins.
About the musician: Jody Kamisato began his journey into the world of `ukulele, learning from `ukulele masters Jake Shimabukuro, Troy Fernandez, Peter Moon and Roy Sakuma. After graduating from the University of Hawai`i with a degree in Liberal Studies with an emphasis on Music Marketing, Jody began teaching with Jake Shimabukuro at `Ukulele Academy and later `Ukulele Essence with Jake's younger brother Bruce Shimabukuro.
Jody has enjoyed commercial success and won awards, but he is fulfilled most by teaching and working with youth. With the support of his friends, family, students, staff and the community, Jody is on a mission to spur continued worldwide interest in the `ukulele. His goal in life is to make a difference somehow, somewhere and to leave a legacy served with aloha. Jody Kamisato is more than just a `ukulele instructor, entertainer, and owner of `Ukulele Hale but a true ambassador of the Aloha spirit
About the bookstore:
da Shop: books + curiosities is Honolulu's favorite community bookstore. Located in Kaimuki and uniquely curated for locals, da Shop is where books, print publishing, and community converge to celebrate independent bookselling, books as artifacts, and bookstores as a cultural space where anyone may encounter ideas to enrich and inspire their lives.