KEGS 2019 10th Annual HOLY CONVOCATION
Description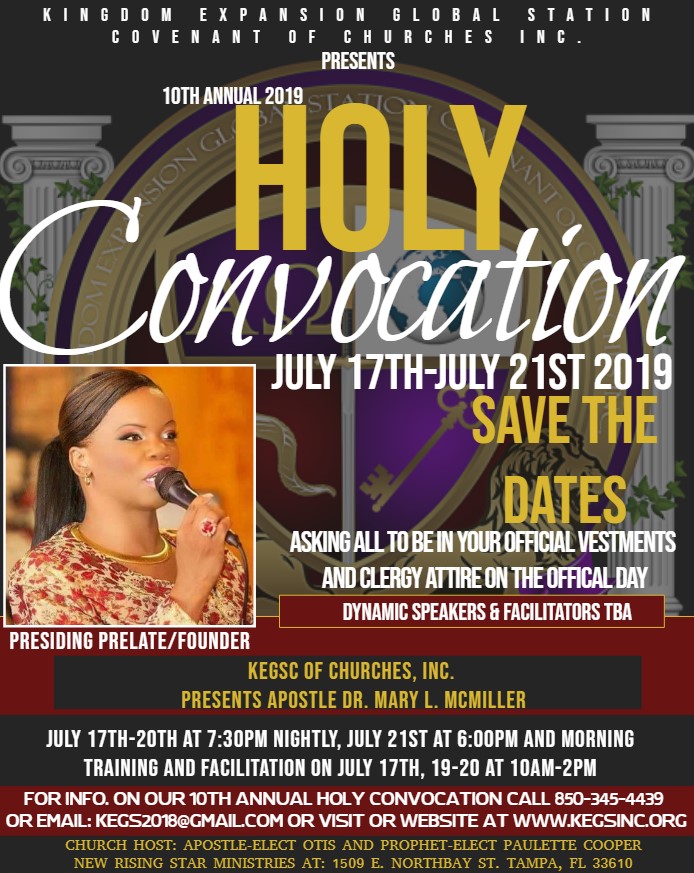 10th Annual "2019" HOLY CONVOCATION
THEME: "KINGDOM RISEN"
Join us in TAMPA, FL at one of our Covenant Churches and Church Host: New Rising Star Ministries under the leadership of Apostle-Elect Otis Copper and Prophet-Elect Lady Paulette Cooper.
Join us for our 10th Annual Holy Convocation
Registration FEE: $50.00 per person and Group Registration $40.00 per person, which includes Bags, Folders, Lunch and more......
Wednesday July 17th, Speaker: Prophetess Sharon Seay-Whitelaw of Jackson, Tennessee
Thursday July 18th, Speaker: Pastor Torrey Phillips of Quincy, FL
Friday July 19th, Speaker: Bishop Antonio Palmer of Odenton, Maryland
Saturday July 20th, Speaker: Apostle Kenya Young-Miller of Jacksonville, FL
Sunday July 21st, Speaker: Offical Day: Apostle Dr. Mary L. Baker-McMiller-Presiding Prelate/Founder
All clergy (Apostles, Bishops, Overseers, Prophets, Evangelists, Ministers, etc) to be in your vestments and clergy attire.


Morning Sessions (Teaching and training)
Wednesday July 17th at 10AM-2PM
Friday July 19th at 10AM-2PM
Saturday July 20th at 10AM-2PM
Facilitators are:
Prophetess Sharon Whitelaw, Bishop-Designate Dr. Kendrick J McMiller, Apostle-Elect Otis Cooper, Prophet-Elect Paulette Denise Cooper, Evangelist D'Asia Monet Jones, Elder Janet Love, Apostle Saketha Yancey, and Apostle Dr. Mary L McMiller.
We will be having degrees, certificate and diploma ceremonies. We will be licensing, ordinations, affirmations and more!!!!
---