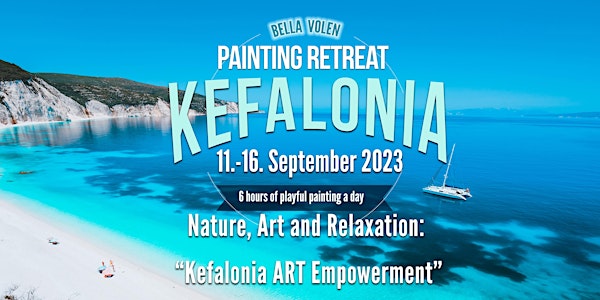 Kefalonia ART Empowerment /PAINTING RETREAT/
Are you looking for a unique way to enhance your creative skills while enjoying the beauty of nature? Join me-> Kefalonia ART Empowerment
Date and time
September 11 · 10am - September 16 · 4pm EEST
Location
Cephalonia Lassi 28100 Cephalonia Greece
Refund Policy
Contact the organizer to request a refund.
About this event
5 days 6 hours

Mobile eTicket
THE RETREAT
Kefalonia ART Empowerment
Nature, art, and relaxation
🟩 A PAINTING RETREAT ON KEFALONIA ISLAND, GREECE 🟩
Experience the island's magic and learn how to capture the beauty of nature in your works.
⏳ 11.-16. September 2023
🌴 Painting outdoors
⏳ 6 days x 6 hours
You can paint less hours as well. I am there for you, 6 hours a day.
🌴 
Are you looking for a unique way to enhance your creative skills while enjoying the beauty of nature?
🌴 Then my painting retreat outdoors on the island of Kefalonia in Greece is just suitable for you!
During the retreat I will speak with every participant in the language they prefer: English, German or Bulgarian.
🟩 Painting is a great way to reduce stress and relax. It is an activity that ignites your creativity and helps you visually express your thoughts and feelings, accessing the meditative no-mind state. But painting is not only a great tool to calm your mind. It also helps you improve your patience, concentration, and endurance, to dare more, be bolder, let go, take risks, and pursue dreams with even more vigor. I will show you how to improve or build your painting techniques and focus on your creative vision.
🟩 It doesn't matter if you are a beginner or already advanced, with qualified support, your individual skills and goals will be taken into account.
Of course, you can paint the landscape or work from your imagination or references. Additionally, you can relax and regenerate in the peaceful environment of nature. People looking for new experiences are willing to step out of their comfort zone and see the world from a different perspective, which often leads to personal growth, enrichment, and development.
We often need numerous false outlines to depict a form accurately until we build the correct proportions and representation. Inaccurate steps in painting or drawing are an essential part of the creative process, as they leave room for research, exact observation, analytical thinking, improvisation, and discovery and often lead to unexpected and unique results.
🟩 Spend an unforgettable week with me by the sea on the island of Kefalonia and learn how to express your passion for art, or find and develop it now. I will paint and draw with you and teach you everything you need.
🟩 I look forward to welcoming you to the island of Kefalonia and offering you an unforgettable creative experience.
There are only 13 places, 4 of which are already reserved.
🟩 I look forward to welcoming you to the island of Kefalonia and offering you an unforgettable creative experience.
There are only 13 places, 4 of which are already reserved.
🟩 KEFALONIA ISLAND
The retreat will take place on the magical island of Kefalonia.
Kefalonia is a beautiful, large, and picturesque island located in the Ionian Sea, west of mainland Greece. Known for its stunning beaches, crystal-clear waters, and lush natural surroundings, Kefalonia is a popular destination for visitors seeking a relaxing and inspiring vacation experience. The island has a rich cultural history and a variety of attractions, including ancient ruins, monasteries, picturesque towns, colorful villages, giant sea turtles, mysterious caves, and countless visually different beaches. Kefalonia has something for everyone.
🟩 THE LOCATION -> LASSI
Lassi is the location I have chosen for us. It is a perfect destination for anyone looking for a combination of many beautiful beaches (11 beaches), stunning scenery, and plenty of activities, stores, and restaurants within pleasant walking distance.
Lassi, Kefalonia, is an ideal location for a vacation and an art retreat due to its stunning natural beauty, conifer trees, rich history, and cultural heritage. Numerous beautiful beaches with a different vibe and look, crystal clear waters, and romantic landscapes make it a perfect destination for those seeking inspiration for their art or simply a peaceful mind. Additionally, the island's relaxed atmosphere, warm climate, and friendly locals create a welcoming and tranquil environment for vacationers and artists alike. Visitors to Lassi can enjoy delicious Mediterranean cuisine, explore the island's historic sites and museums, and participate in various outdoor activities. Overall, Lassi, Kefalonia is a perfect location to relax and unwind, explore and create, meet new friends, and have adventures and fun.
Lassi is close to both the airport and the capital city of Argostoli, making it an extremely practical and convenient location. The proximity to the airport means that visitors can quickly and easily reach their destination upon arrival without spending a lot of time traveling. This is particularly important for those with limited time to spend on the island, as it allows them to maximize their time for relaxation or artistic pursuits.
Furthermore, the proximity to Argostoli provides visitors with easy access to a range of services, shops, restaurants, museums, and galleries, as well as the opportunity to experience the unique local culture of the island's capital.
Lassi to the airport:
The distance from Lassi to the airport is approximately depending on your location in Lassi between 7.5 and 5 kilometers.
There are taxis and also shuttles from the hotels. It is 10-15 minutes by car or taxi.
Lassi to the capital Argostoli:
The distance from Lassi to the capital city of Argostoli is even shorter, as it is located just 2.5 kilometers away. One can walk, take a bus, or a taxi.
🟩 RETREAT PLAN
Every day of the retreat will include:
6 hours art:
Vision Journalling (if you wish)
Sharing session (if you wish)
Short technical or theoretical session (In German, English, or both, based on the group members)
Drawing and painting session (During this time, I am working individually with each one of the members)
Before the trip, the group will discuss the precise start time for the painting session.
During the retreat, we will have the following:
Beach walks
Lunches or dinners together
Dancing
Individual and group art coaching.
Perception & attention exercises
We will use a WhatsApp group to communicate about the activities during the retreat.
I will provide you with a list of local activities & contacts for cars, bike renting, different tours, and more. This will help you to plan your time in the best possible way.
The retreat works for single travelers and also for couples/families.
How much you will be involved with the group is up to you.
🟩 What is included in the price:
Before the trip
Personal conversation before the event / offline, via video zoom call, or on the phone
List of houses and hotels to stay & flight recommendations
List with ideas for the trip in terms of useful tools.
During the trip
6 Days art class / 6 h a day painting and drawing
This could be: acrylic on canvas, watercolors on paper, pencil drawing, ink drawing, mixed media
Individual and group art coaching /color theory & design theory
Handouts
Also included are:
Pencils, erasers, ink, and feathers for ink drawing/painting
Painting materials: watercolors, acrylic, brushes, cleaning product, varnish, maximum of 3 canvases up to 60 x 40 cm
Apron so that you could stay clean
An empty journal & pens
After the trip
For those who would like to continue the creative journey:
1 Reflection zoom call after the trip & homework for further creative progress (only for those who want)
🟩 What is not included in the price:
Canvases larger than 60 x 40 cm. (This is the size, which fits in a suitcase)
The flight
The accommodation
The transportation from the airport
Food or drinks
🟩 FLIGHTS:
The organizer & art coach Bella Volen is based in Vienna, Austria.
There are straight flights with Ryanair Vienna-Kefalonia on the following days:
Vienna-Kefalonia: 7. & 10. September
Kefalonia-Vienna: 17. & 21. September
One can also fly via Athens almost every day.
Let me know if you need help with finding a good flight from your location.
🟩 The teacher: Bella Volen
Greetings, everyone!
I am thrilled to introduce myself as your art teacher for this painting retreat. My name is Bella Volen, and I am a professional academic painter with 28 years of experience and 13 years of art education. In addition, I have been teaching art for 20 years and cannot wait to share my knowledge and passion for the depth of art and awareness with all of you.
For the past 20 years, I have been based in Vienna, Austria, and since 2021, I have had the pleasure of owning a beautiful art gallery in the heart of the city. Whether you consider yourself a beginner or an experienced artist, I aim to provide an engaging and supportive learning environment where you can explore your creativity, develop your skills easily and joyfully, and produce beautiful art.
Having been born into a family of several generations of artists in Sofia, Bulgaria, I have spent my entire life immersed in art and grown up surrounded by five different art scenes. As a result, I bring a wealth of knowledge and experience passed down through multiple generations.
I eagerly anticipate the opportunity to get to know each of you and collaborate to create some truly unique art and unforgettable memories. If you have any questions, please do not hesitate to call or write to me.
🟩 Accommodations in Lassi.
Lassi has many hotels & also cheaper apartments, and houses to rent.
Some like it simple, others with more luxury. Booking.com, or other travel agencies will be your friend. Please, always pay attention, that the hotel is really in Lassi. Always compare the map of the island.
🟩 PDF
Once you have obtained your ticket, please contact me, and I will provide you with a PDF file containing photos and information in both English and German. This file will assist you in planning your trip in the most effective manner.
🟩 Do not hesitate to get in touch with me if you have questions.
+4369913229826
info /at/ bella-volen.com
Bella Volen /painting & art gallery owner/
🟩 Let us enjoy six days full of summer breeze, painting and relaxation.
With Love & light
Bella
About the organizer
Bella Volen ist akademische bildende Künstlerin & Galerie Besitzerin.
Der Schwerpunkt der Galerie liegt auf dem Verkauf (Originale und günstigere Kunstdrucke) und der Präsentation von harmonischer, zeitgenössischer bildender Kunst, mit einem Augenmerk auf handwerkliches Können und lebendige Gestaltung.
Zusätzlich finden regelmäßige Veranstaltungen zu Salonkultur, Art & Science Vorträge und Projekte, live Malerei Tage, Künstler:innengespräche, Themenabende, Workshops, Netzwerkabende statt.
Ein weiterer Teil des Angebots sind Kunstberatung und Kunstaufträge.
Die Galerie sieht sich nicht nur als Verkaufsort, sondern auch als Treffpunkt von Ideen, Bereicherung durch wertvolles Wissen und Austausch.
Ich freue mich sehr, Sie persönlich begrüßen zu dürfen.