Keeping Your Spirits Bright During the Holidays - Chat Live with Robyn O'Brien and Ashley Koff, R.D.

Tuesday, December 13, 2011 at 11:00 AM (PST)
Event Details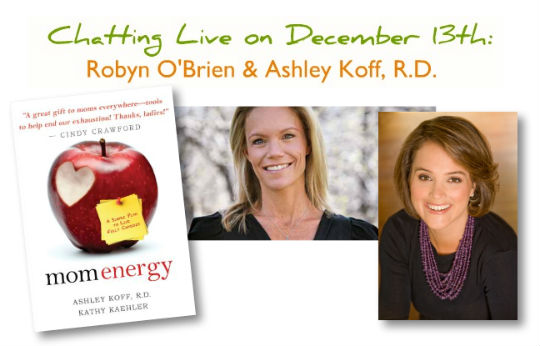 The holidays can be an incredibly busy time.  From school activities, to holiday parties to year-end obligations at work, this time of year, as much as it can be fun-filled and exciting, can also be downright exhausting!  Which is why this month, we are excited to host registered dietician and nutritionist and the author of Mom Energy, Ashley Koff, for our Annie's Homegrown December web chat. 
 
Ashley is no ordinary dietician.  Her insight on how hard it is to navigate a healthy lifestyle, especially during the holidays, is unique and valuable.  She used to work for a global ad agency and had a global food company as her client. In 1995, she worked with the different offices around the world to address consumers' desires for healthier foods. 
 
Yet what she found was jaw-dropping.  Her experience was totally different depending on whether she was dealing with her client within the US market or abroad.  Outside the United States, she met with food developers and heard innovative ways about how to change the ingredients in foods to create healthier options. 
 
Sounds pretty good, doesn't it? 
 
But back inside the United States, she met with lawyers to discuss how we could say healthier things about foods without changing the recipes at all. 
 
Her takeaway from that informs what she is going to share with us on December 13, 2011 at 11am PST at annies.com/livechat
So we encourage you to join us, so that together, we can learn how to look at ingredients, choose energy-providing foods for ourselves and our families during the holidays, and send a message to food manufacturers– with our purchases – that says we appreciate and value a good quality product.

See you soon,
Robyn

Like the Annie's Facebook page to get updates & event details. To learn more about Robyn, visit her website.
Have questions about Keeping Your Spirits Bright During the Holidays - Chat Live with Robyn O'Brien and Ashley Koff, R.D.?
Contact Annie's Homegrown
When & Where

http://www.annies.com/livechat/




Tuesday, December 13, 2011 at 11:00 AM (PST)
Add to my calendar
Organizer

For more than 20 years, Annie's has been nourishing families with simple, down-to-earth foods that taste great and are easy to love.  Annie's is driven by a team of folks who are passionate about food, people, and the planet we all share. That's why we've sought out the best ingredients Mother Earth has to offer, harvesting pure, natural flavors to make delicious foods every family can feel good about.