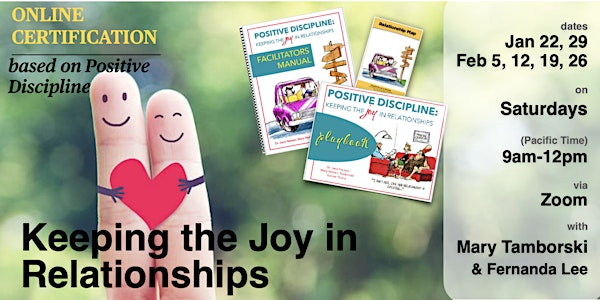 Keeping the Joy in Relationships: Positive Discipline_ ONLINE CERTIFICATION
Reconnect with your partner and became a facilitator to help other couples to find joy in relationships
Refund Policy
Contact the organizer to request a refund.
About this event
***ONLINE certification to better your quality of life and to help other couples***
Become a Positive Discipline for couples facilitator. This course is recognized by the Positive Discipline Association.
Meeting dates are: Saturdays (for 6 weeks)
9:00AM - 12:00PM (Pacific Time)
Meetings dates: January 22, 29 and February 5, 12, 19, 26
Class is composed of live, online (via Zoom) meetings AND independent study between sessions.
_________________________________
The Keeping the Joy in Relationships workshop is fun, enlightening, and packed with experiential activities designed to help individuals and/or couples improve all relationships through an even deeper understanding and embodiment of Positive Discipline Principles.
Whether you have been married for 30 years or are looking for a committed relationship, this workshop provides the tools to establish, strengthen, and rediscover Connection, Passion, and Joy in any relationship.
Come alone or with your partner – this workshop is about personal growth and what YOU bring to your relationship. In this workshop you will learn:
_ How Positive Discipline (Adlerian) tools can effectively support your relationship.
_ How to take responsibility without guilt.
_ How to "be" the right person, instead of wanting your partner to "be" the right person.
_ What your personality brings to your relationship.
_ How the beliefs formed in your early childhood enhance or challenge your relationship.
_ How to understand and speak your partner's love language.
_ The Couple's Dialogue Process: Why it is so difficult to really listen, and what to do about it.
_ How your relationship affects your children.
_ How to listen beyond the words to what your partner really "means" and "needs".
WHAT CAN YOU DO WITH THIS CERTIFICATION?
_You can use the knowledge to improve your life quality
_ You can help other couples if you are a Licensed Helping Professional
LANGUAGE:
This workshop is taught in English.
MATERIALS INCLUDED:
_ Facilitators manual - Positive Discipline Keeping the Joy in Relationships
_ Playbook - Workbook Positive Discipline Keeping the Joy in Relationships
_ Tool cards "Keeping the Joy in Marriage"
* English shipping materials within the U.S. is included.
*If you live outside of the U.S., you will receive the materials in PDF. In case you want the physical materials, shipping overseas (outside the U.S.) is an extra cost of $135 at the participants expense. Please indicate your address in the registration, in case you choose to receive the printed materials.
HOW ABOUT MY PARTNER?
_ If your partner would like to join the class for learning purposes only, they are welcome to do so.
_ US$100 additional cost to add a same household partner to a paying participant
*If you and your partner would like to become a Keeping the Joy in Relationships and each receive a certificate, please add two spots in your cart before checkout.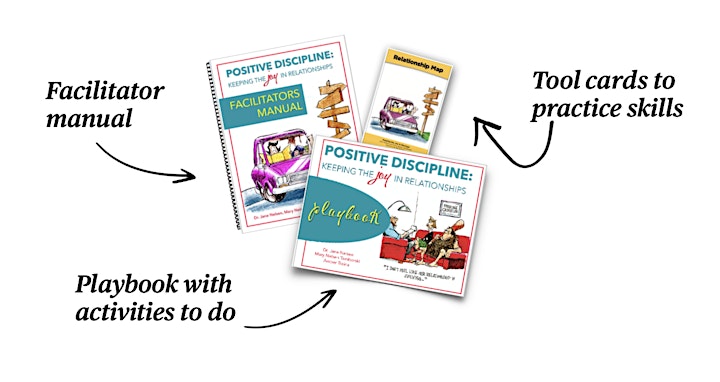 ABOUT THE TRAINERS
Mary is a licensed Marriage and Family Therapist, however her formal training is secondary to the life training she received from her mother, Dr. Jane Nelsen, also a Marriage and Family Therapist and author of the Positive Discipline books and Serenity: Simple Steps for Recovering Peace of Mind, Real Happiness, and Great Relationships. From the earliest time she can remember her mother and father had her involved in respectful communication, encouragement, and focusing on solutions.
Mary loves being a wife to husband Mark and a mother to her son's Greyson, Reid and Parker. Since Mary's first love is being the mother of three young boys, it was a natural for her to become a Certified Positive Discipline Parent Educator and to share with others all she has learned (and is still learning) in parenting classes and workshops. She is also available for individual parent coaching.
Mary is a therapist whose own life is an example of the joy in living that can be found by living the principles and skills she teaches.
Fernanda Lee, M.A.Ed, is a lead trainer in Positive Discipline, serving parents, health professionals, teachers, early childhood educators, couples, and professionals in the workplace in the United States, Brazil, Portugal and Luxembourg.
She holds a degree in business administration and worked for Accenture, Bank of America and other investment brokers, until she became a mother. She also holds a Master Degree in Education, with Pupil Personnel Services credential, and has served as a school counselor in elementary and middle public schools.
Fernanda was featured in two national magazines "Escola" and "English as a Foreign Language" discussing the practical application of Positive Discipline in the classroom. She is very thankful to be raising her two teenagers with Positive Discipline, as without it she would have pulled out all her hair.
To learn more about Fernanda and her work, please visit www.filosofiapositiva.com.br / Instagram: @filosofiapositivaoficial