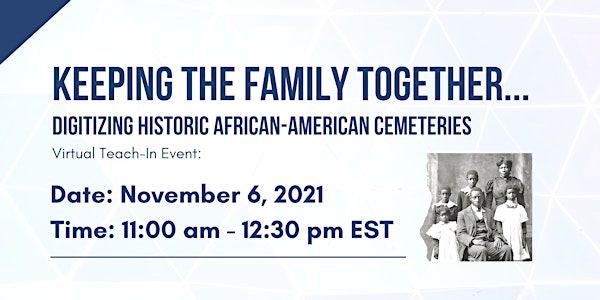 Keeping the Family Together:Digitizing Historic African American Cemeteries
A path forward to preservation: Digitizing African- American cemeteries using archaeology, technology, and genealogy.
About this event
The Hamilton Hood Foundation presents this virtual teach-in as part of our dedication to community building and collaboration to expand the historic landscape.
Guest Speakers:
Debra Gonzalez-Taylor will explore how preserving historic burial grounds is more than preserving the physical grounds, as cemeteries connect people to the community. That said, there are no magic formulas and no quick solutions; however, with some sound methodology and strategies, you can begin to create a list of names. Like reclaiming the physical grounds one foot at a time, you build the list one name at a time. In this session, we'll look at strategies that can be used to help you create a list when you have little to start with. We'll also look at other tasks that should also happen at the beginning of reclaiming what had been taken away.
Kayleigh Hoyt will discuss the Black Cemetery Network (BCN), a virtual networking platform and online archive founded in response to the national call to action to raise awareness about African American burial grounds that have been abandoned, neglected, erased, and continually underserved throughout the U.S. Officially launched in June 2021, the BCN features an open-access map and site directory to promote the history of these sites, as well as connect with people and projects currently working to counter their erasure. The network aims to highlight grassroots initiatives by project leaders, alliance groups, and community organizations who share the same mission to restore dignity to black cemeteries by ensuring their stories are not lost.
Dr. Andrew Tharver will discuss how historical burial grounds are the basis of our historical story maps, and with the use of technology and archaeological techniques, you can create a digital mapping of the cemetery based on headstones. Andrew will demonstrate the data collected by students built into ArcGIS (a GIS Mapping Software) that provide interactive pictural views of the data collected.
The virtual teach-in will last 90 minutes with a Q & A sesssion.
This event is sponsored by the Hamilton Hood Foundation and generous supporters.
To find out more about this organization go to: www.hamiltonhood.org