Description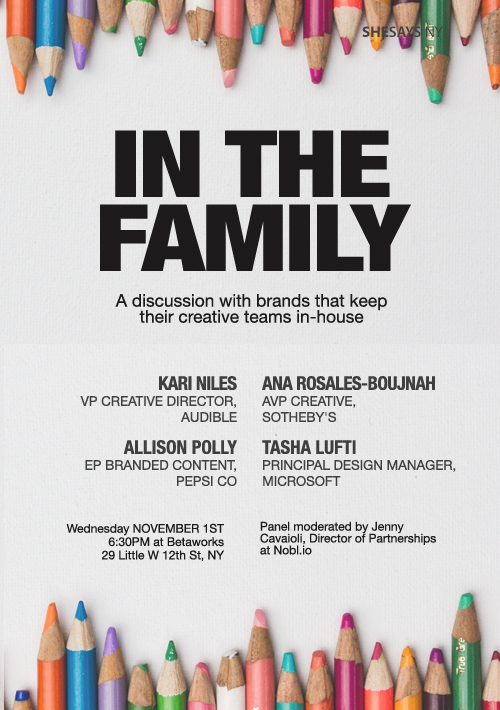 A lot of brands are opting for creating in-house creative teams instead of outsourcing to agencies or design studios. This month we'll discuss the pros & cons of doing creative work in-house, when to outsource, fostering an in-house creative culture and hiring.
Our panelists are super creatives who 'jumped ship' to go and work directly for a brand. We hope you can join us for this - we predict heated - debate.
SPEAKERS
Kari Niles - VP Creative Director at Audible
Allison Polly - EP Branded Content at Pepsi Co.
Ana Rosales-Boujnah - AVP of Creative at Sotheby's
Tasha Lufti - Principal Design Manager at Microsof
Panel moderated by Jenny Cavaioli - Director of Partnerships at Nobl

AGENDA
Drinks and networking / 6:30pm - 7:00pm
Panel and Q&A / 7:00pm - 8:00pm
More networking / 8:00pm - 8:30pm
TICKETS
Access to this event is limited and our events get booked up quickly. We kindly ask that if you find out that you are unable to attend on the night, do release your ticket via Eventbrite or let us know via email at shesays.ny@gmail.com so that someone can make use of your spot.