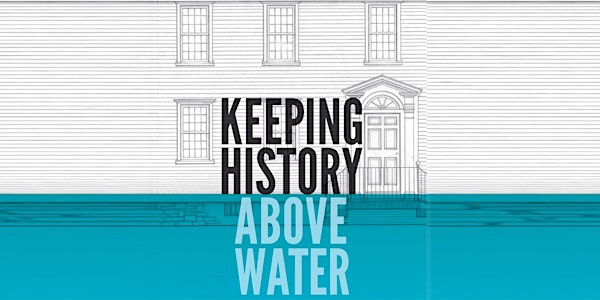 Keeping History Above Water Conference
When and where
Location
Newport Marriott 25 America's Cup Avenue Newport, RI 02840
Description
ONLINE REGISTRATION IS CLOSED (after March 20th)
You can still purchase tickets in the reception area, on the day-of, beginning at noon on Sunday, April 10th, and each day of the conference, thereafter.
All ticket prices will be the same, excluding meals.
TO EXPRESS YOUR INTEREST IN ATTENDING
Please join the Facebook Page for Keeping History Above Water, and send us a message about the days you are planning to attend. We want to keep track of interest!
"Keeping History Above Water," one of the first national conferences to focus on sea-level rise and preservation of the built environment in historic coastal communities. Taking place April 10-13, 2016, at the Newport Marriott, Newport, Rhode Island.
TICKET OPTIONS AVAILABLE
General Registration gives you full access to all events
Sunday, April 10 through Wednesday, April 13, including opening address on April 10; and all programs on April 11th, 12th, and 13th.
Day passes
Available for each day: Sunday, Monday, Tuesday, and Wednesday
Student Tickets
$95, available at registration on the day-of, with valid student ID.
Room rates
Visiting Newport for the conference? Stay at the Marriott!
***Discounts available until March 28th***
FAQs
When do ticket sales close?
NEVER! Except..... online ticket sales do close on March 20th. But you can attend the conference and purchase tickets on the day-of. You can pay at the door with a credit card. For more information on tickets, visit our FAQs on the website.
To express your interest, please join the Facebook Page for Keeping History Above Water, and send us a message.
How do I redeem the Marriott's discounted room rate?
You can redeem your room rate until the end of the day today, March 28th. Register online at the Marriott's KHAW page http://cwp.marriott.com/pvdlw/khaw/
Where can I contact the organizer with any questions?
If you have any questions, email historyabovewater@newportrestoration.org
If I am covering the conference (or want to) for a blog, newpaper or magazine, who should I contact?
Email Ashley Mercado, ashley@newportrestoration.org or call 401-954-0361
Organized by
The Newport Restoration Foundation in collaboration with Roger Williams University, Salve Regina University; the Coastal Resources Center, University of Rhode Island; Preserve Rhode Island; the National Trust for Historic Preservation; and the Union of Concerned Scientists.
For more information
Visit www.historyabovewater.org.
For program information
Visit www.historyabovewater.org/program