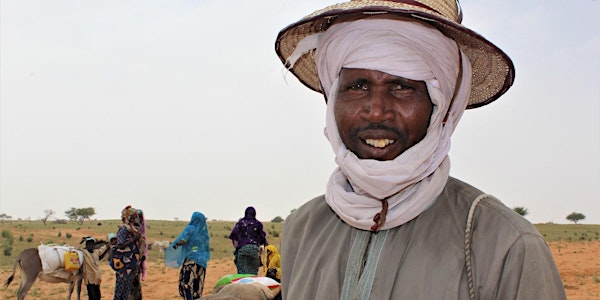 Keeping Faith with the Sahel: 3-Part Series
Restoring Peace, Social Cohesion, and Resilience to Sahel Communities.
About this event
Raising awareness on how faith actors, traditional leaders, and iNGOs can lead the way in the preservation and maintenance of Peace in the Sahel. This three-part workshop builds a common understanding of the drivers of violence in the Central Sahel context and discusses program and policy recommendations key actors for peace should consider in grounding their actions in the "triple nexus ".
March 15, 2021 - The Role of Religious Leaders in Justice & Peace in the Sahel
Youth Attitudes towards the Role of Religion in Malian Politics by Dr. Jaimie Bleck.
Innovative Recommendations for Peace in the Sahel by Dr.Robert Groelsema.
Peacebuilding: An Islamic Perspective by Dr. A.Rashied Omar.
March 30, 2021- Virtual Round table with Sahel Religious Leaders (11-12:30 ET)
Interfaith leaders from across the Sahel and religious spectrum will highlight some of their concerns and successes around development and humanitarian issues in the troubled Sahel region of West Africa. Delegations from each country are available for more in-depth side discussions with audience members by request. Simultaneous French-English translation will be provided. (Names withheld in consideration of security.)
Bishop representing the Episcopal Conference of Burkina Faso
Emir representing northern Burkinabe communities
Imam representing the Islamic Community of Northern Ghana
Bishop representing Ghana Catholic Bishops Conference
Bishop representing the Episcopal Conference of Mali
Imam representing the Islamic High Council of Mali
Church official representing the Niger Church
Representative of the Islamic High Council of Niger
iNGO network discussion on how to engage USAID's R3 and the Triple Nexus in the Sahel.
Opening: U.S Dept of State CSO Acting Director Rob Pyott
How is State considering the Triple Nexus and the role of iNGOs.
CARE Mali
Organizational Strategy on Triple Nexus
Direct Implementation of the Nexus
Islamic Relief Mali
Organizational Strategy on Triple Nexus
Direct Implementation of the Nexus in the Sahel
Catholic Relief Services
Organizational Strategy on Triple Nexus
Direct Implementation of the Nexus in the Sahel
Please click the link below to join the webinar:
https://crs-org.zoom.us/j/97641718199?pwd=R2xtWWZvM0pJVGZNeVRDYU9OWVJtQT09
Passcode: 588959