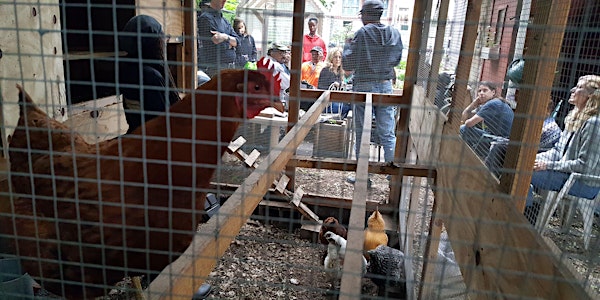 Keeping Chickens in Our City Garden | GreenThumb GrowTogether
38th Annual GreenThumb GrowTogether Conference
When and where
Location
Tranquility Farm 659 Willoughby Avenue Brooklyn, NY 11206
About this event
Rain date: Thursday, April 21, same time. Tickets will be available until two days before the event. This will allow us time to prepare for the attendees who have registered in advance. Walk-ins and people on the wait list are welcome to attend and observe, but supplies aren't guaranteed.
Our flock of chickens add so much to our community garden! Fresh, organic local eggs are just the tip of the iceberg. Hens build incredibly resilient soil, are expert composters, and make for the most charming ambassadors who bring joy to our community. Our workshop will cover all the basics of caring for a city flock: the preparation needed, housing, feeding, watering, and health care in all seasons of the year and their lives.
Participants may take home a copy of Storey's Guide to Raising Chickens by Gail Damerow, while supplies last.
Facilitated by Alex LaMond and Damon McCullough, Tranquility Farm. Alex is a social worker and community gardener who has been caring for Tranquility Farm's flock of hens for seven years. She loves to promote the adventures of city chicken stewardship. Damon is a data engineer who joined Tranquility Farm in the summer of 2021 to support and learn from its gardeners, hens and plants.
Please visit the GreenThumb GrowTogether Conference Guide for a full list of workshop descriptions, facilitators, and other details. The guide is also available as a map.
Established in 1978, NYC Parks GreenThumb is proud to be the nation's largest urban gardening program, assisting over 550 gardens and over 20,000 volunteer gardeners throughout New York City.
The theme of this year's GrowTogether is "Deeply Rooted: Growing Community Connections. Community gardeners from across New York City have been gathering at the GrowTogether conference each spring since 1984 to celebrate the start of the garden season with a day of learning, networking, and reconnecting with friends. Due to the ongoing COVID-19 pandemic, the conference is hybrid this year, and we're spreading it out over the course of two weeks. Part I took place virtually in February (watch the webinar recordings here!) and Part 2 will be in community gardens around the city in April.