Description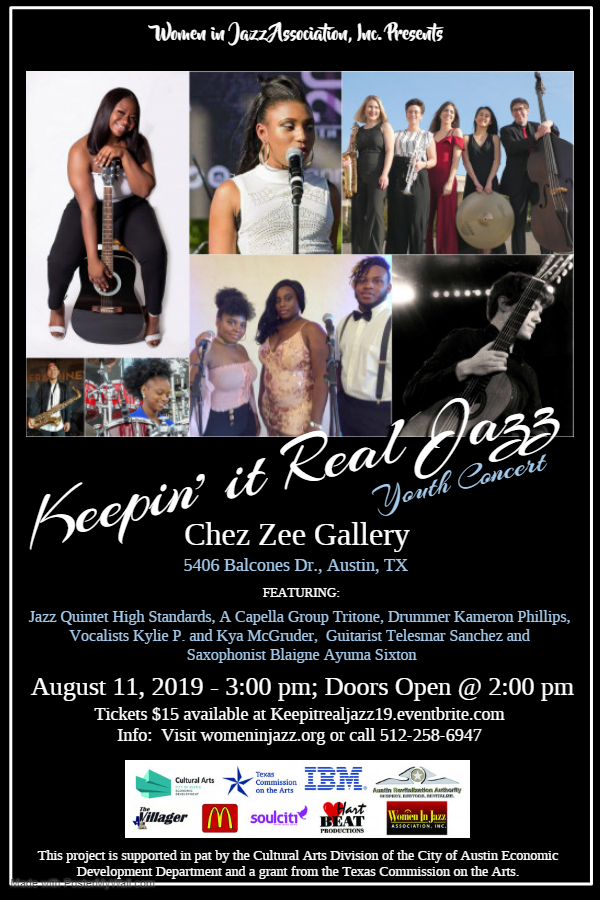 Women in Jazz presents Keepin' it Real Jazz Youth Concert
Sunday, August 11, 2018, 3:00-5:00 pm
Chez Zee "Gallery" 5406 Balcones Dr., Austin, TX 78731
This vivacious presentation of jazz history will feature some of Austin's most talented youth.
Featuring Jazz Quintet High Standards, Drummer Kameron Phillips, Singers Kylie P. and Kya McGruder, Guitarist Telesmar Sanchez and Saxophonist Blaigne Ayuma Sixton.
Tickets are $15, available online at www.keepitrealjazz19.eventbrite.com or call 512-258-6947 and at the door.
This project is supported in part by the Cultural Arts Division of the City of Austin Economic Development Department and a grant from the Texas Commission on the Arts.
For more information, visit www.womeninjazz.org or call 512-258-6947