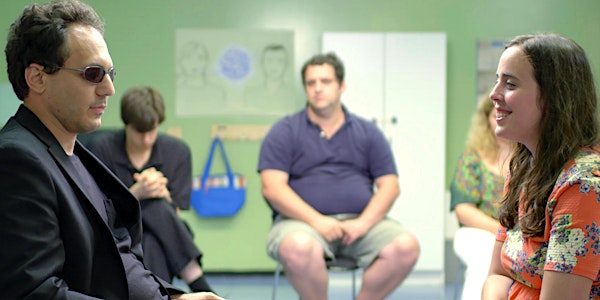 "Keep the Change" Screening with Visiting Filmmaker Rachel Israel
When and where
Location
Perry and Marty Granoff Center for the Creative Arts Martinos Auditorium, Level 0 154 Angell Street Providence, RI 02906
Description
Rachel Israel, RISD FAV 2007 Alumna, will present her 2017 feature film "Keep the Change".
The unconventional love story about a high-functioning autistic man features a cast of actors on thespectrum and has won multiple awards, including Best US Narrative Film at the 2017 Tribeca Film Festival.
Q&A to follow the screening, with Director/Writer Rachel Israel, Producer Kurt Enger, and lead actor Brandon Polansky.
Presented by RISD Film / Animation / Video, in partnership with Brown Student & Employee Accessibility Services (SEAS), Brown RISD Hillel, and Brown Modern Culture & Media.
NOTE: To request disability related accommodations or services, please contact Brown University's Student and Employee Accessibility Services (SEAS) at seas@brown.edu or 401-863-9588 with as much notice as possible. The Martinos Auditorium in the Granoff Center is wheelchair accessible on the 0 level. CART will be provided and assistive listening systems are available.

TRIBECA FILM FESTIVAL, 2017
Winner, Best New Narrative Director
Rachel Israel
"For this award, we were looking for a filmmaker with a fearless, authentic voice. Our decision was unanimous. This filmmaker created a world full of vibrant characters often under-represented in cinema. It is a unique, yet universal love story told in a way we've never seen. We anxiously await to see what this filmmaker does next. We are so thrilled to present the award for Best New Narrative Director to Rachel Israel for Keep the Change."
Winner, Jury Award, Best U.S. Narrative Feature
Rachel Israel
"For her heartwarming, hilarious and consistently surprising reinvention of the New York romantic comedy, which opens a door to a world of vibrant characters not commonly seen on film, the U.S. Narrative Jury gives the Founders Award to Rachel Israel for Keep the Change."
Winner, Nora Ephron Prize - Special Mention
Rachel Israel
KARLOVY VARY INTERNATIONAL FILM FESTIVAL, 2017
Winner, FIPRESCI Prize
Rachel Israel
"Our prize is "For a glorious first feature which tells the story of a colourful group of New Yorkers, who in any other film would be labelled as 'outsiders'. Instead Israel lets us experience their world from the inside, and it's a wonderous place to be. It is a tender film with a simple narrative, driven by complex emotions. By letting herself be inspired by her magnificent actors' personal experiences of life on the autism spectrum, writer/director Rachel Israel has created a work that is inclusive, fresh and thoroughly engaging. It has also one of the funniest scripts we have ever come across, with a sense of humour that ranges from the crude jokes of conflicted protagonist David, to the no-nonsense cutoffs by its leading lady Sarah - a female character with a personal brand of vivaciousness never before seen on the cinema screen. We were deeply affected by this heartfelt story of coming of age and finding love, proving there is nothing wrong with being weird."
Winner, Special Mention, Best Debut
Rachel Israel
Nominee, Crystal Globe, Best Film
Rachel Israel
CLEVELAND INTERNATIONAL FILM FESTIVAL, 2018
Nominee, Best American Independent Feature Film
Rachel Israel
Nominee, Reel Women Direct Award for Excellence in Directing by a Woman
Rachel Israel