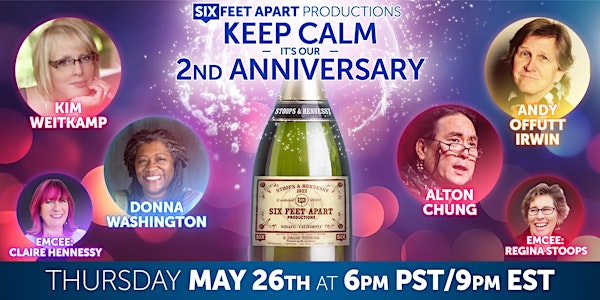 Keep Calm It's Our Second Anniversary Celebration
Six Feet Apart is celebrating our second year with stories about anniversaries.
Refund Policy
Contact the organizer to request a refund.
Eventbrite's fee is nonrefundable.
About this event
Happy Anniversary to Us! Two years ago we opened a Zoom account and began staring into that little green light on our webcams. Who knew we'd still be having this much fun? We've gone from the days of sketchy internet and Zoom bombs to shows spanning a variety of topics, genres and tellers.
Join us for stories about anniversaries, birthdays, and all other dates that we commemorate with celebrations. Find out what our four acclaimed storytellers are keeping track of with a show about all the special dates we circle on the calendar.
This event will be live-streamed on YouTube and your ticket allows for viewing afterwards in case you can't make it on the 24th. Want to be in the Zoom Room with our storytellers? Purchase the Backstage Pass option.
Emcees: Claire Hennessy & Regina Stoops
Donna Washington is an internationally known master storyteller, artist educator, and published author who has been performing for audiences of all ages for over thirty three years. She is renown for her storytelling for both children & adults from poignant & funny fables about the human condition to racy relationships stories to spine tingling tales of terror. She has been featured at numerous festivals, schools & libraries theaters and other venues around the world including Canada, Peru, Argentina & Hong Kong. Donna's eleven storytelling CDs have garnered twenty-eight national awards. She has authored numerous articles about storytelling and education including her very popular blog Language, Literacy & Storytelling. She is also the author of four children's books: Li'l Rabbit's Kwanzaa, A Pride of African Tales, The Story of Kwanzaa, and A Big Spooky House. Her fifth, Boo Stew will be out in spring of 2021. She travels all over the world performing and giving workshops but she lives with her husband and two cats in Durham, NC. DLWStoryteller.com
Kim Weitkamp grew up in Amish Country as the middle child of exhausted parents. Labeled by teachers as high-spirited, uncooperative and too talkative, Kim took those comments and channeled them into a lifetime of high-energy, heartfelt and hilarious artistry. We are better for it. She is an award winning storyteller, author, singer-songwriter and humorist. After using applied storytelling in her work with adjudicated and at risk youth for 12 years, Kim took a turn onto a different avenue of story and song which led her down the path of full time touring for the last 15 years where she gathered an armload of awards. She performs regularly at festivals and theaters around the country, has written a well received folk operetta and has been a guest editor and contributor for various publications. Kim's material gets regular airplay on Sirius XM and NPR Affiliate Stations.
She has 8 award winning albums, has produced and/or designed 32 albums for other performers and has hosted a morning show for a DOVE Award winning radio network. She has been honored with leadership and speaking awards for her coaching/speaking work with internationally known companies like Purina, Leibherr, Grifols, and Edward Jones as well as nationally recognized non-profits like, Feeding America, Habitat for Humanity and Conflict Resolution Centers. She is ranked as one of the top 20 business coaches in the Columbus, Ohio region by Influence Digest, teaching the power of story to help grow organizations and build teams. You can learn more about Kim by visiting the Press page, or if you want to learn more about her consulting/coaching or keynotes go to www.profitablestory.com.www.kimweitkamp.com
Alton Takiyama-Chung, is a Japanese-Korean storyteller who grew up with the superstitions and the magic of the Hawaiian Islands. He tells stories of Hawaii, of the Japanese-American experience of WWII, ghost stories, and Asian folktales. He has performed at the Timpanogas and the National Storytelling Festivals, and at international storytelling festivals in the Cayman Islands, Singapore, India, Vietnam, and Thailand. He also is a former Chairman of the Board of Directors for National Storytelling Network. www.altonchung.com/
Andy Offutt Irwin
With a manic, Silly Putty voice, astonishing mouth noises, and heart-filled stories, Andy Offutt Irwin is equal parts mischievous schoolboy and the Marx Brothers, peppered with a touch of the Southern balladeer. He has been a Featured Teller at the National Storytelling Festival eleven times and is a perennial favorite at the International Storytelling Center's Teller-in-Residence Series.
A storyteller, theatre director, singer-songwriter, and Shakespearean actor, Andy was Artist-in-Residence at Emory University's Oxford College from 1991 to 2007. He has performed at LaGuardia High School of Performing Arts in New York, The Library of Congress, Walt Disney World, and a whole mess of theatres, colleges, and festivals all over the United States
Andy lives in Covington, Georgia. He thinks he is funny.
https://andyirwin.com/