Event Information
Location
Kearney
Yanney Park
Meadowlark North Park
Kearney, NE
Description
Kearney Rotary and the Kearney Whitewater Association have created a challenge event like no other. Kayaking on Kearney's new water trail, dirt trail mountain biking on Meadowlark North's rolling hills, and running at Kearney's beautiful Yanney Park. Unlike traditional competitions, this event is spread out over an entire day – and with a theme much like a solar eclipse, day will turn into night during the challenge.
Competitors can register for one, two or all of the events. We want everyone to be able to take a part in this challenge! Each race will have its own winners and own prizes – not just for first, second, and third place, but also a judge's choice award for best decorations or best dressed, based on a sci-fi theme. Race award categories are based on age range and male or female. Age 18 and Under category is available on 5k Run/Walk only. COMPETITORS AGE 19 AND OLDER WHO COMPLETE ALL CHALLENGES WILL BE ELIGIBLE FOR THE GRAND PRIZE!
The Multi-Sport Trail Challenge will consist of these trails and sports:
Kayak race starting at Yanney Park on the water trail in the morning

Dirt trail mountain bike race on the hills of Meadowlark North Park in the afternoon

5k run/walk race on the paved trails from Yanney Park at night
Competitors MUST BE AGE 19 OR OLDER in order to participate in the Kayak Race and Bicycle Race. Life Jackets or Life Vests are REQUIRED to be either worn or placed in the kayak on the Kayak Race. Helmets are REQUIRED TO BE WORN on the Bicycle Race. Competitors in the 5k run/walk under the age of 19 may participate with parental consent.
Please review all race information below:
---
Here are some more details about each challenge leg:
KAYAK RACE BEGINS 9:00 AM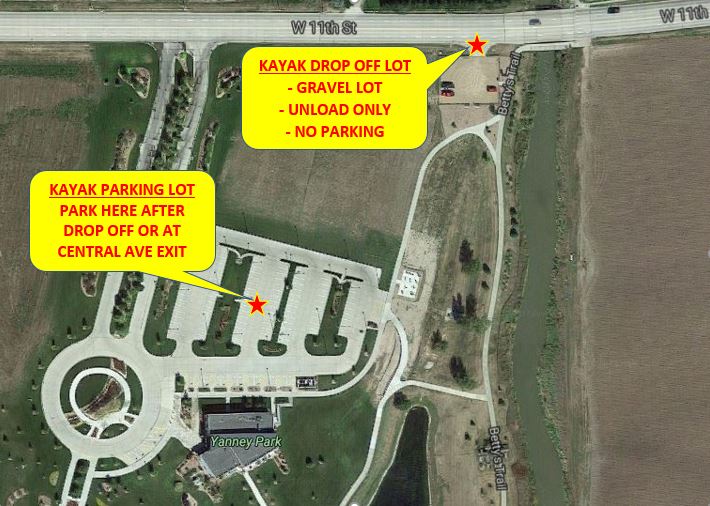 Kayak Race Drop-off and check-in - 7:00 - 8:30 a.m.
Kayak Race Start time: 9:00 a.m.
Instructions: Unload kayaks at gravel parking lot west of 11th St. and 17th Ave intersection, near the canal.

Park at Yanney Park: After unloading at gravel lot, park at Senior Center Parking. NO parking on gravel lot.

Parking at Central Avenue exit: Park in designated parking area, enter parking lot from Central Ave (see below).

Transportation will be provided if needed from end point parking to starting line. Use contact email at bottom of page for transportation requests.

Optional: Decorate your kayak in a sci-fi theme to win judge's choice for best decoration!

Life jackets required on canal.

Must be age 19 or older for kayak and bike races.

Contact Kearney Paddle Sports for kayak rental availability and pricing.

Yanney Park: 2020 West 11th St. Kearney, NE 68845

Kayak exit parking lot: Between the 200-300 Block on Central Ave, behind the Midway Chrysler, Dodge, Jeep, Ram Dealership.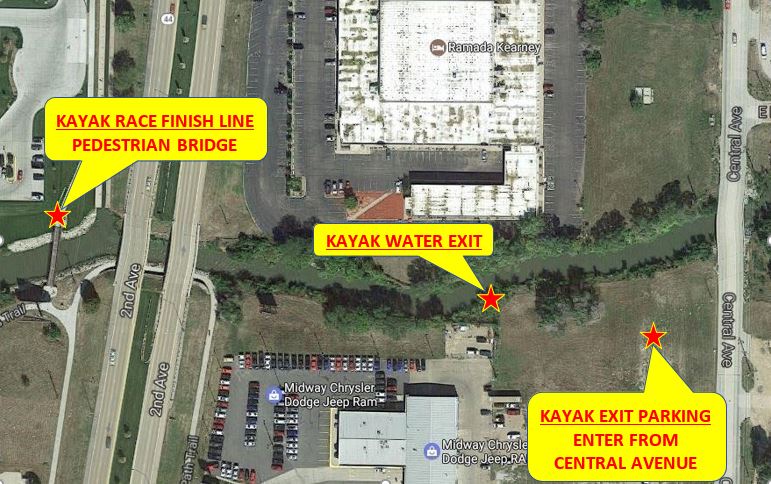 BIKE RACE BEGINS 2:00 PM

Bike Race check-in: 1:00 p.m.

Bike Race Start time: 2:00 p.m.
Parking and bike drop-off at bottom of gravel road at Meadlowlark North Park (see map below)
Helmets required

Must be age 19 or older for kayak and bike races

Optional: Decorate your bike or dress up with a sci-fi theme to win judge's choice for best decoration!
Meadowlark North Park: 3803 30th Ave. Kearney, NE 68845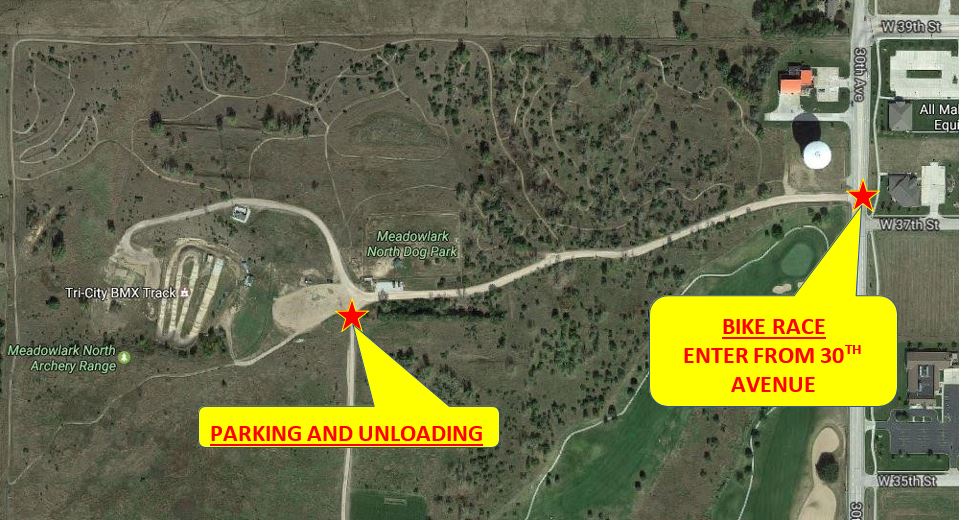 5k RUN/WALK NIGHT RUN BEGINS 9:00 PM
5k Run/Walk Race check-in: 8:00 p.m.
5k Run/Walk Race start time: 9:00 p.m.
Parking on south or north side of Yanney Park
Meet at ERC building on south side of lake
Optional: Dress up with a sci-fi theme or wear glo-gear to win judge's choice for best decoration!
Participants under the age of 19 may participate in the 5k Run/Walk with parental consent.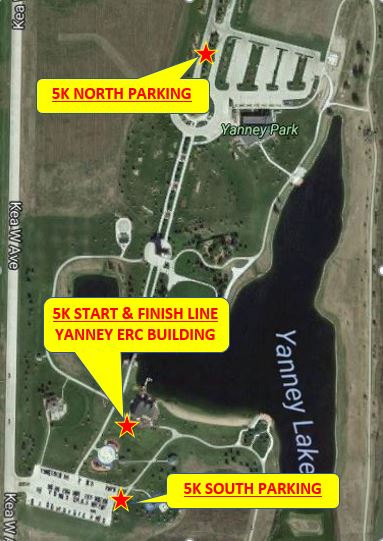 More details:
Waivers will be required for all races
Maps will be provided
What you get: T-shirts, maps with instructions, number bibs, glow-sticks (for night run), solar eclipse viewing glasses
Funds raised for this event will help improve Kearney's recreational water trail system.
Date and Time
Location
Kearney
Yanney Park
Meadowlark North Park
Kearney, NE