Kea Inspire 2015 - Wellington

Tuesday, June 30, 2015 from 3:00 PM to 6:00 PM (NZST)
Event Details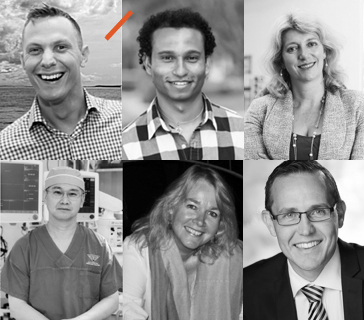 Kea's Inspire Wellington brings you the inspirational stories of world-changing, world-leading Kiwis as they take on the world.
Be inspired by the personal challenges and victories these exceptional individuals have encountered on their path to global success across business, technology, medicine, philanthropy, sport and more.

Ticket holders are invited to attend networking drinks after the event, kindly hosted by our event partner Victoria University of Wellington. 
Audette Exel
Recognised by Forbes as a "Hero of Philanthropy", Audette Exel has spent the past 17 years using her skills in banking and law improve the lives of people living in poverty. Audette established the Adara Group, a business for purpose rather than profit, partnered with an international development organisation. Since 1998, Audette's business has donated millions of dollars to fund projects in Nepal and Uganda, specialising in maternal infant child health; remote and rural health and education service delivery; and the care, support and reintegration of child victims of human trafficking. In 2012, Audette was named NSW Telstra Businesswoman of the Year, and was awarded an honorary Order of Australia for service to humanity in 2013.
Cam Calkoen
Born with cerebral palsy and defying all odds, Cam is an entrepreneur, athlete and world-class motivational speaker who has travelled the globe, taking his award winning attitude into environments that inspire others to achieve their personal best. Cam Calkoen is the founder of the Carabiner Mentoring program which helps young people living with extraordinary challenges to realise their own dreams.
Drew Knowles
Vice President and partner of California-based business education company, Influence Ecology, Kiwi Drew Knowles has 18 years experience in the field of human performance. He has facilitated programmes to over 10,000 people around the world and since 2006 has been particularly committed to the study of stress and how the mind/brain performs under consequential situations. He specializes in a 'transactional approach' to helping people cope with stress, willpower, and performance - both professionally and personally. 
Melissa Clark-Reynolds
Melissa Clark-Reynolds is a highly successful self-made entrepreneur with the ability to create, motivate and build an organisation from 'potential' to successful. She is passionate about entrepreneurship and, among her illustrious list of accomplishments, has represented NZ at the APEC Forum on encouraging Women Entrepreneurs and was named as one of the 150 most powerful women in NZ Business by Unlimited Magazine.
Dr Swee Tan
Dubbed by The Dominion Post as a modern miracle worker, Dr Swee Tan is an internationally recognised plastic surgeon and research scientist who has made ground-breaking discoveries that underpin effective treatment of strawberry birthmarks. He is the Founder and Executive Director of the Gillies McIndoe Research Institute, dedicated to researching regenerative medicine and the cause of disfiguring and life-threatening conditions such as cancer, fibrotic conditions and vascular birthmarks.
Yoseph Ayele
An entrepreneur and global citizen, Yoseph is on a mission to support the New Zealand entrepreneurship ecosystem make a disproportionate impact on the world.  He runs KiwiConnect, a team that is building bridges with global innovation hubs, attracting world-class talent, impact capital, and innovative ideas to New Zealand, and nurturing pioneering communities to solve big problems.  A graduate from Harvard, Cambridge, and Victoria, Yoseph moved to Wellington after helping grow a technology startup in Silicon Valley.
Kea is New Zealand's global network, a community of over 600,000 champions, advocates and storytellers for New Zealand. Kea provides you with a connection between New Zealand and its expats across a range of industries and locations worldwide. Kea's online community creates connections that enable New Zealand ideas, opportunities and success stories to spread globally. 
Join Kea's global community today: www.keanewzealand.com/join 
Kea Inspire Wellington would not be possible without the help of our event partner Victoria University of Wellington. 

Have questions about Kea Inspire 2015 - Wellington?
Contact Kea
When & Where

Te Papa Museum
55 Cable Street
Wellington, 6011
New Zealand

Tuesday, June 30, 2015 from 3:00 PM to 6:00 PM (NZST)
Add to my calendar
Organizer
Kea - New Zealand's global network