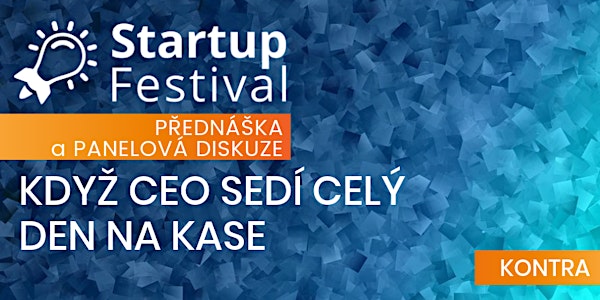 Když CEO sedí celý den na kase
Proč chce každý mít startup když 99 % žadatelů o investici se nedostane ani k prezentaci před investorem? A proč byste to i tak měli chtít?
When and where
Location
Vysoká škola ekonomická v Praze 1938/4 náměstí Winstona Churchilla 130 67 Praha 3 Czechia
About this event
O svobodě, cestě ke štěstí a vlastních začátcích promluví brand developer Adam Ondráček, zakladatel studia KONTRA. Aneb o svobodě snídat v 11 a taky žrát rejži celej měsíc.Na keynote naváže panelová diskuze. V té vystoupí šéf předního českého venture capital fondu Bohemia Venture Capital Přemysl Rubeš a psycholožka a doktorandka na VŠE Nikola Frollová. Společně se podívají na důvody, proč tolik z nás chce obětovat nejlepší roky života za možnosti maximální svobody.
Přednáška a panelová diskuze proběhne v Rajské budově VŠE v učebně RB 203. Nevíte, jak se do učebny dostat? Nevadí! Navigace na místě Vás do učebny dovede.
Zajímají Vás další akce ze Startup Festivalu?
Na Startup Festivalu vás čeká ještě více přednášek, workshopů a panelových diskuzí. Pro více informací navštivte náš web nebo sledujte fb event!
Na letošním Startup Festvalu se představí začínající startupy, ale i ostřílení hráči na trhu. Poznejte českou startupovou scénu offline v jeden den a ve skvělé festivalové atmosféře.
Těšíme se na Vás už 11. 10. 2019 na VŠE!