Local authors team up with KCTS 9, Third Place Books and PBS books to lead monthly book discussions on themes related to KCTS 9 programming.
About this event


KCTS 9 is excited to launch the KCTS 9 Book Club, a virtual* conversation event series, in collaboration with Third Place Books in Seattle and PBS Books.
Monthly book selections are made by a rotating group of Washington authors who will also host the virtual discussions. The twist: authors will select books that aren't their own! Most months, books selected will be fiction, but we may change it up once every so often. Themes will correspond to current programming airing on KCTS 9.
The series kicks off in June with an Ernest Hemingway selection, The Garden of Eden, in celebration of the new Ken Burns documentary, Hemingway. Dr. Ann Putnam, author and Hemingway scholar, will lead the discussion.
Books are available for purchase through Third Place Books for a 20% discount**. Orders can be placed HERE and may be picked up in person at any Third Place Books location or shipped directly to you.
In honor of Hemingway's love of Cuba, we're partnering with Paseo SODO to offer a way to make your book club experience a bit more delicious. Check out the menu, below! After you reserve your event ticket, you'll receive a confirmation with a link to order Cuban food and a Hemingway-themed beverage, if you wish. Your order will be available to pick up at Paseo SODO in advance of the event and local delivery is also an option.
*You will receive a link to the virtual event in your reservation confirmation and in an email we send to you the day prior to the event.
**Discount applies only to physical copies for the month prior to the discussion. Audiobooks are available through www.Libro.fm. Should you need assistance locating a Braille copy or have budget restrictions, please contact KCTS 9 at events@kcts9.org or (206) 443-5476. It is important to us that everyone who wants to participate is able to do so.
Attendees agree to abide by the Cascade Public Media Event Code of Conduct.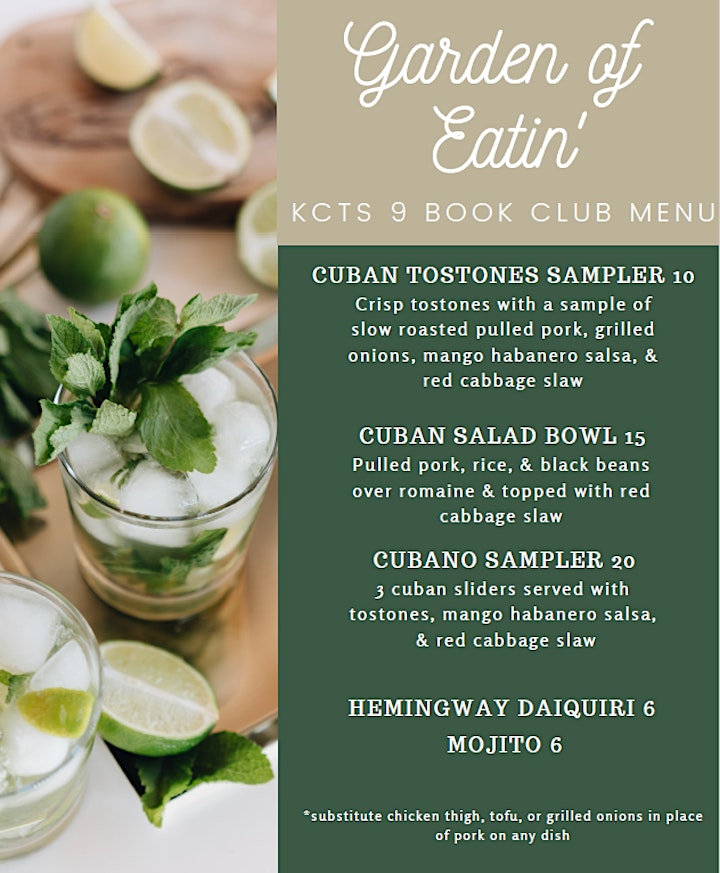 About the facilitator:
Dr. Ann Putnam, Hemingway Scholar & Author
Ann Putnam has taught creative writing gender studies and Hemingway at the University of Puget Sound in Tacoma, Washington for many years. Her most recent publication is a memoir, FULL MOON AT NOONTIDE: A DAUGHTER'S LAST GOODBYE (U of Iowa Press). Her essay, "On Defiling Eden: The Search for Eve in the Garden of Sorrows," appears in the collection, HEMINGWAY AND WOMEN: FEMALE CRITICS AND THE FEMALE VOICE. She has made six trips to Cuba and has recently completed CUBAN QUARTERMOON, a novel in which Hemingway often appears.