KCS® v6 Practices Workshop - Thurs.- Fri. January 16-17 '20 VIRTUAL Austral...
Description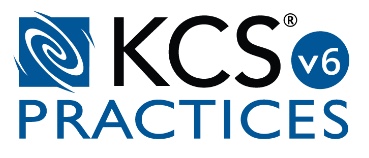 KCS v6 Practices Workshop
If you're planning to launch Knowledge-Centered Service (KCS®), tuning up your KM processes for KCS v6, or bringing a colleague or team up to speed, this intensive 2 Day KCS v6 Practices Workshop will provide the needed insights and skills to run a KCS practice.
Instructor: Beth Coleman, KCS Certified Trainer.

Days One and Two: 9:00 a.m - 4:30 p.m.

Knowledge-Centered Service, or KCS®, is a methodology designed to integrate knowledge capture, improvement and reuse directly into support operations.
Attendees will gain a deep understanding of:
KCS and its benefits

KCS best practices with industry examples

KCS content: standards and quality

The structured problem-solving workflow

Roles and responsibilities

Performance assessment

Leadership strategies and change management

Technology requirements to enable KCS

A road map for KCS adoption
This workshop will also assist in preparing you for the KCS v6 Practices Certification exam (although this workshop does not guarantee your success). An online certification exam for the Certification can be scheduled at a Kryterion Center at a later date for an additional fee of US $450. Catalynk can assist you with booking the exam. Details will be discussed during the workshop. If intending to sit the exam, advance study of the reading list documents is highly recommended. This workshop includes a voucher for the KCS v6 Practices practice exam.

Certification

The Knowledge-Centered Service (KCS®) v6 Practices Certification designates individuals who demonstrate a thorough understanding of the KCS concepts including the Solve Loop, Evolve Loop, and best practices for KCS adoption.
This certification is intended for individuals who require a thorough understanding of both the KCS methodology and its adoption. Exam preparation documentation is provided in advance of and during the KCS v6 Practices Workshop.
The KCS Practices v6 Certification covers the following:
The Principles and core concepts of KCS

KCS benefits

Dealing with frequently asked questions and common objections

A thorough understanding of the following:

Solve and Evolve Loops

KCS roles

KCS measures

Content standard and workflow

Best practices for adoption

Functional requirements for tools and tool integration
A pass mark provides you with a KCS v6 Practices Certification. You will receive a signature logo and certificate of certification from The KCS Academy.

Knowledge-Centered Service (KCS®) is a registered Trademark of the Consortium for Service Innovation™.

Organizer of KCS® v6 Practices Workshop - Thurs.- Fri. January 16-17 '20 VIRTUAL Australasia
CATALYNK Limited offers KCS v6 and Intelligent Swarming Workshops and consulting in several locations and virtually.
Please contact us with any questions.