KCS® v6 Overview Workshop - Th-Fri Apr 22-23 2:00-5:00 pm EST VIRTUAL
Event Information
Refund policy
Refunds up to 1 day before event
The KCS Overview Workshop is perfect for getting up to speed on the basics, giving you all the needed insights to plan next steps with KCS.
About this event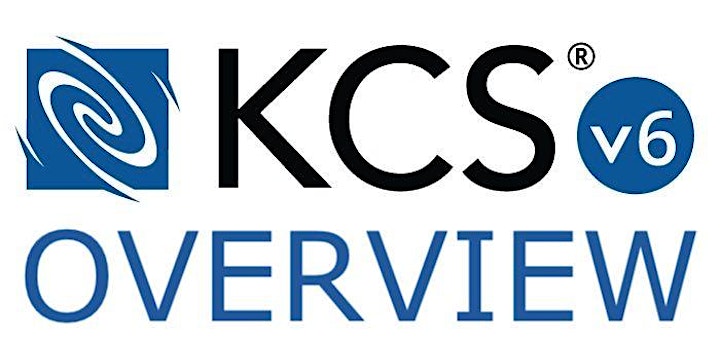 Getting up to speed on concepts or you're thinking of getting started with KCS? Our live trainer-led virtual KCS v6 Overview Workshop will give you all the necessary insights and information to articulate the value of KCS. You'll be ready to create a business case for KCS, or plan for the next stage of maturity. Delivered in two 3 hour sessions, this training also prepares attendees for the official KCS v6 Fundamentals Certification Exam.
Knowledge-Centered Service (KCS®) is proven to deliver dramatic results 
in service quality through knowledge sharing. The KCS® methodology provides the concepts, principles and practices to move your company forward quickly. Your teams and customers will benefit from well structured knowledge available for self-service.
This course is perfect for managers, team leaders, customer service professionals and knowledge workers from any group looking to dramatically improve service quality.
You'll assess the journey needed for KCS adoption or what's needed for your next phase toward KCS maturity. You'll receive the full course agenda and additional resources when your registration is complete.
Training delivered by Beth Coleman, KCS® v6 Certified Trainer and Consultant.
You'll understand:
The link between your organization's goal and KCS. What will KCS do for you and your customers and stakeholders
How to articulate the value of knowledge management for your organization
The KCS principles, concepts and practices
The KCS way to efficiently create and maintain qualitative, easy-to-find content in the knowledge base
The critical role of leadership in creating a knowledge-sharing culture and sustaining a knowledge practice
The relationship between KCS practices and service excellence.
Beth brings a background of Service Management, IT education, Service innovation and experience with KCS implementation. Her experience working with knowledge in diverse and complex environments is shared throughout the workshop, and examples from Consortium members' experience. All course material is approved by The KCS Academy.
This workshop is delivered live, and virtual. You'll need a desktop or mobile device to attend. We'll assist with your setup if needed in advance of the workshop. There are no pre-requisites.  Minimum attendees: 4
If you wish to register a group, please email us (details below). Ask about our group discount. If you wish to register now and pay later, select the Other Payment Options at the bottom of the Checkout Payment page. We'll send you an invoice with easy credit card or bank deposit options.
This workshop prepares you for the (optional) online KCS Fundamentals Certification open-book exam offered by The KCS Academy website (US$95.) On passing the exam, you'll receive a KCS Fundamentals Certification from The KCS Academy.
This KCS v6 Fundamentals Certification is intended for individuals in service environments who are answering enquiries, resolving issues and improving customer success with self-service.
Register now - we look forward to meeting you!
KCS® is a service mark of the Consortium for Service Innovation™

Date and time
Location
Refund policy
Refunds up to 1 day before event
Organizer of KCS® v6 Overview Workshop - Th-Fri Apr 22-23 2:00-5:00 pm EST VIRTUAL
CATALYNK Limited offers KCS v6 and Intelligent Swarming Workshops and consulting in several locations and virtually.
Please contact us with any questions.