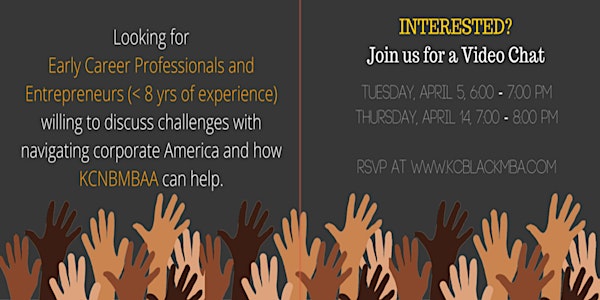 KCNBMBAA Early Career Professional Focus Groups
Description
Got Ideas?
We are looking for early career professionals and entrepreneurs (<8 years of post-undergraduate degree or entrepreneurial experience) in the Kansas City area to participate in a one-hour group chat.
We want your thoughts on the following:
What are your biggest challenges at work?

What activities/events/resources do you feel you need from NBMBAA?

What would help you and others increase their support of NBMBAA events?

What would a program geared to early career professionals look like?
Join us on either April 5th or April 14th for a group discussion with your peers on what type of support you need from the KC Chapter of the National Black MBA Association.
You will need a computer with a camera and a microphone to participate. There are only 8 spots available for each focus group so RSVP as soon as possible.