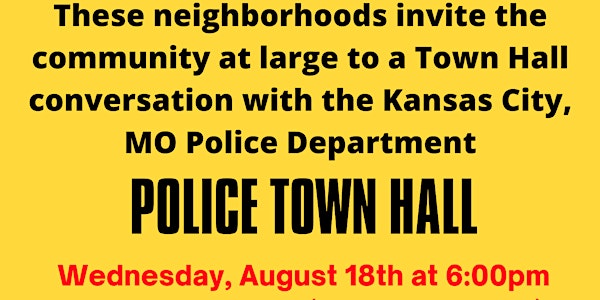 KCMO Police + Neighborhood Town Hall - Virtual & In Person
Our neighborhoods invite the community at large to a virtual & limited in person Town Hall conversation with the KC Police Department.
About this event
Will you please complete this 5 question survey so that we can capture questions to share with the police department? Click here: https://forms.gle/tTvUnr8goHPrnVnd6
We will get to listen in as several neighborhood leaders ask questions of the KC Police Department and Chief Rick Smith, South Patrol: Major Darren Ivey and Metro Patrol: Major Paul Luster. While you can join us virtually on Zoom, or by calling in. There will also be limited space for the first 25 in the South Patrol Station Community Room/Recreation (in the back/easternmost building at 9701 Marion Park Dr.).
When you successfully register here, if you check that you want to attend in person, you will be added onto a list for admission at the door. Please remember that COVID safety protocols apply, and you will need to wear a mask & will be socially distanced. Only those on the list will be admitted in person.
With questions, call: Stacey Johnson-Cosby, 816-591-5921/call+text. Email: StaceyKCAgent@gmail.com.